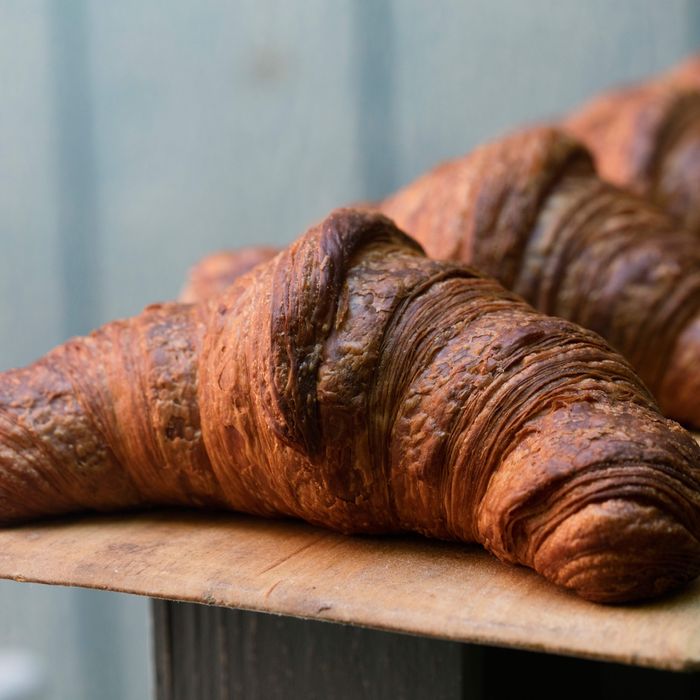 Fortunately, the shortage shouldn't affect these croissants from Bien Cuit in Brooklyn.
Photo: Melissa Hom
Pastry under fire. France is experiencing a butter shortage, causing a potential crisis of unprecedented magnitude: Croissant prices might go up. The shortage, as reported by Reuters, is the result of rising demand for butter coupled with reduced milk production. This has in turn caused butter prices to double over the last year to roughly $7 per kilo. It's a huge problem because croissants are basically just vehicles for butter, and French people are basically just vehicles for croissants.
But like an actual croissant, this problem is layered. Christmas is coming, and as Parisian baker Samir Kichou explains to The Globe and Mail, this means lots of cakes. That will only drive up the demand for butter even more, a perfect storm of pastry obsession meeting pastry shortage.
Infuriatingly, it sounds like the French government may have been able to prevent this problem — if only it had acted sooner. Danish cooperative Arla Foods warned of possible shortages by year-end, and the president of France's federation of dairy cooperatives, Dominique Charge, tells the paper that dairy farmers weren't given "the right signal" and prices weren't adjusted in accordance with the decreased production. Either way, dairy production is "expected to pick up," so the croissant crisis may be short-lived. People will just have to make do with ham and wine until it all blows over.