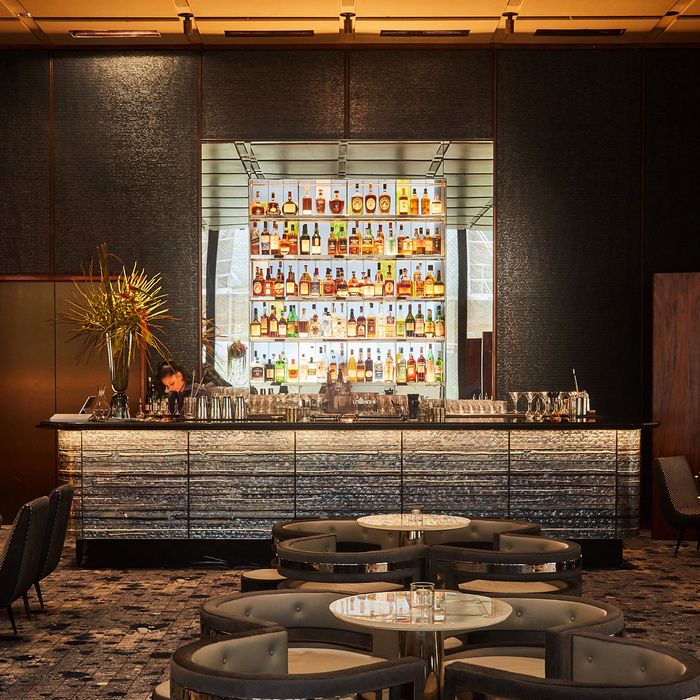 The silver-streaked bar was a definite no-no.
Photo: Miachel Breton
The New York Times today published restaurant critic Pete Wells's review of the Pool, one part of the extensive revamp of the old Four Seasons space. In the review, Wells seems generally pleased with chef Rich Torrisi's work in the kitchen — and the impressive freshness of the fish — but Wells, who never shows up just for the food, doesn't really love what they've done with the place. That's because the original restaurant — incredibly famous, designed by Philip Johnson, and arguably the focal point of Ludwig Mies van der Rohe's entire Seagram Building — was so celebrated that the interior earned rare protection from the city's Landmarks Preservation Commission.
In other words, Major Food Group, which operates the new restaurant, can't just waltz in and make changes. But in his review, Wells reports that that's more or less what the restaurant group, and building owner Aby Rosen's company RFR Holding, did. Wells discovered that the bar area (called the Pool Lounge) was built "without the permits from the Landmarks Preservation Commission that the law requires." This means that, at least for now, three of its biggest renovations are unlawful — the bar itself, the space's silvery-fabric wall coverings, and a "large, inelegant" reception desk that Wells thinks "belongs in an airport."
RFR Holding atoned for these oversights by "belatedly" asking permission, arguing, for one, that it didn't realize that new furniture needed the board's approval. But it's worth noting that the Landmarks Preservation Commission has been swatting down RFR Holding's proposed changes since May. (A verdict on the ones made to the Pool is expected soon.)
Either way, Wells doesn't care for them. He writes that the mezzanine, which now houses the Pool Lounge used to offer "among the best" views in the restaurant, is a drag:
Now the mezzanine looks as if it had been moved on a trailer from some other building and attached with thumbtacks. Its blue color scheme and rounded, Deco-inspired furniture fight with what is left of Johnson's right angles and natural tones. When the lounge is full, it's a distraction. When it's half-empty, as it often seems to be, it looms like a stage set waiting for the actors to show up. Either way, it sucks energy from the restaurant, which needs all it can get.
With design blunders like these, Wells thinks the service and food need to pick up the slack, and that "they don't completely succeed right now."