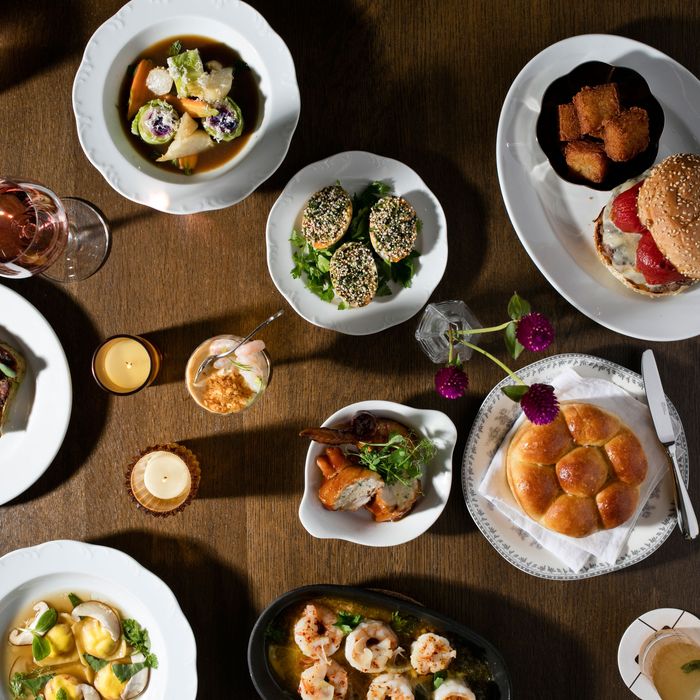 A spread from chef John Fraser's new "American brasserie."
Photo: Melissa Hom
"So where's my foie gras?" murmured the offal-loving guest to my left, as our little party of eaters processed the first wave of appetizers to descend on our crowded little table at John Fraser's new Bleecker Street brasserie, the Loyal. The dish in question is listed on the crowded, one-page menu as "Hudson Valley Foie Gras: Root Vegetables and Bone Broth," and, upon closer inspection, I had to admit that it looked less like a glistening piece of seared duck liver, and more like a small, slightly tepid bowl of vegetable soup. The soup was the bone broth, of course, and after a while we located the foie gras, which was chopped into little cubes, and floated among what looked like bits of carrots, rolled cabbage, and maybe a chopped turnip or two. My guest took one hesitant taste of this strange concoction, and then another, before putting down her spoon. "I still don't think that's foie gras," she said with a confused look on her face.
Fans of Fraser's delicate, much-praised brand of vegetable-forward cooking (at the Michelin-starred Dovetail on the Upper West Side; Narcissa, in the Standard East Village; and the similarly Michelin-approved Nix, near Union Square), might also be a little confused by the Loyal. After one visit, I was, too. Unlike Fraser's other restaurants, which feel polished and well-considered, the Loyal looks like it's been designed more or less on the fly, with a whole jumble of populist trends in mind. The name has an aggressive gastropub ring to it (Fraser describes his new venture as an "American Brasserie," and yes, there are plenty of local beers and ciders on tap), a standard-issue red canvas awning flutters over the façade outside, and the generic décor (caramel-colored banquets, whirring ceiling fans, long mirrors on the walls ) looks like something you'd see at a neighborhood bistro in Fort Greene, say, or in one of the trendier suburbs of Cleveland, Ohio.
Of course, generic, populist (and often "scalable") establishments have been proliferating around trendy Manhattan for years now. Then there's what I'll call the more recent (and worrisome) Big Fish trend, as rents and other costs associated with the low-margin, cutthroat business of restaurants continue their endless rise. Younger, less bankable Little Fish chefs are pushed out to the margins, or at least to Bushwick, leaving the Big Fish chefs (and their backers) to staff the kitchens in the city's increasingly expensive spaces — in random hotel lobbies, in trophy midtown office buildings, and in popular downtown corners like this one the best way they can. The Big Fish are happy to have the business, I'm sure, but as their empires grow larger and more stretched, they tend to run out of ideas (or endlessly repeat the old ones).
Or so I thought to myself, glumly, as we pondered the jumbled, one-page menu at the Loyal. With its multiple sections (I counted five), it reads like it is trying to please all of Fraser's different fan constituencies (veggie, non-veggie, casual, gourmet) simultaneously. This helter-skelter approach has its perils, although a few of the things we tasted seemed to benefit from Fraser's touch. Setting aside the disappointment of the non–foie gras, my guest enjoyed the black sea bass doused with a tangy mix of olives and preserved tomatoes in the Mediterranean "acqua pazza" style. The inevitable "Loyale with Cheese" burger is served with a tiny helping of tater tots sizzled in duck fat, and tasted just fine once I removed the oversize tomato-confit garnish.
But a few too many dishes feel like things we've seen a hundred times before: Yet another iteration of the Parker House Roll, that suddenly omnipresent totem of highbrow comfort. An undistinguished strip steak served, like most of the food here, on a tiny, hobbit-size plate, alongside some admittedly nice stuffed mushroom caps. A leathery mutton chop. And a gummy creation called "mushroom carbonara" that could have used fewer mushrooms and a little more guanciale.
The most innovative, reliably bankable recipes seem to be the ones created with the chef's veggie-loving faithful in mind, like the "cauliflower au poivre," or the delicate pumpkin ravioli, which are slim and moon-shaped, and served in a subtle broth flavored with slices of barely cooked shiitake mushrooms.
Like lots of brasseries around town, the desserts on this first visit are small, mostly pre-made, and seem designed for quick, easy consumption. The best, on this first visit, was a fruity, vanilla creation called "County Fair," although I'm sad to report that, unlike that mythical bistro in suburban Ohio, there are no chocolate profiteroles in sight.