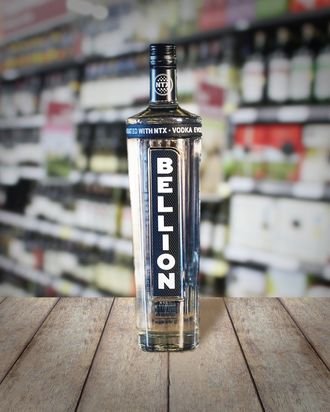 The government has only allowed it to add a rubber ring saying, "Made with NTX."
Photo: Bellion Spirits
A New Jersey spirits brand is hoping, without tacit federal approval, to flood liquor stores in the coming year with its line of special, purportedly "liver-friendly" alcohols. The Secaucus-based company, Bellion, says the elixir's magic is the result of adding a proprietary mixture invented by the son of an Indian pharmaceutical mogul over a 12-year period, ultimately at a cost of $35 million. Bellion joined Harsha Chigurupati's mission in 2013 to make alcohol "safer," but according to a profile in this week's WSJ. magazine, for some reason the feds are hesitant to approve the concoction. Tests have shown that it can reduce liver damage by up to 70 percent in rats, but the TTB argues that gives the "misleading impression" that consuming NTX "will protect consumers from certain serious health risks" associated with drinking booze.
Chigurupati and Bellion won't say much about NTX besides that it's what makes their alcohol safer. It's reportedly a blend of potassium sorbate (a common food preservative), mannitol (a sweetener used in foods for diabetics), and glycyrrhizin (a licorice-root extract used to treat hepatitis and cirrhosis in Japan). WSJ. says they've been fighting the TTB since 2013; they want labels to make eight health claims about their vodka — which is the only spirit Bellion's infusing right now — among them that it "reduces the risk of alcohol-induced liver diseases" and "helps protect DNA from alcohol-induced damage." The TTB rejects these claims, as do many experts in the field.
For better or worse, the TTB can't stop Bellion from selling alcohol with NTX in it — the agency just regulates what Bellion can claim NTX does. Chigurupati tells WSJ. that he and Bellion are plowing ahead anyway. Their vodka is currently available in 11 states; a larger rollout is planned for 2018, and he says NTX-infused tequilas, gins, and whiskeys are on the horizon.