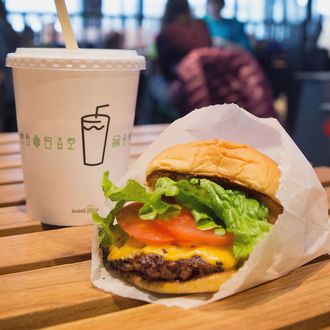 Another blow to cashiers.
Photo: Scott Olson/Getty Images
New Yorkers patiently awaiting a Shake Shack between midtown and Manhattan's southern tip will get another surprise when the chain's next location opens in the East Village. CNBC reports today that they'll be ordering their inaugural Shack Burgers from the chain's first-ever cashless kiosks. Instead of cashiers taking money like they do at every other Shack, guests will order from touchscreens or on their mobile phones. If they need assistance, a new worker called a "hospitality champ" will be within earshot to lend a very gung ho–sounding hand.
CEO Randy Garutti tells CNBC that the kitchen at this location in redesigned Astor Place has been optimally arranged to "eliminate friction time," which is apparently this store's big selling point. In fact, it won't accept cash at all — Garutti says they think an all-digital payment system will streamline customers' dining experiences and help back-of-house operations run more smoothly. No buzzer alerts to pick up orders, either — you'll simply receive a text letting you know it's waiting, a potential plus because it allows you to wander out of range while food's being prepared.
The whole Astor Place location is being viewed as a testing ground for the chain's crazier ideas. For instance, Garutti adds that they're going to try out new ways of packaging food for delivery, and employees at this location will start out making $15 an hour right off the bat. With the minimum wage constantly climbing in New York, D.C., and California — places with lots of Shacks — the plan is to transition to a living wage nationwide. But Garutti explains that starting at just Astor Place gives them a chance to "work out the kinks" first. In the meantime, let's hope the HR team is ready for a bunch of transfer requests.