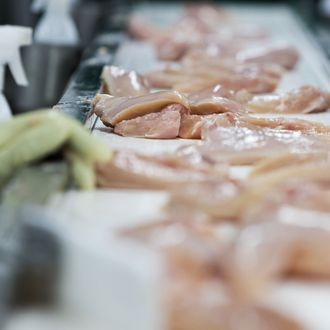 Participants say "Chicken Farm" sounds better than prison.
Photo: SeongJoon Cho/Bloomberg via Getty Images
One of America's biggest poultry companies has carved out a pretty plum deal for itself — a partnership with a Christian rehab program that puts offenders to work on its production line for almost nada. An in-depth look by the Center for Investigative Reporting has found that participants in the court-ordered Oklahoma program (called CAAIR, short for Christian Alcoholics & Addicts in Recovery) have made Simmons Foods more than $11 million in revenue since 2010. The so-called "Chicken Farm" is sold to judges as a place where defendants serve one year doing meaningful real-world work while they recover from addiction.
Only CIR's report — which follows Brad McGahey, a 23-year-old sentenced to CAAIR after violating his probation for buying a stolen horse trailer — says that's not exactly how it functions:
There wasn't much substance abuse treatment at CAAIR. It was mostly factory work for one of America's top poultry companies. If McGahey got hurt or worked too slowly, his bosses threatened him with prison.

And he worked for free. CAAIR pocketed the pay.

"It was a slave camp," McGahey said. "I can't believe the court sent me there."
The story goes through the myriad ways CAAIR is mind-boggling: McGahey wasn't addicted to anything, like many participants. Hundreds work "every single day" for Simmons, which is a billion-dollar company, processing chickens for free that are sold to Walmart, KFC, and Popeyes, and pet-food ingredients for PetSmart and Rachael Ray's Nutrish.
Hours at slaughterhouses are grueling, and the work conditions often teeter on perilous — not surprisingly, the men in CAAIR complained of hand injuries from hanging chickens, acid burns, serious bacterial infections, and body parts maimed by machines. Some rehab centers let workers keep their earnings, but Simmons just pays CAAIR a nominal amount per participant to help cover the program's costs. Not working gets participants booted from the program … and into prison. In McGahey's case, he suffered a "severe crush injury" after his hand was nearly broken off by a conveyor belt. CAAIR accused him of hurting himself so he wouldn't have to work, and told him that days missed wouldn't count toward his one-year sentence. So he asked to be shipped off to prison. ("Anywhere is better than here," he told CIR.)
If that sounds too insane for even a Christian "recovery" program, that's sort of because it is: CAAIR was actually started by a Big Chicken executive. In 2007, Janet Wilkerson, former vice-president of HR at Peterson Farms who also "moonlighted as a spokeswoman for Simmons Foods," was struggling to fill the plant's awful, underpaid overnight shifts. She created CAAIR to provide the industry with a pool of practically free labor — no medical care, no workers' comp, no payroll taxes, and companies could fire workers without cause at any time. Tyson Foods and Crystal Lake Farms both said, "Where do we sign?"
Apparently nobody had to ask Simmons twice, either: It's building a new plant in Arkansas, but CIR says that hasn't kept it from laying off its own paid employees, so more workers can join from CAAIR. Plant managers say Simmons's workforce is effectively now just the men CAAIR drives in each day. They add that the plant "likely would shut down" without them. Legal experts note that this whole setup probably violates the 13th Amendment's ban on involuntary servitude, so the time might be ripe for Simmons to develop a backup labor plan.