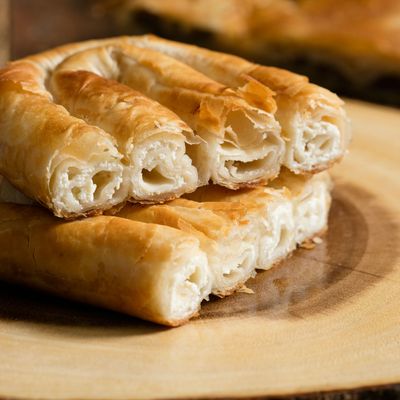 Rolls of phyllo are formed into a cheese burek from Djerdan Burek.
Photo: Melissa Hom
In Bosnia, you can find burek bakeries on every corner. Burek, after all, is a staple of Balkan cuisine, familiar to residents of Bosnia, Croatia, Macedonia, and Serbia — even though it remains one of the region's better-kept secrets. For anyone who's unfamiliar, it's similar to Greek spanakopita but has more freedom in fillings and shapes. Where spanakopita has cheese and spinach, burek can have cheese, potatoes, spinach, or meat. A solid piece of burek consists of layers of phyllo — either flat or rolled — and fillings molded into a pie with two main textures: an outer, flaky layer, as well as interior layers with the light texture of a croissant.
Bureks aren't exactly common in New York, but they're also not impossible to find. In Astoria, stores that sell bureks include Cevabdzinica Sarajevo and Ukus. On the Lower East Side, they're available at Kafana. And for Selma Medunjanin, the owner of Djerdan Burek, the savory pies are the foundation of a growing business empire.
Non-refugee families also might not realize why refugee families leave in the first place. In Bosnia, it doesn't take more than a few photos of landmines to know why Medunjanin's family came to the United States. "We were really lucky," says Medunjanin, who first came to New York from Bosnia with her father and brother, as a refugee of the civil war in the '90s. When her mother, Esma, eventually joined the family in New York, she brought her burek recipe and, in 1998, Djerdan — in Astoria — became the family business.
Refugee resettlement in the United States has never been particularly easy, especially somewhere as chaotic and expensive as New York. Medunjanin says that, without the business, her family would have had no steady income. It wasn't simple then, but now she says it would be even more difficult. "The current political climate really hits home," she says. Increased fear of immigrant entry to the United States has made it nearly impossible for others to open businesses like Djerdan. "I think a lot of people who did it back when we did also had the old mom-and-pop shops, like the Greek place that's two doors down from us, the Chinese place," Medunjanin says. "Back in the '90s, you could hear Bosnian on every street corner in Astoria, but today, not so much."
Even now, however, walking into the original Djerdan feels like traveling to Old Sarajevo. In addition to cheese, spinach, potato, and meat burek, there's a full range of cevapi and grill options, as well as a freshly made selection of Bosnian-Turkish baked goods like baklava, tulumba, and hurmasica sitting in a glass refrigerated counter like the best sweet shops in Sarajevo.
But the bureks are inevitably the main attraction. "We make our own phyllo on a daily basis," Medunjanin says. The bureks at Djerdan, it should be noted, are the size of large pizzas, and store manager, Sabina, cuts them into quarters to serve at the café in Astoria. While traditional slices of burek can have enough oil and fat to sink through the paper it sits in, Djerdan's cheese burek is a much lighter product, made with a combination of fresh feta and ricotta.
In addition to the original store in Astoria, Djerdan has expanded, adding another store in Brooklyn, which opened in 2002, and a wholesale factory in South Hackensack that opened last year and now caters to Djerdan's online business, which ships frozen bureks to customers around the country.
Even with the growth, Medunjanin knows the importance of preparing bureks without cutting any corners. "We come in and try to make it as authentic as possible," she explains. "We hope we can fill that gap." For people who grew up with burek, it's a welcome reminder of home. For everyone else, Djerdan is a way to taste a part of the world that's been forgotten for many years.