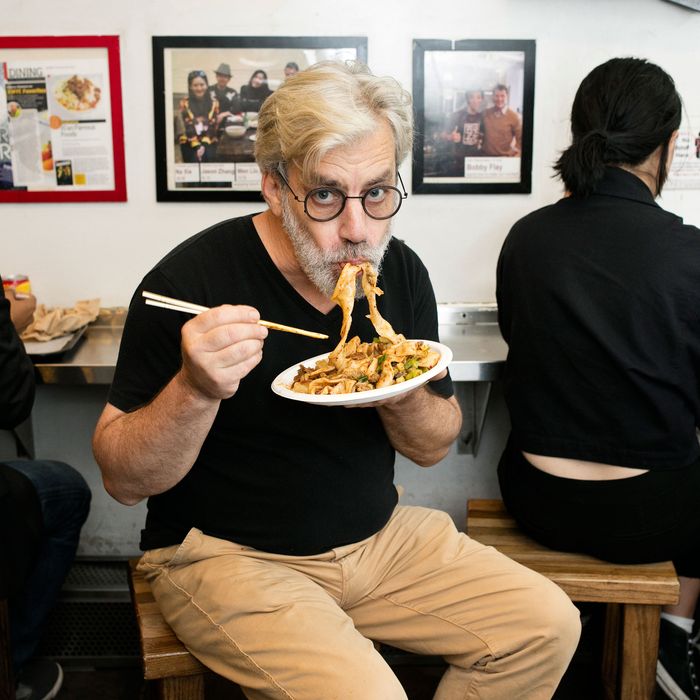 "The spicy cumin lamb noodles are my go-to, completely satisfying."
Photo: Melissa Hom
When it comes to recipe-writing, it's hard to top David Tanis's credentials: He worked at Chez Panisse for years before going on to author several celebrated cookbooks and write the weekly City Kitchen column for the New York Times. This week, he debuted his latest cookbook, David Tanis Market Cooking. Not surprisingly, Tanis cooks at home often to test recipes, and this week — when he wasn't trying to perfect a lamb-and-chickpea pilaf — Tanis also ventured to Atla, Caracas Arepa Bar, and Russ & Daughters Cafe. Read all about it in this week's Grub Street Diet.
Thursday, September 28
Most mornings, I start early with weak green tea, sometime between 6 and 7 a.m. Eventually, I may have a little yogurt or a banana, but I usually don't eat until mid to late morning.
My first coffee is a cortado, either made at home or from a nearby coffee joint. Abraço is close, so that's the first choice.
Since I'm tracking my diet, I'll take the opportunity to go out to eat, which I don't do very much. I stop in at Atla, which I have been meaning to try (also in my hood), and have the chilaquiles verde for a late breakfast. Delicious! I'm a big chilaquiles fan, and I like their rendition. Just-spicy-enough green sauce.
For dinner, it's just me and my partner Randal. With drinks, we share some cold sliced octopus (bought already cooked at Eataly, a nice splurge) drizzled with olive oil, salt, and pimentón. For our meal, we go vegetarian. Randal makes a terrific cauliflower cheese, all bubbling and cheesy and crunchy with buttered bread crumbs. Then a radicchio salad with thinly sliced watermelon radish, dressed with lemon and oil. We eat at home a lot. Sometimes we cook together; sometimes we cook separately. It's usually a simple meal.
Friday, September 29
I'm off to the Union Square Greenmarket. First, a quick yogurt and a slice of toasted She Wolf sourdough. I do a quick tour of the market, starting at one end and going all the way to the other, checking who's got the best-looking what. Right now, even though it's October, there's still great summer stuff. All of the autumn stuff is coming in, too, so it's this period of super abundance. There's a great farm, I can't tell you the name of it, that's selling everything in the radicchio family. All the chicories.
I treat myself to lunch at Xi'an Famous Foods. The spicy cumin lamb noodles are my go-to, completely satisfying. Easily big enough for two reasonable appetites or for one average glutton. I eat them all. Perfect with a cold beer on a strangely warm and humid autumn day.
Vegetarian meal at home: a big bowl of fresh cranberry beans, served on the soupy side with roasted tomatoes. Wild-watercress salad.
Saturday, September 30
The usual morning routine — green tea followed by coffee.
For lunch, I head to Caracas Arepa Bar, also in my neighborhood. For some reason, I have never been here and now I wonder why. I love the feel of the place. Arepa with fried platano and crema. I like the squeeze bottles of salsa amarillo, which is sweet and spicy, and I squirt some on every bite.
We're hosting a birthday party for my friend, chef Ignacio Mattos. I ordered a dozen Motorino pizzas. Caesar salad that's plenty garlicky and filled with anchovies. I like to put in Dijon mustard and a lot of lemon juice. Birthday cake from Harbs. A very tasty cake — not terribly sweet, light, fluffy, sort of chestnut-flavored.
Sunday, October 1
Thought to stop by Russ & Daughters for a bagel, but the line is insane. I go to Russ & Daughters Cafe as a default. I sit on a stool at the counter, and it finally hits me how much the place is like a diner. Deliberate décor choices. Arched ceiling. I shouldn't say how I feel about the coffee here.
I have the sunny side with lox, fried eggs, and two hefty latkes. Sesame bagel with cream cheese. I eat half and only one latke.
For dinner, I'm testing a lamb-and-chickpea pilaf for the Times, need to shoot it next week. How long it takes me depends on the recipe — some are more difficult than others. I usually give it at least two tests before the photographers come over. I also like making the food for the photos. I make all the food for the photos in the cookbooks as well. I want it to look like I made it, and I want it to look edible and not overly stylized. Somehow, I think if it tastes right, it looks better. That's maybe just me.
Monday, October 2
I meet a friend for breakfast and a long chat at Il Buco Alimentari. Two double macchiatos. We share a bowl of fresh ricotta and a basket of bread with fennel seeds and raisins.
I'm working at home, trying to catch up with all my deadlines. Egg on a roll (Randal makes a great one) is my late lunch.
Dinner is cold roasted chicken with green salad. I love cold chicken, especially a good one — this one is a Belle Rouge from the farmers' market. I eat it with salt and pepper, nibbling on all the cartilaginous bits and the meaty bones.
Tuesday, October 3
Today is the pub date for my new cookbook. I'm up early and out the door.
I do a cooking demo at Google, which is a pretty wild place. They have a new teaching kitchen there. I guess if you're a Googler, you get to eat three meals a day, and take cooking classes if you're bored. I demonstrate the onion tart that's in the cookbook. It's a little bit of paradise here.
Tonight, I'm making the mushroom-curry recipe. The stuff in the book is all stuff I ordinarily make at home. But everything depends on what the weather's like, what's at the market, who's coming for dinner, and their horoscope. Just kidding.