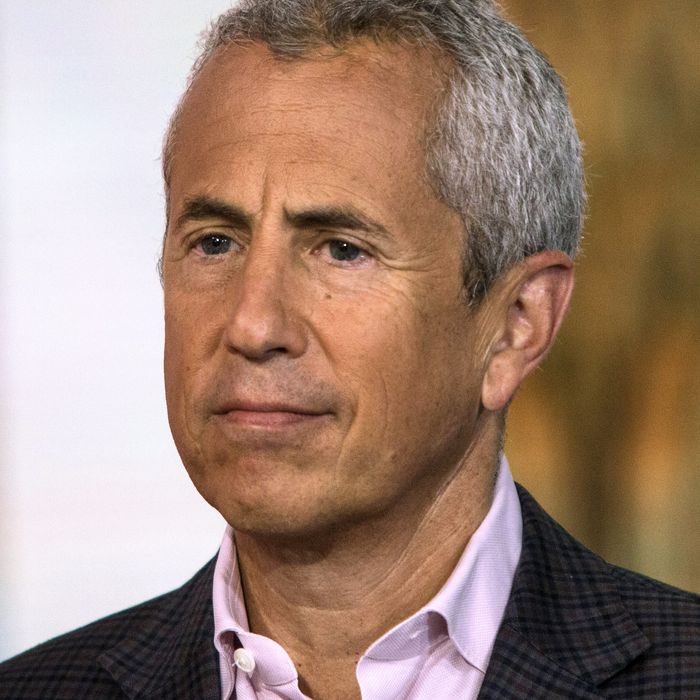 Danny Meyer this past August.
Photo: Bloomberg/Bloomberg via Getty Images
It's been two years since Danny Meyer announced he would eliminate tipping at all of his company's restaurants. At the time, it was hailed as a move that could "save the hospitality industry," and restaurateurs around the country followed suit. Though some other American operators had already moved to eliminate tips at their restaurants, Meyer's company, Union Square Hospitality Group, was by far the most ambitious in its implementation of what it calls "Hospitality Included" pricing. It would — Meyer said at the time — reduce the pay discrepancy between workers in his kitchens and dining rooms, and allow paychecks to keep pace with the increased cost of living and rising minimum wage in New York. However, in a series of interviews with both current and former USHG employees, it's clear that the rollout has been far rockier than anticipated, people have left the company in droves, staff morale has dropped considerably, and the company has been forced to slow down its rollout plan to deal with the fallout.
"The majority of our strongest people have left," says one former manager at Union Square Cafe who, like many people interviewed for this story, asked to remain anonymous to avoid burning bridges in the industry. At two of USHG's other restaurants, Maialino and Gramercy Tavern, current and former servers say their pay dropped by about $100 per week after H.I. was implemented. Another Union Square Cafe front-of-house employee says her annual pay dropped from $60,000 per year before H.I. to $50,000 after tips were eliminated.
When H.I. was first announced, Meyer said that menu prices would rise by about 21 percent, which, as the restaurateur told Eater at the time, would account for the lost gratuity and "right what has been a labor of wrong." Erin Moran, USHG's chief culture officer, acknowledges that, after a restaurant moves to the H.I. system, some servers and bartenders may see a dip in pay, but that take-home pay is about the same "on a macro level." The affected workers say that the changes created a sense of turmoil that has resulted in higher-than-usual staff departures. USHG declined to share exact personnel figures, but the interviewed employees all offer similar stories.
After Hospitality Included was introduced at Maialino in 2016, the entire front-of-house staff turned over twice with the exception of a few people. At North End Grill, a significant group of workers from both the front-of-house and back-of-house quit. At Gramercy Tavern, though many veteran servers have stayed, a good number recently decided that they couldn't bear the pay cut anymore and that the situation was not going to improve. Union Square Cafe (where I worked as a server in 2014 and 2015) is essentially a new restaurant that opened with the same leadership from the first USC. Managers and seasoned servers have both bolted, and the company concedes that turnover at both Union Square Cafe and Gramercy Tavern was up in the third quarter this year.
Everyone who spoke with Grub, however, agrees that the company still offers excellent benefits — paid leave, 401(k), and health care — and flexible scheduling that is greatly appreciated. Some also point out that managers at restaurants have gone through great pains to explain the changes and react to employees' concerns. Instead, the real problem may be that the company established unreal expectations among staff members. "We were all believing that we were going to be making what we were making before," says one former manager. That was the explicit promise. (During an appearance on CBS, Meyer said, "The waiters at our restaurants, when we eliminate tipping, will make as much or more, in 75 percent of cases, than they're making right now.") But the company hasn't been able to follow through. According to Moran, that promise was based on the prediction that business at the restaurants would remain constant, but it hasn't. Customer visits have dropped, and a portion of the servers' pay is directly tied to their restaurant's revenue, which has also dropped. That, Moran wrote in an email, "dramatically affects our front of house teams," which take part in the revenue-share program.
In many cases, turnover spikes in the months right after a restaurant moves to the H.I. model, which is, of course, when workers would first see their drop in pay. When Union Square Cafe reopened this past December with no tips, Danielle Carroll — who had worked at the original USC location for more than three years — quit after just two months. "That place was my New York home and the way I made my living," she says, "and it's no longer a sustainable place to do that." She now works at Gabrielle Hamilton's Prune.
The move is also a problem for veteran staffers who, in the old system, could work several lucrative shifts per week and earn a decent living. Now, there is less variation in pay between vets and newbies, and busier shifts may not be preferable to slower nights. Moran explains that's also something the company is dealing with: "We know some people — especially servers and bartenders used to working Thursday, Friday, and Saturday — are making less. In those cases, we've tried to address that on an individual basis."
In the kitchen, cooks' starting salaries have increased — from around $11 per hour to $13 — though overtime is now managed more carefully, so, according to one former USHG cook, overall take-home pay is only slightly higher than it was under the tipping system.
Managers at individual USHG restaurants who hope to hang on to talented staffers have told some servers that their hands are largely tied by policies mandated by the corporate office, but they have tried to prevent people from leaving by offering promotions that come with higher pay. It's apparently not an ideal solution. At Gramercy Tavern, one current server called the current situation a "continuous influx and outflux of staff." (The company's chief restaurant officer, Sabato Sagaria, also left the company recently, though he tells Grub Street that the move was not related to H.I. or any issues with USHG.)
At Union Square Cafe, after veteran staff left earlier this year, spots had to be filled so quickly that some people were "under-qualified" and "under-trained," one bartender explains. At a Danny Meyer restaurant, where customers have come to expect exceptional service across-the-board, that's caused some issues. "There are a lot of people who've had these insanely great experiences, whether they were really that great or whether they remember them being that great because it was 25 years ago," the bartender says. "When you have a bunch of young people who don't know what they're getting into, who aren't getting paid properly, they're not going to treat it like that."
For the company, moving a restaurant to a tip-free payment system also means disrupting the culture of that restaurant. The structure begins to resemble a more traditional office environment: Under H.I., ambitious waiters and cooks will only see a pay bump by applying for it with a manager and passing written tests on their knowledge of service, food, and wine. Moran says this approach provides professional growth for servers who want to become managers at the company, along with "predictable wages" and a more flexible schedule. It also requires that workers rethink the way they approach these service jobs.
These issues are likely why USHG hasn't yet rolled out H.I. pricing at all of its restaurants, despite its initial pledge to do so by the end of 2016. Out of the company's 15 establishments (including casual spots such as Martina and Daily Provisions, but excluding satellite cafés and counters in museums) ten are tip-free; the remaining holdouts are Blue Smoke's two locations, Untitled, Porchlight, and GreenRiver in Chicago. "We were very ambitious with our timeline," Moran explains, "and we learned very quickly that this is much more challenging than we had anticipated."
Restaurants outside of USHG have also struggled after moving to tip-free payment models: In New York, restaurateur Gabriel Stulman reverted to tipping at Fedora when he noticed customers ordering less food. Tom Colicchio's Craft, Momofuku Nishi and i Trulli are all restaurants that experimented with no-tipping models before reverting to tipping. The national chain Joe's Crab Shack ended its no-tipping experiment at most of its restaurants. However, the movement still manages to pick up more converts, too. Andrew Tarlow recently expanded it to more of his Brooklyn restaurants, and a brand-new Louisville restaurant is trying it, too.
Despite the setbacks, it sounds like people are rooting for USHG because everyone wants a tip-free system to make sense. "It's something that will probably work better in five year's time than now," said one staffer.
"I do believe in Hospitality Included," said another. "I believe in not living off tips. It's racist and sexist. The only people that benefit from that are owners of the restaurant."
Yet another former USHG worker put it more bluntly: "In the long run, if Hospitality Included ever works, I wouldn't be surprised. But it's going to take a while. There are too many moving parts before they figure it out."