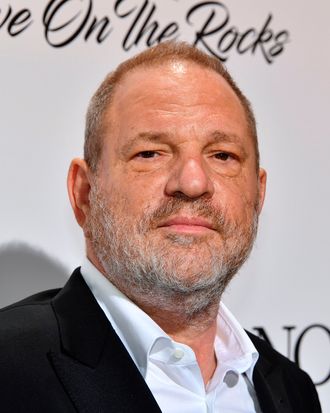 A former regular of Connecticut's Gray Goose Cafe.
Photo: Yann Coatsaliou/AFP/Getty Images
By now, the count's up to dozens of actresses who claim Harvey Weinstein sexually harassed and even raped them, and authorities in at least two countries have now launched investigations. But a Connecticut restaurant owner isn't ready to condemn his friend's alleged crimes just yet. Now that Oliver Stone walked back his sympathetic comments, Gray Goose Cafe owner Thomas Febbraio, who claims he and the producer are buddy-buddy, may in fact be the only person left on earth not actively trying to get as far away from the radioactive Weinstein as possible. Weinstein, his wife, and their kids were reportedly regulars at Febbraio's Southport restaurant — a spot they liked for its "almost pub-like atmosphere and delicious comfort food," Weinstein's soon-to-be-ex-wife Georgina Chapman told the Financial Times in 2014.
Asked about Weinstein, Febbraio told a Connecticut paper, "Harvey's a friend of mine, and I don't talk about my friends." (He also felt this was the appropriate time to make it clear that "I have a lot of celebrity friends.") Pressed on whether he plans to remain friendly, Febbraio apparently replied, "Of course." He added that his friend "needs help," but then gave that some context it probably could've gone without: "A lot of people need help."
In some sure-to-be-disappointing news for Febbraio, though, Weinstein actually just sold his Westport property days before the New York Times published its bombshell report. So their friendship might be more of a pen-pal situation from here on out.