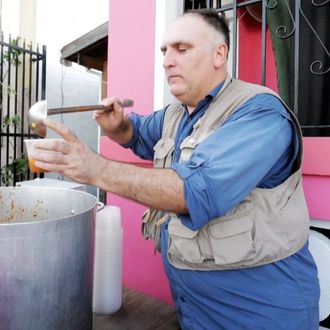 He's a machine.
Photo: thinkfoodgroup/Youtube
Chef José Andrés and his World Central Kitchen team have passed along word that their tireless Puerto Rico recovery efforts have crossed an impressive new milestone. Sometime yesterday, they served their 1 millionth meal to the storm-ravaged island's residents. Volunteers — including some of Puerto Rico's most prominent chefs — are now cranking out more than 120,000 meals each day to needy people in every one of the island's 78 municipalities. To accomplish this impressive feat, they leveraged the help of 500 volunteers, took over the largest kitchen in Puerto Rico's biggest stadium, set up another 14 satellite kitchens, and mobilized a fleet of food trucks. (Just for quick comparison: FEMA, the governmental agency specializing in relief from disasters like Hurricane Maria, said last week in a press release that it's distributing about 200,000 meals per day right now.)
As expected, Andrés marked the occasion with a new video:
Three weeks of struggling to eat seems like a long time. (Unless you're President Trump — he said Monday that the military, which he dispatched belatedly, "shouldn't have to be" giving Puerto Ricans food and water anymore.) But millions are still without power or basic cooking supplies. CNN ran a new story today about relief efforts in Aguas Buenas, one of the island's municipalities. Despite being just 30 minutes outside of San Juan, officials are still finding people who have been living in moldy, dilapidated homes for nearly a month, waiting on help. Volunteers in that small area alone say they've checked some 8,000 residences so far, but still have about 1,500 to go.