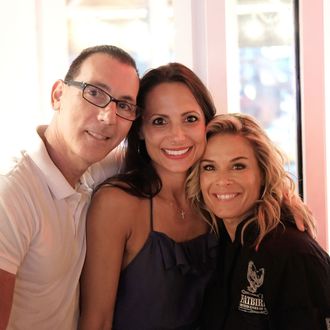 Cat Cora with Fatbird's owner, Charissa Davidovici.
Photo: Jason Kempin/Getty Images for Fatbird
Iron Chef Cat Cora has already had a falling out with Fatbird, her four-month-old restaurant in the Meatpacking District. She says her business partner, Sugar Factory's owner Charissa Davidovici, hasn't paid a dime yet for the use of Cora's name, likeness, and recipes. She filed a lawsuit on Monday against Davidovici's Fatbird Restaurant Group for reneging on its part of the deal. She claims the contract entitled her $400,000 and a 10 percent stake in the restaurant, but says Fatbird is already in arrears for the first four $25,000 installments.
Fatbird has been a critical flop, and her lawsuit blames its "substandard" operation on people working at the restaurant day-to-day, adding that they've thrown on rogue menu items she didn't approve. It's unclear if the Not Yer' Mama's Jello Shot and $4 "rubbery" oysters that were on the menu when the restaurant opened in June was her doing or not, but the upscale southern fare has not been a knockout with reviewers — Eater critic Robert Sietsema's experience was a comedy of errors so epic, it must be read to be fully appreciated. Her complaint says Cora has since "received the brunt of the blame for the restaurant's lackluster performance," in turn causing "irreparable injury to Cora's brand, good will and reputation as a world class chef and restaurateur."
Per Reuters, Cora told Fatbird on Friday to stop connecting her to the failing restaurant in any meaningful way, which probably explains why the restaurant's website has reverted to a single page that just says, "Coming Soon." She's seeking an injunction against further use of her name and likeness, plus at least $400,000 in damages and interest. "Cat expended a significant amount of time, effort, energy and expense on this project," her lawyer says in a statement. "This suit seeks to recover for her what she was promised."