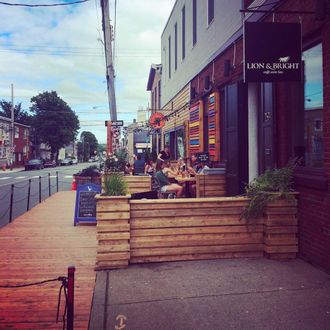 The restaurant says it provides a "work hard, play hard" environment.
Photo: Lion & Bright/Instagram
A bar and café in Canada has tempted social-media fate by introducing a new no-screen policy that goes into effect every day around happy hour. Halifax's Lion & Bright recently posted signs informing customers that the "Kindles, tablets, iPads, etc." they use to convert its tables into private work coffices are now banned after 5 p.m. Instead of staying glued to a device's screen while nursing a $3 drip coffee they bought at 1 p.m., the restaurant encourages guests to "meet your neighbours."
Owner Sean Gallagher tells CTV that Lion & Bright is a "hybrid establishment" — during the day, it's a coffee shop where freelancers work, but at night it becomes a spot where you "look people in the eye, share a drink, share your hopes for the future, talk about your work day, de-stress, and enjoy yourself." He adds that patrons are still free to use their cell phones or read an e-book at the bar, just not to do work.
Responses to the policy have included some applause, fun-loving jabs, and actually well-reasoned critiques, but then also lots of pure rage:
The backlash prompted Lion & Bright to issue a press release yesterday apologizing to people who felt the rule came off as "patronizing" or "haughty."