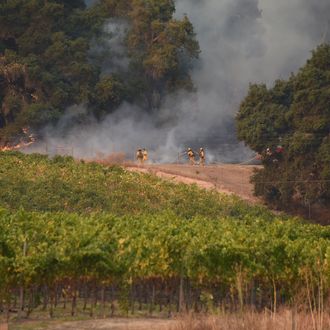 Grapevines multitasking as a firebreak.
Photo: Robyn Beck/AFP/Getty Images
California's wildfires in Napa and Sonoma have now claimed 31 lives and scorched an area equivalent to four Disney Worlds, but there's at least a little good news thanks to the two valleys' wineries. According to the L.A. Times, which checked to see how they'd held up, many vineyards in the burn areas emerged "largely unscathed," miraculously. The story says their "lush rows of green vines stand in stark contrast" to the surrounding forestland that's charred and nearby residential neighborhoods that are all but completely torched.
The economic toll is expected to be massive, but despite initial reports of heavy losses (oenophiles briefly reckoned with the fear that they'd maybe lost Robert Mondavi Winery and Stag's Leap), the paper suggests that vineyards' buildings suffered barely any damage. The night-and-day difference between their green vines and the burned-out suburbs near Santa Rosa is "remarkable," it says. One winemaker in Napa says his property's wildland "all burned … except the vineyard." Another winery, Signorello Estate, lost its tasting room, but somehow its 40 acres of vines, some decades-old, are still intact. "The fire just came up to the edge of the vineyard and stopped," the owner tells the Times.
The head of Napa Valley Grapegrowers says it's become clear that wineries actually "saved property and lives in Napa County," and that in some cases fires stopped so abruptly, it was "as if you drew a line in the grass." Experts believe that the patches of verdant, well-irrigated land served as firebreaks, helping contain the flames.
Another plus: About 85 percent of grapes had already been harvested, so the risk of so-called "smoke taint" is actually quite low. There's still plenty for winery owners to be bummed about — many of them have had to shutter their tasting rooms, heat damage to vines remains a big unknown, and they'll have to find ways to protect grapes from adjacent burn areas' runoff. But at least one winemaker tells the Times that he was able to harvest grapes 24 hours after flames swept across his property.