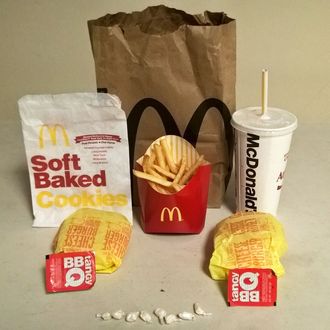 The goody bags undercover police got with one order.
Photo: Special Narcotics Prosecutor's Office
Police say the night-shift manager at a 24-hour Bronx McDonald's ran a flagrant cocaine side hustle right from the store's counter for the past eight years. Thanks to his brazen drug deals, Frank Guerrero became the target of "Operation Off the Menu." During the three-month sting, he reportedly sold undercover cops more than $10,000 worth of the drug in eight buys of "increasingly larger quantities."
Guerrero's system wasn't what you'd call super advanced: The city's press release touting his arrest says he retrieved the drugs "from a soap dispenser" in the public bathroom. That location's drive-through is 24 hours, but the rest of the store closes at night. Buyers, though, got red-carpet treatment: Guerrero would often unlock the door, let them enjoy their burgers in the comfort of his private after-hours dining area, and lovingly package their crack rocks inside a "Soft Baked Cookies" bag with their order. Police say he did it right in front of his co-workers, too.
"Guerrero's conduct was so blatant, it would be comical if he weren't committing a serious narcotics crime," Special Narcotics Prosecutor Bridget Brennan tells the Daily News. She also couldn't keep herself from joking — since this is probably her one chance professionally — that "[o]rdering coke took on an entirely different meaning on the night shift at this McDonald's."
Like all model criminals, Guerrero had $5,300 in cash hidden away at home inside his son's dresser. Sounds like the business was a family hustle: Police also arrested his girlfriend, the 2-year-old's mother.