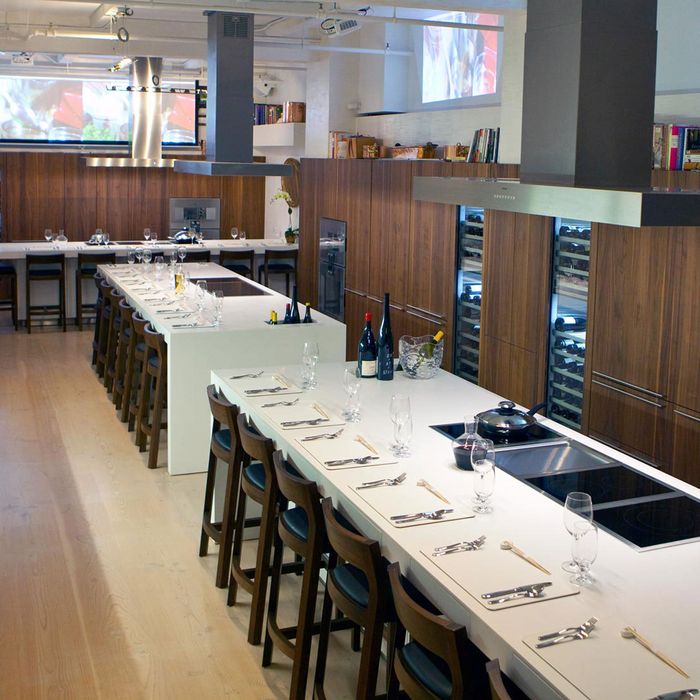 Bouley at Home.
Photo: Courtesy of Bouley at Home
David Bouley isn't giving up on fine dining. This Thursday, the chef-restaurateur opens Bouley at Home in the Flatiron. The 1,600-square-foot restaurant will also be home to a bakery, cooking school, food lab, and catering operation. Dinner there will set you back a cool $225, not including drinks or gratuity, with tickets for the dining room's 24 seats booked via Bouley's website. The restaurant will be open from Tuesday through Saturday, with eight seatings.
The eight-to-ten-course tasting menu's price makes it one of the more expensive meals in town, but that's not all that sets it apart. There will be no servers. Instead, silverware will be retrieved from a drawer at each seat, and cooks, who will work in an open kitchen, will explain the dishes. There will also be video monitors for showing cooking techniques and streaming commentary from producers. Along with dinner, Bouley at Home will serve a $75 lunch menu starting a few weeks down the line, and there will be a bakery. This isn't the only project the chef has in the works, as he plans to reopen his eponymous Bouley in a couple of years.
Bouley at Home, 31 W. 21st St., nr. Sixth Ave.; no phone