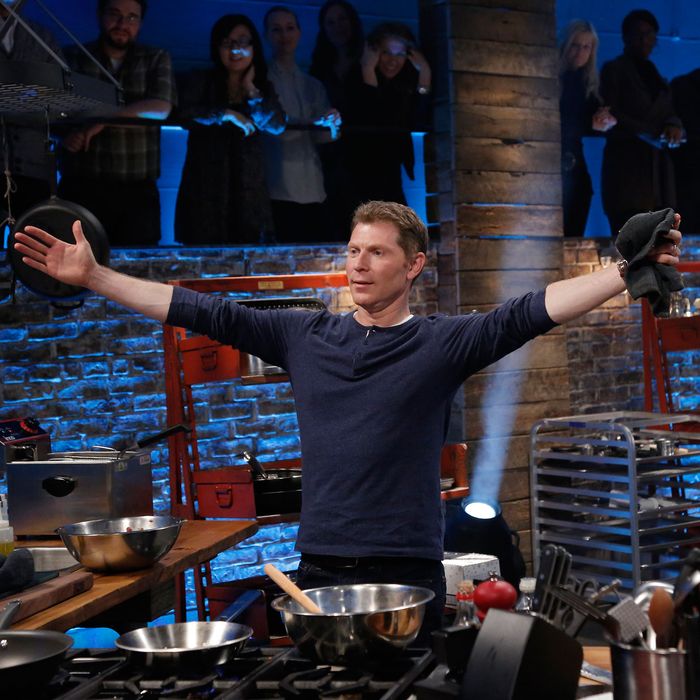 Sayonara.
Photo: Food Network
The guy whose theatrical battle in 2000 against Masaharu Morimoto basically convinced Food Network to bring Iron Chef to America has reportedly quit the show in hilariously dramatic fashion. According to a new Vanity Fair story by Allen Salkin — a pretty trustworthy source, considering he wrote the definitive book on Food Network personalities — Bobby Flay conveyed the message while taping an upcoming episode of Iron Chef Showdown, without giving any of the crew a heads-up. Mid-battle, Flay reportedly removed his apron to reveal "a T-shirt that read: 'THIS IS MY LAST IRON CHEF BATTLE EVER.'"
Producers, who never like surprises during live segments that they can't re-tape, thought he'd lost his mind:
Iron Chef is a live cooking competition, so the cameras kept rolling. But when the tape stopped, producers rushed in. "Bobby," they said, according to a source close to the production, "we're not going to be able to cut around that."

"I know," Flay responded. "That's the point."
Salkin says that whatever Flay's endgame is, it's unclear, and that sources at both the show and TV channel would confirm "only his intention to reveal a shirt — and a message — that he knew couldn't be cut." As far as official statements, neither Triage Entertainment (the company that makes Iron Chef Showdown) nor Food Network would admit that Flay's onscreen stunt had even occurred. A rep for Food Network's parent company Scripps likewise said, "Anything that Bobby Flay would do would be choreographed and instigated by us."
Cranking the rumor mill up higher, Flay was apparently a no-show two weeks ago at Iron Chef's big rooftop shindig at the New York City Wine & Food Festival, but he's shown no flagging interest yet in any of his seven other ongoing Food Network series. A former Food Network exec tells Vanity Fair that it's possible Flay no longer sees Iron Chef as being worth his precious time, explaining that filming the L.A.-based show is "a lot of work … It's taking time away from your restaurants." Flay runs his own production company now, Rock Shrimp, and Iron Chef doesn't tie directly into his brands or fatten his pocketbook in any other way.
Whatever the supposed reasons, Flay's going-away treat might be censored anyways for Iron Chef fans, some of whom will surely remember a very disturbed-looking Morimoto gasping 17 years ago when his cocky American competitor put dirty feet on his cutting board. Salkin says executives called an emergency meeting after the show's taping to figure out how to handle Flay's off-script wardrobe change. The T-shirt will reportedly "be blurred out."
Update, October 26, 2017, at 10:25 a.m.: In a statement to Grub, Flay writes that donning the "MY LAST IRON CHEF BATTLE EVER" T-shirt while taping the show was a gag perhaps taken too far.
This past summer when I was in production on Iron Chef Showdown, I wore a T-shirt to have a little fun during my last battle this season. In hindsight, it was probably not the best decision because it's just creating confusion. Food Network has been part of my family for over 20 years and will absolutely continue to be, and though there is a talented bench of Iron Chefs to tap, if I were asked, I'd be excited to return to Kitchen Stadium, whenever my schedule allows.