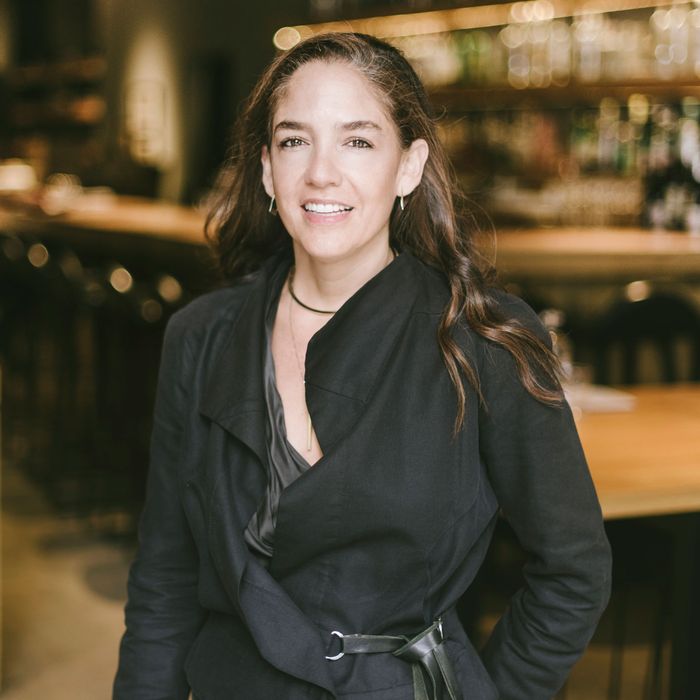 At Cosme.
Photo: M. Cooper
As the co-founder and CEO of Casa Dragones tequila, Bertha González Nieves spends much of her day drinking on the job. "Does it sound like I'm drinking all day long?" she jokes. "I try to limit it." She makes sure to balance it out with hearty meals, and this week, that included duck carnitas at Cosme, toro hand rolls at EN Japanese Brasserie, and cacio e pepe scrambled eggs at Empire Diner. (Plus, a few glasses of sake and wine, for good measure.) Read all about it in this week's Grub Street Diet.
Thursday, October 5
I woke up for an early SoulCycle class. I actually walk down the High Line to get to SoulCycle, which is an ideal way to start the day.
We live in West Chelsea because of its proximity to the High Line and art galleries. We also chose to have our office right where we live. It makes it easier to have a home base that's all in one neighborhood, especially given that I'm on the road so much.
I picked up an iced Americano with almond milk from La Colombe on my way into the office. Their coffee is the ideal strength and quality. Once I got to the office, I had a plate of mixed berries and five-minute eggs with avocado and lime. In Mexico, we put lime on everything.
On this particular Thursday, I had review meetings with my teams in the U.S. and in Mexico. I'm really adamant about not missing meals, and we ordered from Between the Bread. Good for a healthy work meal. I had salmon with a side of beets and asparagus from Between the Bread, to which I added chipotle sauce from Tacombi. The Tacombi sauces are the best — they're true to salsas that you'd find at taquerias all over Mexico — and we keep them stocked in the office, so we can always take our meals to the next level.
We have a beautiful bar in our office. On Thursdays, we host cocktails at our bar for work associates and special guests. After spending much of the day and early evening at the office, my friends and I met at the Hotel Americano for dinner to make the best of the extended summer weather. I had the niçoise salad with extra anchovies. They're super-stylish Mexican hoteliers, and the hotel is two buildings down from our office, so we are there more or less whenever we're in town.
Friday, October 6
I woke up early to walk my two dogs, Nola and Figaro, along the West Side Highway promenade. They are miniature Australian shepherds. After that, I headed for breakfast at Empire Diner, another favorite neighborhood spot. I had cacio e pepe–style soft-scrambled eggs with Parmesan, black pepper, and speck. So delicious. I also tried a juice with beet, carrot, and orange, along with a plate of seasonal fruit.
My partner and I packed the car and headed out to the Hamptons, as we had an event. As soon as we got to the Hamptons, we went to Round Swamp Farm. We picked up gazpacho, which they make fresh every day, a cauliflower side dish, and thinly sliced zucchini layered with sauce.
I answered emails and took calls throughout the day, and we went to the event that evening at the Baker House. It was a beautiful night and we poured cocktails. After that, we went for dinner at Service Station. We had a family-style dinner with friends, where we shared some dishes: grilled artichoke, sea scallops, and sizzling filet au poivre with French fries. We had red wine with dinner.
I'm into drinking water all day, I should add. I'm committed to it.
Saturday, October 7
I woke up and worked out on the beach. We then made breakfast at our home: five-minute eggs with avocado and lime, freshly squeezed orange juice, and coffee with almond milk. Then we headed back to Manhattan.
That night, we went to Juban, a local izakaya. I love Japanese food and am in awe of Japanese culture. In my early 20s, I earned a scholarship to Japan, where I traveled and learned a lot about their food. At Juban, they have a fantastic selection of sakes. I'm into dry, light sakes, and tried one that night called Naru Totai. We had edamame, shishito peppers, and the spicy cucumber to start — we always order those three things and our sake immediately when we sit at the table. We had a mix of sashimi and sushi that night — chef's choice.
The program was all about being a young ambassador from Mexico to Japan. I had to learn all about Mexico's industries, and one was the tequila industry. After the second day, I called my parents and told them I knew what I wanted to do — tequila! It was seeing tequila as part of the social fabric of Mexico. They thought, She's 22; it'll probably pass. It didn't. I worked in management consulting and I did my master's at Northwestern. I started in Mexico City managing tequila portfolios, working for the family that, at the time, owned Jose Cuervo and many other products.
I came to New York and I was at a party in Williamsburg and ended up talking to the founder of MTV [Bob Pittman]. I gave him my background and he said, "I've always wanted to launch a tequila!" And I said, "I've always wanted to be an entrepreneur." Two weeks later, I was sitting in his office, talking about the possibility of going into business together. It happened one year later.
Sunday, October 8
I woke up and went to SoulCycle.
I had delicious eggs from Friedman's in Chelsea Market. They are Nova Benny, poached eggs with salmon on a bed of potatoes. I had that delivered and drank coffee with almond milk.
We were invited to spend the day aboard the Freedom, which is the sister ship to the presidential yacht. Bob, my business partner, owns the boat with a few other people. We sailed around Manhattan. It was a slightly overcast day that allowed for a truly beautiful view of the city. I had grilled salmon with Brussels sprouts and a glass of Sauvignon Blanc.
Monday, October 9
I had a late breakfast: two five-minute eggs, lime, freshly squeezed orange juice, and coffee with almond milk. The usual. I spent the rest of the day working at the office.
That night, we went to Cosme with friends. I love Enrique and Daniela's food. The duck carnitas are heaven. I grew up in Mexico City, and still spend almost half my time there, so Mexican cooking is something I love, and now, I can have it in New York. Going to Cosme really feels like being in Mexico City.
In addition to duck carnitas, we had uni tostada, scallops, and cobia al pastor. I also love hen-of-the-woods mushrooms, which we ordered.
Tuesday, October 10
I woke up, went straight to the office, and had coffee with almond milk.
We ordered Chop-Shop. I ordered the poached Norwegian salmon with bok choy.
At night, we went to the Artadia benefit, which raised funds that directly support artists. There, I had a mix of passed bites, but I was really focused on seeing Nick Cave in his Soundsuit. It was a very fun scene. I had tequila on the rocks.
After that, I went to dinner at EN Japanese Brasserie. We started with the Kumamoto oysters with ponzu and their famous freshly made scooped tofu, served warm. I also had the special of the day, which was a toro hand roll. We had the aburi-salmon-avocado roll and an uni roll with sweet shrimp and cucumber. We had a sake recommended by the sommelier that was the driest on the menu. It was different and beautiful.