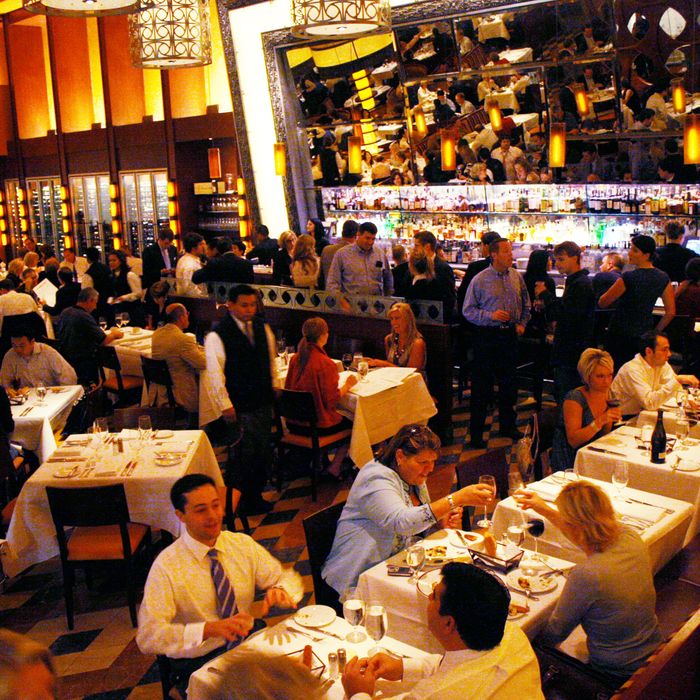 This hit to Flay's brand isn't great news for NYC restaurateurs.
Photo: Shanna Ravindra
Bobby Flay, host of nine separate food shows that use his name, tells the New York Times' food editor Sam Sifton today that the rent and necessary renovations at Bar Americain have gotten so "prohibitively costly" that he's been left with no choice but to shutter the massive midtown restaurant on January 17.
Bar Americain has been a midtown stalwart since 2005. It was never known as a knock-you-off-your-feet kind of place. Even when it opened, New York's then-restaurant-critic Hal Rubenstein called it "uncharacteristically subdued." But in a neighborhood where name-brand chains like Olive Garden thrive and Guy Fieri runs a behemoth successful eatery, serving reliable eats with a Bobby Flay pedigree seemed like a sure thing.
"It's been a great run," Flay tells Grub in a statement:
After 13 years of amazing success in midtown Manhattan, we have decided to allow the lease of Bar Americain to come to an end. As you can imagine, this was a tough and ultimately a sad decision. My partners and I were in agreement that in order to take on another long-term commitment that would take us into the next decade or two, Bar Americain would need a full renovation that would be prohibitively costly.
He says a big factor was the high cost of updating the space, but it's still another sign that making rent is a rat race for Manhattan restaurant owners. Bar Americain joins not just smaller spots that have closed thanks to lease issues (or will soon) like Mayahuel, Pó, and Schiller's, but even star-studded casualties like Le Cirque. Grab a Kentucky hot brown while you still can.