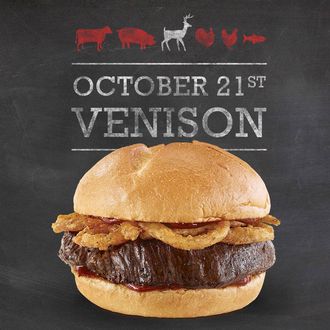 Some very gamy meats.
Photo: Arby's/Twitter
Very soon, all 3,300 Arby's locations in America will sell deer meat. The chain's sleeper-hit Venison Sandwich is getting a one-day nationwide release on October 21, which strategically coincides with the start of deer-hunting season in several states. The sandwiches debuted last October at stores found in the "heavy deer hunting areas" of six NRA-friendly states; customers exhausted supplies at some locations in as few as 15 minutes. To really put out a siren call to wild-game fans this time, there's also a very limited-run elk sandwich available in certain states.
The deer sandwich is the exact same as last year's — why fix what ain't broke, right? It's thick-cut venison steak topped with juniper-berry sauce and crispy onions and served on a toasted roll. Arby's expects that they will "sell out quickly," apparently including at its locations near Boston and in places like New York City and Fresno, California. Chief marketing officer Jim Taylor has a hot tip for people really craving fast-food deer meat: "Get there when we open or a little before," he tells USA Today, then stand in line "just like the folks last year."
One semi-surprising side note is that the chain sources the meat from a New Zealand supplier, and it's both grass-fed and free-range. It took Arby's one full year — basically since last year's promo launched — to secure enough meat for what it's calling the "biggest venison promotion in the world" by any restaurant (which … kind of makes sense).
Arby's adds that the elk sandwich is essentially the venison sandwich, just with the meat swapped and a blackberry-port-wine sauce. It will be served in states "where elk hunting is popular," which apparently isn't very many: The even gamier-tasting sandwich will get a single day of availability in a town outside of Denver, in the city of Billings, Montana, and in Casper, Wyoming.