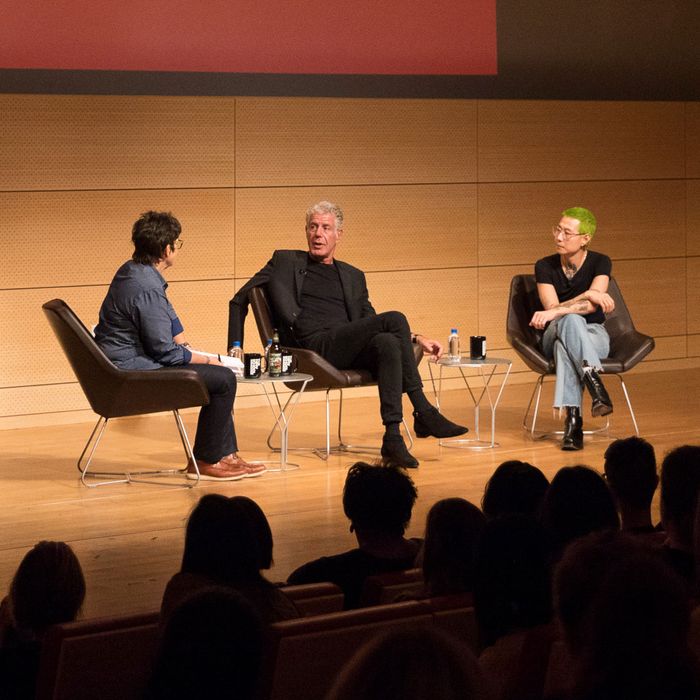 New York
Times
journalist Kim Severson talked with Anthony Bourdain and Danny Bowien about their new documentary about food waste.
Photo: Vladimir Weinstein/BFA.com
Anthony Bourdain couldn't care less if you think chefs should stick to sauce pans. Last night, the New York Times and the New School hosted Bourdain and chef Danny Bowien to talk about their new documentary, Wasted! The Story of Food Waste. The panel was part of its annual TimesTalks series and dealt largely with the global issue of food waste, its existence in restaurants and home kitchens, and how chefs can effect change. Those ideas include not only efforts like chef Massimo Bottura's soup kitchens and Food for Soul program, but Bourdain argued, simply collectively switching to "ugly tomatoes" so they become the subject of glossy trend pieces. Bourdain, Bowien, and moderator Kim Severson also talked about the often unacknowledged but fundamental political nature of food, something that food waste brings to the forefront.
This happened early in their conversation, when Bourdain called not wasting food "a moral imperative." Severson responded by asking "a question about advocacy" among chefs, saying that "you could argue that what José Andrés is doing in Puerto Rico is political in a way," and noting Tom Colicchio's lobbying work. Not everyone responds to that kindly, and Severson pointed out that "there's a lot of pushback on social media. Like, 'stay in your lane; just cook me food; shut the hell up; I don't want to hear that; who cares.'" To which Bourdain, in his characteristically pointed way, interjected:
Fuck that. Fuck that. There is nothing, look, is there anything on this planet more political than food? No there is not.

Who eats? Who doesn't eat? Who is cooking? Who's eating? No there is not. Who eats? Who doesn't eat? Who is cooking? Who's eating?

Why are we eating the things that we eat? What got us to this point where we are eating a lot of pickles or dried and preserved food? What does this tell us about, you know, ourselves? … Who is picking the produce? Who is cutting the meat? Who is shipping the meat? Who is putting it in the boxes? So every time I hear that online, and I hear it a lot, you know, "Stick with food, man. Stop talking about politics."
Food is inherently political, and the backlash and attempted silence that he's talking about is as relevant as ever right now. Not only because of the threat that climate change poses to humanity's food system and the fact that millions still go hungry. But because of the reaction to protests by athletes like Colin Kaepernick and the response to NFL players who reacted to President Donald Trump's inflammatory remarks about fellow athletes who choose to protest during the anthem. Watch the conversation, right here: