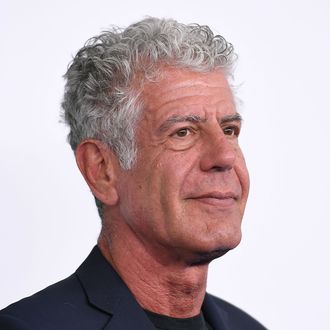 Bourdain not only criticized the comedian James Corden, but the crowd's reaction to his jokes.
Photo: Angela Weiss/AFP/Getty Images
On Friday night, James Corden took advantage of his platform at Los Angeles's amfAR Gala to talk about Harvey Weinstein — by telling jokes about the movie mogul's alleged decades of sexual assault and harassment. The British comedian cracked three jokes about the case, describing the room as "so beautiful, Harvey Weinstein has already asked tonight up to his hotel to give him a message," and specifically referencing one TV reporter's allegation that Weinstein forced her to watch him masturbate.
The audience reacted with a mix of groans and applause, but his comments reverberated beyond the gala. Among the many critics of Corden's act were alleged victims Rose McGowan and Asia Argento, whose partner Anthony Bourdain joined the chorus. (All three have been vocal about the Weinstein allegations since they came out earlier this month, first in the New York Times and then in The New Yorker.)
Bourdain tweeted several times about Corden over the weekend, writing that his comments "reveals snickering Hollywood in all its grotesquerie" and criticizing the amfAR audience for not reacting more strongly to the jokes. Corden apologized for the jokes on Sunday afternoon, writing that "sexual assault is no laughing matter" and offering the obligatory addendum that it "was never my intention" to offend.