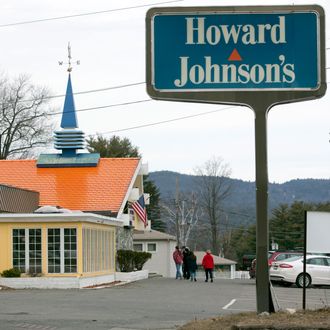 The restaurant's entrance in Lake George.
Photo: Mike Groll/AP Photo
The Howard Johnson's in upstate New York has received no shortage of tributes since becoming the iconic chain's final outpost a year ago, but looks like that positive press is about to dry up: Media are reporting that police have charged the Lake George restaurant's longtime owner with sexually abusing or harassing at least 15 female employees.
Jon LaRock — the 65-year-old owner who's worked under that orange roof since his first night shift in the '80s — was arrested yesterday for unwanted sexual contact as well as forcibly restraining employees against their will and making inappropriate sexual remarks. They range in age from 14 to 43. He'll be arraigned today on at least seven charges, according to the Warren County Sheriff's Department. Authorities say their investigation started last Friday when a 17-year-old employee contacted them to say she'd been targeted by LaRock. Other workers they interviewed said he'd victimized them as well. Police say LaRock also allegedly offered alcohol and drugs to several of them who weren't of legal age. The incidents reportedly occurred between June of 2016 and this past July.
His restaurant, which says "Howard Johnson's: Last One Standing" out front, is reportedly struggling in spite of all the stardom. In a profile earlier this year, Eater said LaRock is now the only cook in the kitchen during the wintertime, but that he won't complain about the 90-hour weeks because it "doesn't feel like I have to go to work, I actually enjoy coming here."
As the story also noted, LaRock is aware that the "legacy of one of the most influential restaurants in American history will probably end" with him. The property itself actually went up for sale in January, but LaRock insists his HoJo's isn't in danger. ("He'll have it for sale for the next 25 years … unless I buy it. Ain't nothing going to happen here.")
Until recently, America had one other HoJo's that nostalgic diners could visit. But that location — reportedly a favorite of Stephen King's up in Bangor, Maine — closed last September. Howard Johnson's was once a thriving restaurant chain that beat the Great Depression, expanded into more than 1,000 locations, had a cameo in Stanley Kubrick's 2001: A Space Odyssey, and boasted recipes created by the one and only Jacques Pépin. Now, sadly, its final chapter will be how its last remaining location got rocked by a massive sex-abuse scandal.