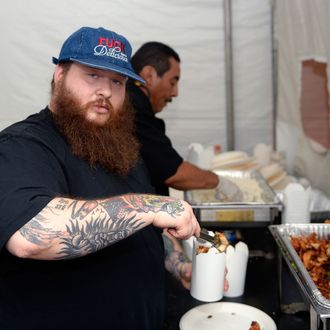 There will definitely be edibles.
Photo: Matt Cowan/Getty Images
Viceland's resident pot-dabbing rapper-chef is going to be the face of the channel's first late-night cooking show. Their choice of name sets a low bar (The Untitled Action Bronson Show), but Vice promises it will feature Action Bronson "cooking and hanging out with an eclectic mix of guests." So no worries — still just Action Bronson being Action Bronson.
This will give him his fourth series on Viceland, alongside the Snapchat dating show Hungry Hearts, something called Action Bronson Watches Ancient Aliens (a show about him watching the History Channel's Ancient Aliens), and then the popular travelogue Fuck, That's Delicious, where "rap's greatest bon vivant" goes to different cities to eat good food and probably smoke weed.
Vice released a trailer today in which Bronson describes the things that Untitled's viewers might expect to see. In seemingly no particular order, those things are "food, deceit, lust, weed, exercise, laughter, hugs, puppies."
The show will air nightly, and it premieres at 11:30 p.m. on Monday, October 23.