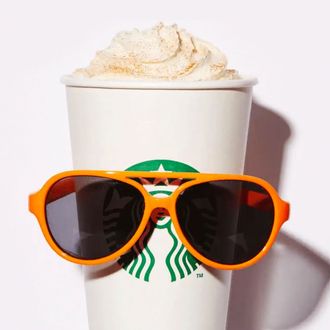 Ugh, this guy.
Photo: Starbucks
It is PSL season, but unlike past launches, when the drink was given out a week or more ahead of time, Starbucks decided to be especially coy for this year's debut, and it's driving customers nuts.
In lieu of a normal announcement, there's a Facebook Live stream and not much has happened. But know this: When it comes to PSLs, Americans do not appreciate games. The weird stream is just the latest confusing move. This year, corporate allegedly even changed the actual release date, which compounded the problem even more. Jugs of PSL syrup showed up on Reddit weeks ago, supposedly along with a not-before date of September 5. (Makes sense: Historically, the day after Labor Day has been the official launch.) But then a PSL Twitter account jumped in and started tweeting cryptic messages about "September 1st" (a.k.a. today):
More than enough crap to make thirsty customers rage at Starbucks on social media. "Fail, Starbucks," one wrote on Facebook. Another put it simply, "WHERE IS THE PUMPKIN SPICE LATTE? #givethepeoplewhattheywant."
So what is the deal? Well, it turns out, it doesn't really matter: People are reporting a tremendous amount of success by simply heading to their local Starbees and asking nicely. Indeed, perhaps the PSL needs no formal launch at all — instead, as the weather cools and the seasons change, the arrival of sugary pumpkin-pie coffee is merely understood to be inevitable. Enjoy it while you can before all the peppermint stuff shows up for Christmas.