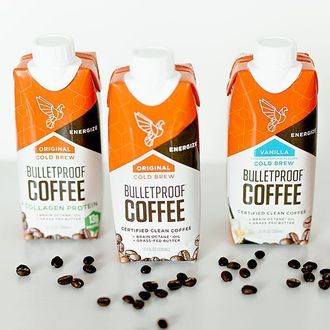 Still around, now in an easier-to-drink format.
Photo: From Bulletproof
If you thought selling half-price Amazon Echos on the produce aisle was an oily move, wait until you see what Whole Foods has in the pipeline next: ready-to-drink Bulletproof butter coffee. Entrepreneurial biohacker and amateur mycologist Dave Asprey has sold ever-growing quantities of this concoction — 100 million cups to date — since encountering it ten years ago on a self-discovery quest in Tibet. It's made by stirring grass-fed butter (ideally a yak's) and a few tablespoons of proprietary "Brain Octane Oil" into a cup of coffee, but the version arriving at Whole Foods is a cold brew. It's packaged in Vita Coco–esque cartons that retail for $4.99 each. They arrive this fall, and come in a plain variety as well as three flavors — mocha, vanilla, and another that's just labeled "Collagen Protein."
Asprey's mission has always been evangelistic: He wants Bulletproof cafés all over America (he's got one so far in Santa Monica, but New York is supposedly up next). Back premerger, Whole Foods was actually hearing him out about putting these inside its new spinoff grocery chain, 365. He maintains that Bulletproof burns fat, energizes the body, and defogs the brain. One way the brand achieves this is by stripping coffee beans of 27 different "toxins." As the website explains, non-Bulletproof coffees contain a particularly foul mycotoxin, a chemical left by fungus on moldy crops, that "hits your kidneys, causes cancer, and messes up your immune system." There's no scientific proof this is true. But that hasn't stopped the company from making the health claim. Or many others — although to get their full effect, some do require supplementing the coffee with 30 avocados, or standing on one of Bulletproof's $1,500 Whole Body Vibration platforms.
Assuming you see buttery coffee as a plus, Bulletproof's biggest downside is having to DIY a cup every time you start crashing. Ready-to-drink cartons solve this conundrum, but the company must've realized the cruelty of screwing non–Whole Foods shoppers out of this useful biohack, so starting today a four-pack of bottles can also be purchased directly from the website.