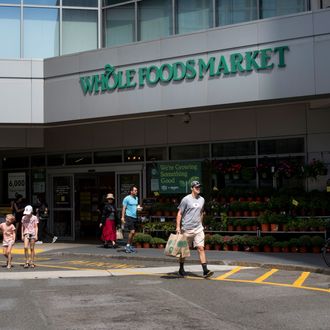 Better get here early before all the baby kale runs out.
Photo: Nicholas Pfosi/Boston Globe via Getty Images
It's still not as cheap as competitors, but Whole Foods may not need Walmart-level rollbacks to crush the other guys anyway: Signs already point to a big boost in traffic since merging with Amazon. The Wall Street Journal hears informally that stores are seeing serious sales leaps, and a group of JPMorgan Chase analysts who had no intention of waiting for November's earnings report apparently conducted literal store stakeouts, and found car traffic during a four-day period was the highest it's been in three years.
A portion of these crowds is due to the hype, for sure. (That, or because people were in dire need of an Echo, but Amazon had moved them all to Whole Foods' produce aisles.) The amazing part, regardless, is that these shoppers are buying groceries they admit aren't really any less expensive, and seemingly shrugging that off. They'll note it's "like 10 cents here and there" on eggs or avocados, but itemized price comparisons have been a clear reminder that if you keep shopping at Kroger or Walmart, you'll come out ahead: Bloomberg News calculated Whole Foods' grocery prices remain 50 percent higher than Walmart's, while a survey by Consumer Growth Partners found a basket of comparable goods was 37 percent cheaper at Walmart. The Journal adds that a flabbergasted Berkeley Trader Joe's has reached the point where it's hanging signs that say things like "Our bananas have been priced at 19 cents for 17 years." (Whole Foods dropped nonorganic-banana prices to 49 cents a pound two weeks ago.)
Whole Foods contends that its products are "superior" to those sold by competitors, and that stores in different regions are also "holding routine sales that go beyond the Amazon markdowns." However, it hasn't done any more national discounts beyond the original 15 or so items, and that's its ace in the hole — it sort of doesn't matter, as those traffic numbers suggest. It can lean on Amazon's ubiquity, which continues apace as well: News broke yesterday that construction has begun on the company's first New York State fulfillment center. It's a $100 million, 855,000-square-foot facility on Staten Island that will employ 2,250 people, and if everything keeps moving in this same direction, should ensure all New Yorkers can get Prime one-hour delivery of the entire inventory of Whole Foods' canned beans.