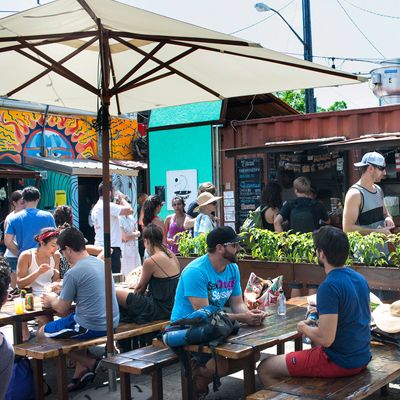 There's a party at Rockaway Beach Surf Club on Saturday.
Photo: Christina von Messling
If you're sticking around the city for the long weekend, you already know it's prime time to get a seat at usually crowded hot spots. But New York restaurants are also running plenty of parties and food specials for those who've decided to stick around. Whether you want to kick off the holiday weekend with discounted drinks, check out a beach party in Rockaway, or hang out with some cats, there's something for you.
Lobster and Beer
Where: Hester Street Fair
When: September 2 from 11 a.m. to 6 p.m.
On Saturday, the Hester Street Fair will host its second Lobster and Beer party. Regular vendors will be joined by lobster specialists, including Burger & Lobster and Lobster Joint. If you can't make it to the beach, you can at least eat a lobster roll.
Drinks Special at Surf Shack
Where: Good Story
When: September 1 from 2 p.m. to 6 p.m.
Kick off the long weekend with drink deals. The Arlo Soho's rooftop bar will end its summer theme, Surf Shack, with two-for-one summer-Friday drinks this afternoon.
Labor Day Bash
Where: Rockaway Beach Surf Club
When: September 2 starting at 4 p.m.
Heading to the beach this weekend? Drop by Rockaway Beach Surf Club, which will host locals for a Saturday party with live music, drinks, and tacos from Tacoway Beach.
All-night Happy Hour
Where: Mermaid Inn
When: September 4
The two downtown branches of the seafood spot will offer all-night happy hours of $1 East Coast oysters, $5 beer, $7 wine, and $8 cocktails, while the Upper West Side restaurant will serve brunch during the day.
Antipasti and Spritz Combo
Where: the Sosta
When: September 1 through 4
All weekend long, the fast-casual Italian restaurant will serve its antipasto board and a carafe of any spritz for $28.
Twin Peaks Finale Party
Where: Threes Brewing
When: September 4 from 6 p.m. to 11 p.m.
Gowanus brewery Threes Brewing will host pop-culture podcast There Will Be Drinking for a screening and recap of the season finale of Twin Peaks — plus drinks and games.
Pre–Labor Day Party
Where: Salvation Taco
When: September 3 from 2 p.m. to 6 p.m.
In midtown, April Bloomfield's Salvation Taco will also host a Sunday party with food and drink specials and tunes from DJ Bryan Mette.
Party for Harvey Relief
Where: Coup
When: September 2 starting at 5 p.m.
On Saturday, Ravi DeRossi's downtown bar Coup, which donates profits to political causes, will host a party with Beast, with all proceeds going to the Harvey Disaster Animal Fund's effort to help animals affected by the storm. (Other restaurants are helping with relief, as well.)
West Indian Day Parade
Where: Eastern Parkway in Crown Heights
When: September 4 from 11 a.m. to 6 p.m.
The annual West Indian Day Parade is a party, and it's not easy to get around during peak hours, but if you're an early riser, you can beat the rush and more easily check out the many food vendors that set up along the route.
Annual Labor Day Party
Where: Maison Premiere
When: September 4 from noon to 2 a.m.
Starting at noon, the Williamsburg cocktail den will have its annual holiday party with oysters, barbecue specials, and live jazz.
Kiki Tiki
Where: Koneko
When: September 4 from noon to 9 p.m.
If you're in the market for a cat (or not), head to Koneko for its Kiki Tiki party with all-you-can-drink rum punch, charcoaled grilled pork sliders, and cat hangs.
Low-Country Boil
Where: the Standard East Village
When: September 4 10 a.m. to 3 p.m.
Looking for a special brunch on Monday? Head to the Standard, where the three-course low-country boil ($62) includes barbecue ribs; a boil with shrimp, smoked sausage, and more; and banana crème pie for dessert. There will also be $30 buckets of beer, $8 frozen Jungle Birds, and $5 Bloody Marys and mimosas.