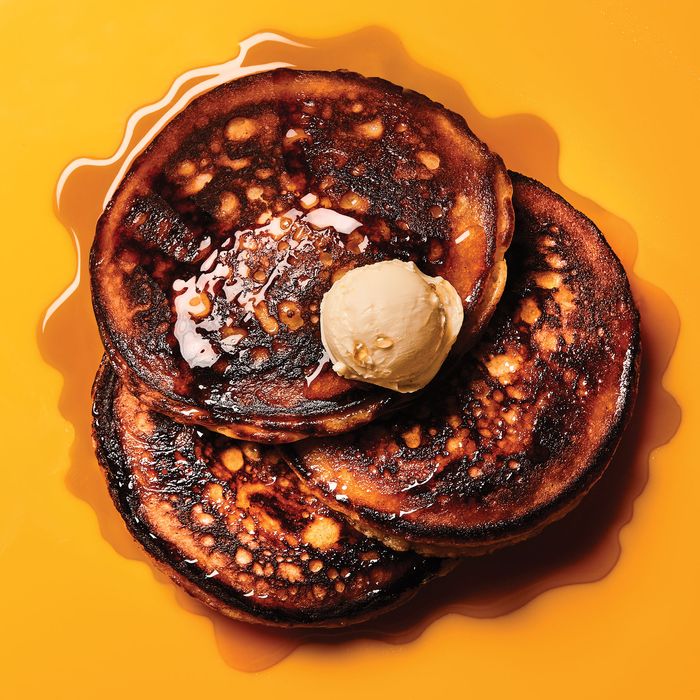 Chez Ma Tante's pancakes.
Photo: Bobby Doherty
Once a month or so, the Underground Gourmet takes stock of all the excellent (and not so excellent) grub we've shoveled down our gullets to bring you this — our slightly random, completely subjective, 100 percent delicious top-ten new things to eat and drink.
1. Pancakes at Chez Ma Tante
92 Calyer St., at Franklin St., Greenpoint; 718-389-3606
Truth be told, our policy regarding pancakes is that we can take them or leave them. But Chez Ma Tante's pancakes are exceptional: hot and fluffy little Frisbees of salty-sweet flavor and melting richness that could convert the staunchest flapjack skeptic ($11). Extra yolks in the batter add richness, and so do good Normandy butter and pure Vermont maple syrup. But the key is how they're cooked: super-crisp around the edges and practically blackened on one side like a Paul Prudhomme fish fillet. Co-chef Jake Leiber was inspired by the ones he had at a Mexican diner in Oceanside, California, that he says came out of the kitchen looking almost burnt.
2. Chimek at Fuku Wall Street
110 Wall St., entrance on Front St.; eatfuku.com
Dave Chang's latest fried-chicken feast: a whole bird fried two ways (habanero-buttermilk-battered and spicy-sweet Korean style), plus a slew of inspired sides including cottage fries, batter-fried pickle chips, and the parathalike flatbread called m'smen for DIY sandwich-making ($42). Wash it all down with a six-pack of Miller High Life ponies. Lots of chefs make great fried chicken, but no one lays out a fried-chicken spread like Colonel Chang.
3. Gazpacho Salad at The Pool
99 E. 52nd St., nr. Park Ave.; 212-375-9001
A funny thing happened to Rich Torrisi on the way to making gazpacho the other day. Halfway through the procedure, while sampling the bounty of his Union Square Greenmarket haul, he asked himself, "Why blend it?" So what was to become a soup became a salad: raw and marinated Sun Gold tomatoes, Tristar strawberries, sea beans, and Mexican sour gherkins, everything brightened by sunny splashes of tomato water. Like the intended gazpacho, it's the essence of late-summer produce in a bowl, but you eat it with a fork ($23).
4. Beans, Pistou, Mussel Broth at Gloria
401 W. 53rd St., nr. Ninth Ave.; 212-956-0709
A striking mix of Rancho Gordo beans so rich and creamy and perfectly cooked you may never open another can of Goya. A tip: Although they list the legumes under the menu heading "mains," you can order them as a shareable side, avoiding the embarrassment of having to speak these words in front of your date: "…and for my main course, I'll have the beans" ($19).
5. Chicken Chops at aRoqa
206 Ninth Ave., nr. 23rd St.; 646-678-5471
Three nipped and tucked hunks of thigh meat, deftly charred and profoundly spiced, arranged leg bones up like a miniature chorus line of Rockettes. Bonus wacky presentation points: The chicken chops are served on a toy-size pushcart and set ablaze by a waiter with a pot of flaming rum ($14).
6. Boiled Fish With Pickled Cabbage and Chile at Guan Fu Sichuan
39-16 Prince St., nr. 39th Ave., Flushing; 347-610-6999
Though inarguably fresh, the featured ingredient in this classic Sichuan dish ($30) is upstaged by a slightly viscous curry-yellow sauce with an undercurrent of spice and a smack of sour. When your server warns you that it's too oily and salty to drink like soup, he's only trying to save you from yourself, so plumb the depths to excavate the pickled greens and enoki mushrooms.
7. Corn Dog at Empellón al Pastor
132 St. Marks Pl., at Ave. A; 646-833-7039
Why doesn't this corn dog taste like the one you ate that time at the street fair? Probably because Alex Stupak makes his with fresh corn masa and serves it with housemade huitlacoche mustard funneled into what looks like a repurposed French's-mustard squeeze bottle, because what goes better with corn than more corn ($7)?
8. Breakfast Burritos at Saltie
378 Metropolitan Ave., nr. Havemeyer St., Williamsburg; 718-387-4777
Little-known fact: 9 to 11 a.m. weekdays, Saltie serves killer breakfast burritos ($8) — an egg-fried-rice number with green salsa, and a saucier, sloppier, smokier hot red mess stuffed with shredded hash browns.
9. Kurdish Siske Kubeh at Kubeh NYC
464 Sixth Ave., nr. 11th St.; 646-448-6688
Of the endless pairings of mix-and-match Iraqi-Jewish dumplings and broths, the one to get is the semolina-dough-wrapped pucks of slow-cooked shredded beef sunk in a lemony Persian chicken soup fortified with chickpeas and carrots ($15). Tart it up even more with pinches of dried-lime powder.
10. Knekkebrød from Norwegian Baked
NorwegianBaked.com
Somehow, this Brooklyn-made take on Wasa crispbread overcomes its category's blandness to become deeply addictive, rendering all rival crackers deficient and sad (must be the olive oil). The crunchy squares are packed with rye, oats, and enough seeds (sunflower, pumpkin, flax, sesame) to give bird food a good name ($7.69 at LifeThyme Natural Market).
*A version of this article appears in the September 4, 2017, issue of New York Magazine.