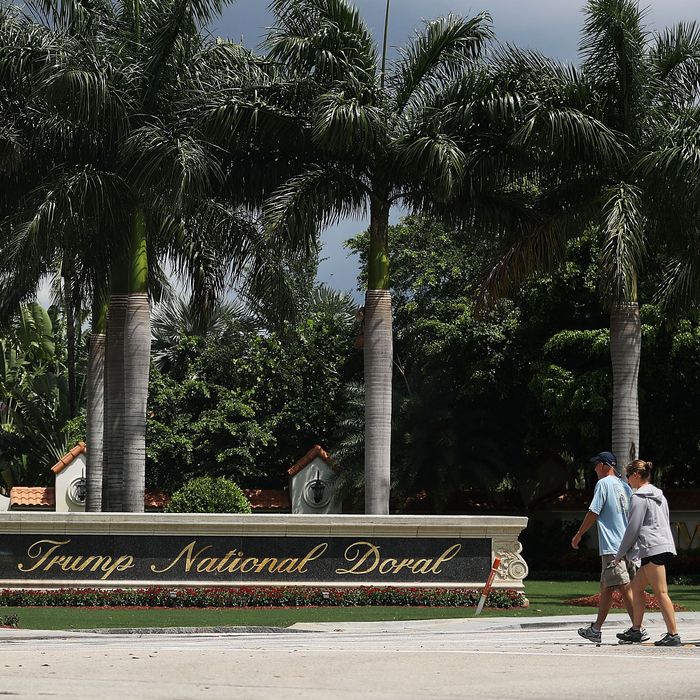 Natural disasters are not advertising opportunities.
Photo: Joe Raedle/Getty Images
A good businessmen sees opportunities to cash in in everything, especially natural disasters exacerbated by climate change. Like, Hurricane Irma, which wreaked havoc in Florida and the Caribbean, and is being called the most powerful storm to form in the Atlantic in a decade. On Barbuda, where 95 percent of buildings were destroyed or damaged, there is no one living there for the first time in 300 years. The storm is estimated to have caused $49 billion in damage in Florida alone, where millions have been displaced.
But you know what would fix everything for those people whose houses were destroyed and family heirlooms lost? Squid-ink noodles with shrimp. Or maybe a rib-eye steak with a side of onion rings. The fine folks at Trump National Doral, the Miami-area hotel and golf course, know that an overpriced steak a day keeps the post-hurricane stress away. To all our friends in Florida, they've graciously invited you to eat at the hotel's location of BLT Prime. It's like Uncle Sam said: "I want you, to spend money at my hotels and golf courses."