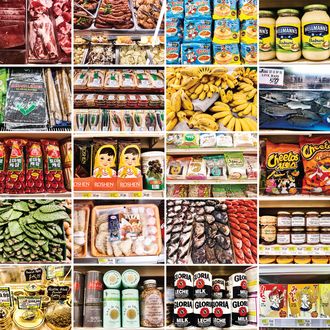 The city's supermarket shelves are stocked with the familiar and the foreign.
Photo: Bobby Doherty/New York Magazine
In a time when traditional supermarkets are on the wane, massive so-called ethnic stores like the Asian-focused H Mart and the eclectic Food Bazaar are on a tear, opening new branches around the city and the country (often in the vacant shells of defunct conventional grocery stores). These aren't the small specialty shops to which cooks would make a crosstown pilgrimage for a few kaffir-lime leaves to complete a curry recipe, but one-stop shops that locals depend on to fulfill every need, from paper towels to bamboo steamers to breakfast cereal and even pajama bottoms. They're largely clustered in outer-borough immigrant enclaves, where space is more abundant, rents are cheaper, and families can park and load up cars, and they signal neighborhood demographic shifts as much as the changing dietary preferences of today's New Yorkers.
What they have in common is a pragmatic desire to appeal to not only immigrants but everyone by stocking their shelves with an all-inclusive mix of imports and familiar domestic products. Still, each of these megamarts has its particular strengths. Here, we take a close look at some of the shelves that best represent them.
Food Bazaar: Kroger Meets Kalustyan's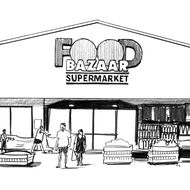 Location visited: 42-02 Northern Blvd., Long Island City
Origin story: Founded in 1988 as Bogopa (Korean for "yearning for you," and now the parent-company name) by Francis An, a Korean-born immigrant who arrived in New York via Argentina. When he couldn't find the Latino and Korean ingredients he needed, he opened his first store, in Corona.
Branches: 24 in the tristate area, including 15 in Queens, Brooklyn, and the Bronx.
In a nutshell: The Long Island City location distinguishes itself by providing one-stop shopping for just about everyone, with the widest variety and greatest number of international foods you've probably ever seen in one place, plus serious meat, produce, and seafood departments spread out over 75,000 square feet of a former Pathmark. Perhaps most exotic for the cloistered Manhattan shopper: It's open 24/7, with lots of parking, indoors and out.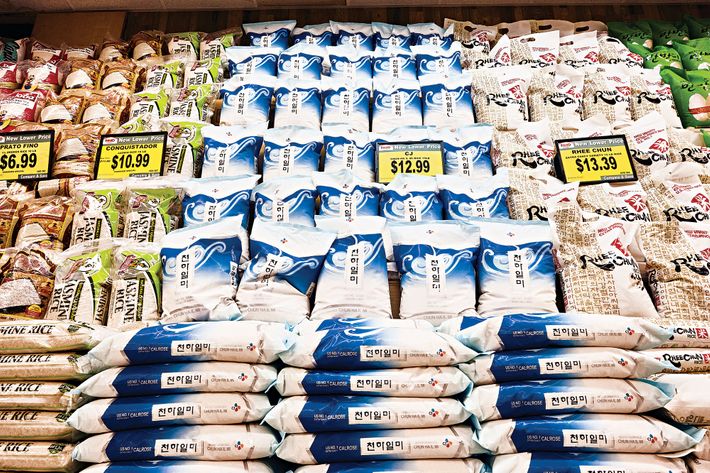 Good gets: 12-pound slab of pork spareribs for $24, Eclipse coffee syrup for $2.99, 18-pack of Budweiser for $16, two-pound bag of chana dal for $2.89, four bottles of Mexican Coke for $5.
Best sellers: Mangoes, avocados, plantains, house-brand cage-free eggs.
You won't find this at Whole Foods: Elusive tubers like yautia coco, fresh raw peanuts in the shell (good for boiling), pork neck-bones value pack for 99 cents, can of Ecuadorian tuna soup, milpero tomatillos, beef tripe stew, pigs' feet and cows' feet, ten-pound box of Saudi Arabian dates, chicharrones from a self-serve plastic bin for $7 a pound, frozen tomates de árbol (tree tomatoes; scoop the flesh, sprinkle with sugar, and eat for breakfast), Impecca 5,000-BTU air conditioners for $80.
Never shop hungry: We recommend the kimchee pork stew and seafood okonomiyaki at Pan-Tastic Q, one of three mini-food-court vendors at the entrance, along with Singas Famous Pizza and a Dunkin' Donuts–Baskin-Robbins hybrid.
Juxtaposed: In frozen foods, Pran-brand aloo puri with Gorton's fish sticks.
Earworm alert: Nonstop doo-wop.
The Jersey City–based company Goya Foods dominates aisle 1400 with an estimated 1,000 different packaged items — and not just cans of beans (from 15 ounces to six pounds 14 ounces) but also mango slices, coconut milk, sugarcane juice, ceviche marinade, organic olive oil, flan, pickled mussels, "luncheon meat," potted chicken, chia seeds, rigatoni … you get the idea.
Sam Kwak, lawyer.
What do you like about Food Bazaar?
Everything. When I lived in Boston, I went to H Mart for Asian food, Star Market for regular food, lots of specialists, fishmongers. I discovered Food Bazaar last summer, when I was doing an internship. Now I'm obsessed with this place. I tell everyone I know, "You should move to LIC and shop at Food Bazaar."
Are you sure you're not the owner of Food Bazaar?
No, I just love talking about this place. Ask my wife.
What have you got there?
New York Kimchi, dry-aged steaks — today's my birthday — multigrain rice, belt fish, the Korean rice wine makgeolli, yogurt, ground pork. Produce is priced very competitively.
When's the best time to shop, other than on your birthday?
It's open 24 hours, so sometimes I come at midnight because I can.
Q&A: Meet the Meat Manager
Manuel Castillo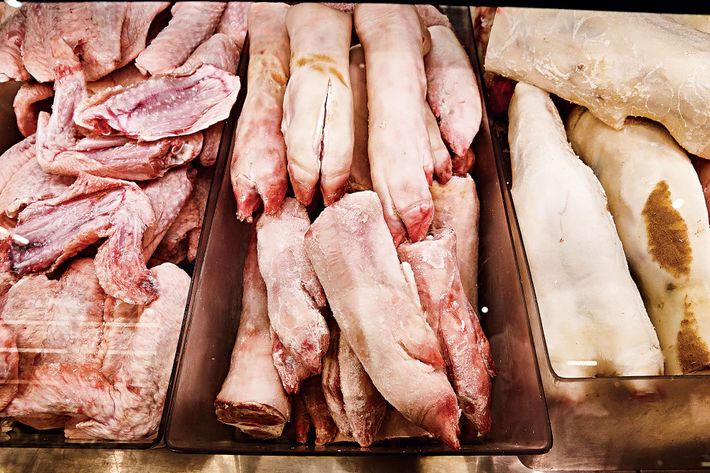 How long have you worked at Food Bazaar?
Twenty-four years at various branches, and at this store since it opened three years ago.
What do you like about working here?
I always learn a lot. I'm from Ecuador, and I used to work in Corona, where I cut meat a certain way for mostly Hispanic customers. When I came here, I had to learn how to cut for Korean customers; they like short ribs cut L.A. style, thin across the bones.
What's your favorite cut of meat?
A really good rib-eye steak.
What about an underrated cut of beef?
Picanha, otherwise known as top-sirloin cap. Brazilians love this cut. It's great on the grill, since it has the right amount of fat to give it amazing flavor.
How do you like your steak cooked?
I personally like my steak well done, but most people prefer it cooked medium.
What about ketchup? Would you ever put ketchup on a steak?
No!
NetCost Market: Caviar Dreams and Cut-rate Kvass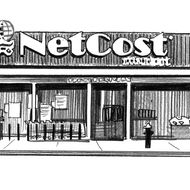 Location visited: 97-10 Queens Blvd., Rego Park
Founded: Born from an importing company launched by father-and-son team Sam and Eduard Shnayder, who emigrated from Uzbekistan, the first shop opened in 2000 in Sheepshead Bay, Brooklyn.
Branches: Six citywide, one in New Jersey, two in Philly, with Miami and two more tristate locations on the way (plus an outpost of Gourmanoff, the high-end spinoff known for such amenities as that Brighton Beach luxury, valet parking).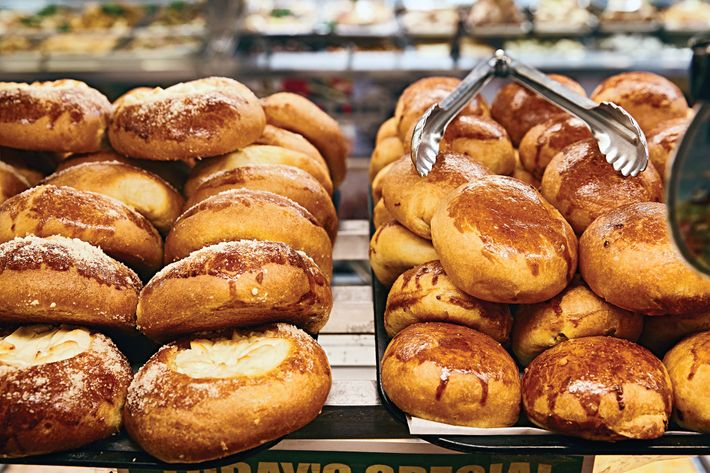 In a nutshell: As befits a community inhabited by immigrants from all corners of the former Soviet Union, this solitary Queens outpost of the southern-Brooklyn-based chain has everything an expat could hunger for, from Lithuanian black bread to Russian black caviar, plus Georgian tkemali, Turkish beer, Siberian pelmeni, Bulgarian white cheese, Azerbaijani eggplant salad, and Polish poppy-seed rolls. Although its spiritual heart resides along the shores of the Black and Caspian seas, you'll find its physical presence behind a row of double-parked cars between Rego Park landmarks Knish Nosh and Ben's Best Kosher Delicatessen.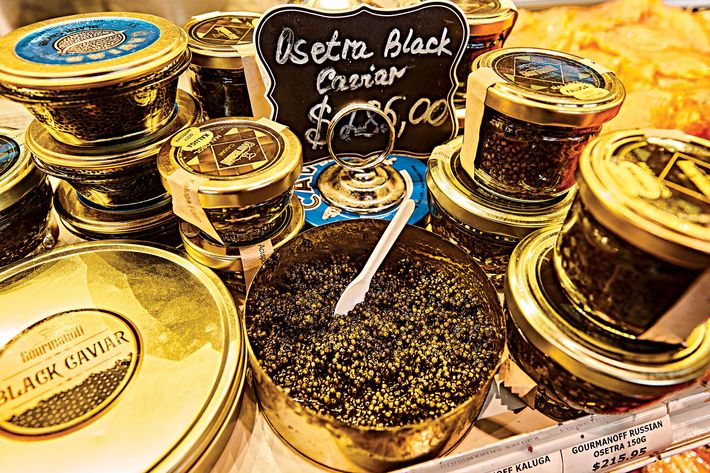 Good gets: Trakai Housewife Bread (a hearty, organic dark rye), tubs of excellent sour cream and canisters of feta, house-brand frozen potato pierogi, Moscowskaya dry salami from a great Chicago Russian-style sausage-maker called Alef, a pound of black paddlefish caviar for $129, chak-chak domashniy (Central Asian butter-fried noodles drenched in honey, reminiscent of Neapolitan struffoli and shaped like a supersize Rice Krispies Treat).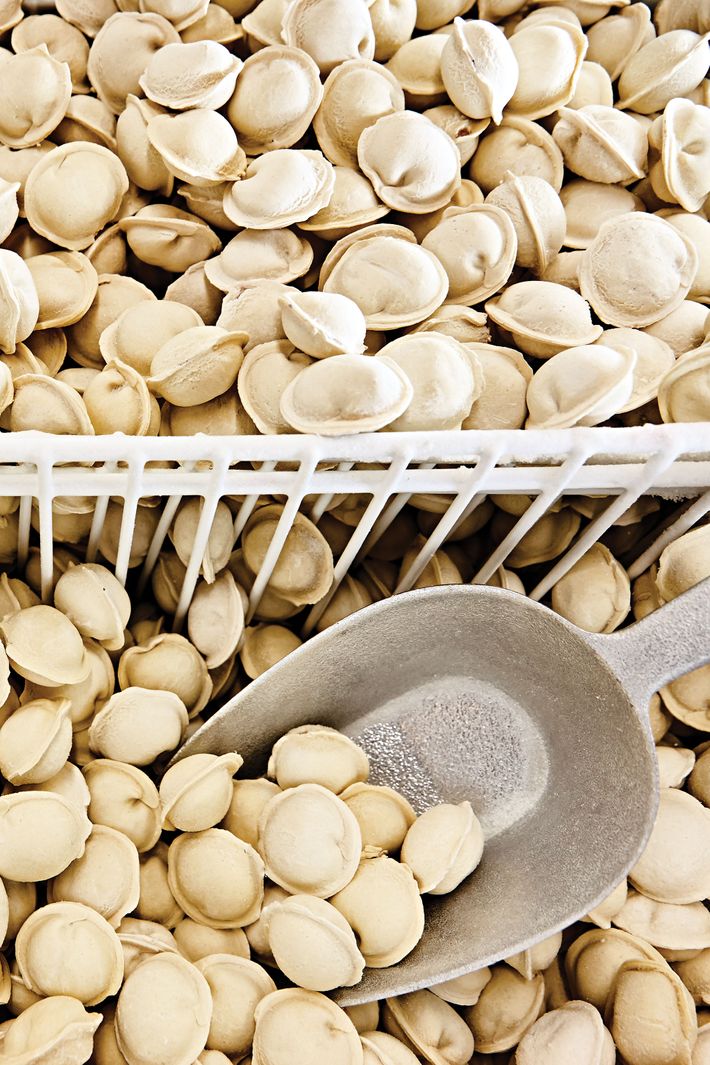 Best sellers: Smoked fish, mix-and-match bulk frozen dumplings, bananas.
You won't find this at Whole Foods: Schmalz's head cheese with blood, whole frozen young goose for $74.41, whole fresh packaged rabbit for $10.35, whole pickled apples, two-pound fresh veal tongue, stewed pork tongue, Russian mortadella, Russian napoleon cake by the pound.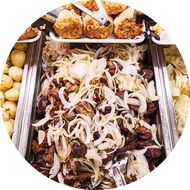 Point-of-purchase temptation: Russian chocolate bars.
Never shop hungry: From the prepared-foods buffet: baked cabbage-stuffed "pirogi" (like a cross between a knish and a brioche), Russian potato salad, shredded-beet casserole topped with crisp-fried potato sticks, chicken cutlet (actually a chicken-and-mushroom meatball of sorts). From the bakery: Turkish delight from New Jersey's the Delight Guys.
Eight-word review: If Brighton Bazaar and Petrossian had a baby …
Chinara Jalilzade, Queens mother of three
What do you like about shopping here?
They have everything I need, and there's the cultural part — I'm Russian and Turkish.
What are you buying?
Ground turkey and beef: Turkish people eat halal and kosher, without pork. This is Russian pasta; my son loves it. I make it with meat tomato sauce. Greek feta, because it's similar to Turkish. Beef salami. Russian wheat flour called Makfa to make cakes. And rice for plov, which I make with dried fruits and meat.
What's the Philly cream cheese for?
Spreading on bagels.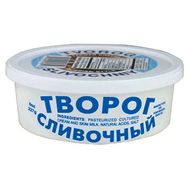 When you think of all the blinis that need stuffing and dumplings that require dipping, you understand the integral role that dairy — specifically smooth, tangy sour cream and firm, mild farmer cheese — plays in Russian culinary life. Fittingly, a great portion of the dairy aisle at NetCost is devoted to those two items, with enough varieties of each to make an expat weep with joy. A closer inspection, though, reveals a third product that's just as important if not as well known hereabouts: tvorog, a sort of drier, more soulful precursor to today's cottage cheese. No less an authority than Anne Mendelson, author of the scholarly Milk, is a fan, calling it "the most consistently good commercial fresh cheese that I know." She makes attempting a Russian Easter cake or even a noodle kugel without it sound like the height of folly. Tvorog, we've learned, is also delicious eaten straight from the tub in the style that disconsolate people practice on pints of Häagen-Dazs. It's even better, as Mendelson writes, "with a dollop of Russian-style sour cream."
Jmart: Beijing Via Bensonhurst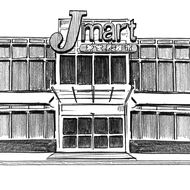 Location visited: 8121 New Utrecht Ave., Bensonhurst
Founded: The first Jmart opened inside Flushing's New World Mall in 2010, followed by this Brooklyn branch in June; a second Queens location is being planned.
In a nutshell: It's got the bones of the sprawling, surburban-size Waldbaum's it once was, complete with parking lot and spacious spick-and-span aisles. Inside, it's all Chinatown — especially the bountiful produce department and writhing, squirming seafood section. Plus: miles of noodles (instant, dried, and fresh); frozen buns and dumplings; myriad varieties of rice by the box, the bag, and even the 49-cents-a-pound barrel. The mix of grocery items is 60 percent Asian (mostly Chinese) and 40 percent Western, according to a manager.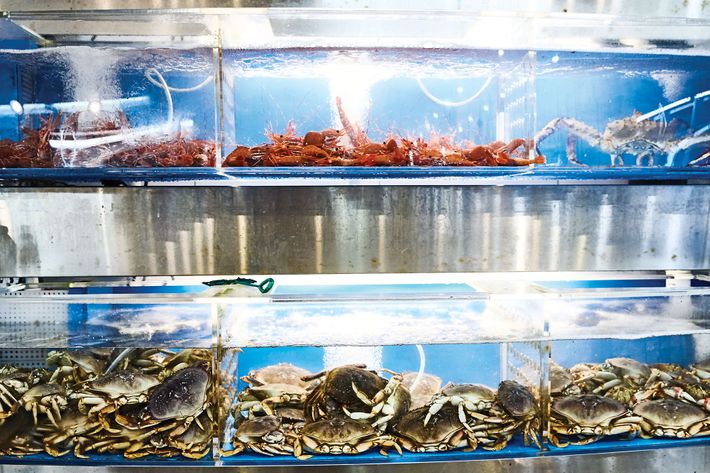 Best sellers: Gai lan (Chinese broccoli), fresh salmon.
You won't find this at Whole Foods: Jellyfish heads, duck feet, black chickens, fresh fish balls, fresh durian, durian moon cakes, peanut milk, Hei Chiao–brand pork sung (a.k.a. pork floss), jackfruit, jujube, dried oysters, "long-cut" pigs' feet, bitter melon, belt fish, dried squid, pandan leaves, burdock root, Captain Louie's imitation shark fin, green-tea Kit Kats, pig intestines.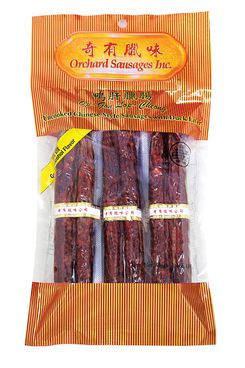 Good gets: "Loose-type" or loose-curd Chinese cauliflower; preserved mustard greens; Chinese long beans; Koda Farms short-grain rice; Everbest fresh noodles; bulk-bin preserved, sweetened, and weirdly tasty licorice olives; instant noodles (try the extra-spicy Guangxi Lo King Food Co. rice noodles); Rolin-brand bamboo shoots in chile sauce (to top rice and noodles); Want Want–brand wafer rolls from Taiwan; Mincher-brand pineapple cakes (like pineapple Fig Newtons).
Juxtaposed: In the cured-meats section, Hillshire Farm smoked beef sausage next to Orchard-brand Chinese sausages with duck liver.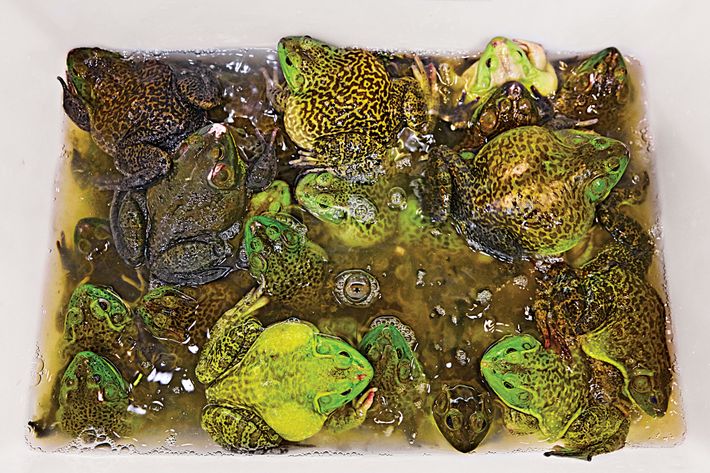 What you can buy alive at the Jmart seafood department.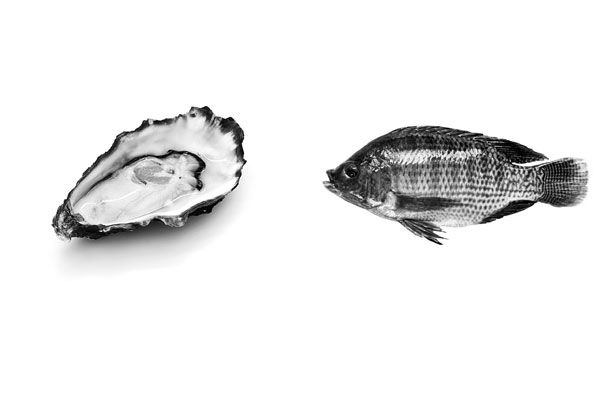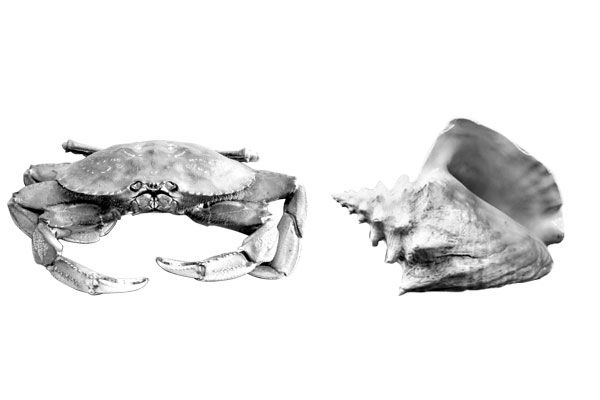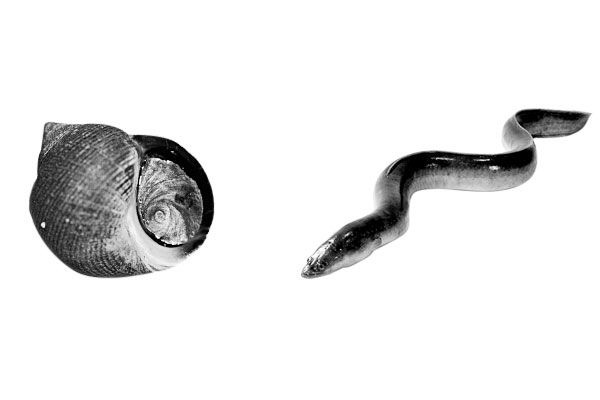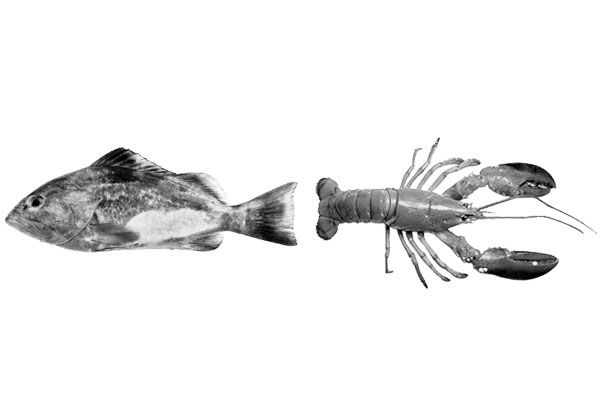 And also: stone crabs, soft-shell crabs, crystal crabs, marble goby, mountain shrimp, coral shrimp, mussels, clams, catfish, razor clams.
Jay Huang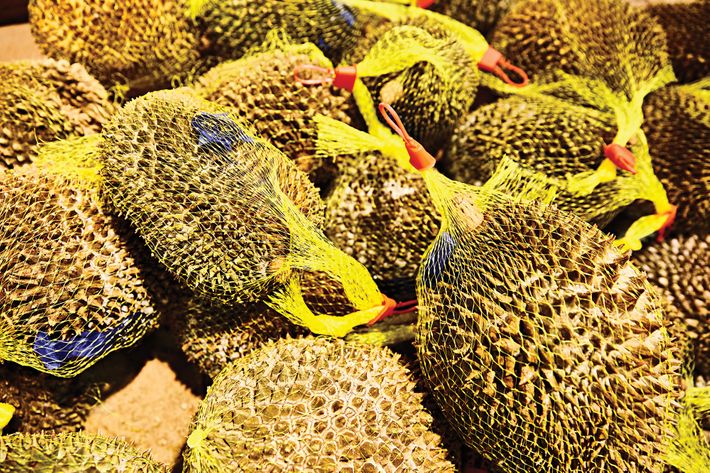 What's your main responsibility?
Making sure that everything looks right, that every item is put back in its proper place.
What's your favorite thing to eat at Jmart?
Fruit. There's so many types I've never tried before — like jackfruit, which tastes like bubble gum.
Any recent security breaches?
Four teenage shoplifters on skateboards rode down this aisle the other day.
You mean the beer aisle? What'd they get?
No beer; they were after those little bottles of milk, you know, flavored milks.
Sounds like a pretty tough gang. Who else do you have to be on the lookout for?
Old ladies. They mess up the displays and sample everything, which isn't allowed. And they're always fighting for the freshest stuff. Three of them were just ripping cauliflower out of a box before we even had a chance to unpack it.
H Mart: Kimchee and So Much More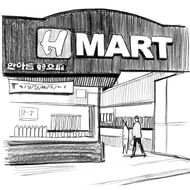 Location visited: 156-40 Northern Blvd., Murray Hill, Queens
Origin story: Launched in 1982 in Woodside, Queens, as Han Ah Reum, which means "one arm full of groceries" in Korean. The phrase has become the parent-company name of the H Mart brand, plus its Super H Mart and M2M affiliates.
Branches: 59 nationally, including ten in New York and four in Flushing alone (including this one in the Murray Hill subsection). Manhattan has one in Koreatown and another under way at 2828 Broadway in Manhattan Valley.
In a nutshell: Situated in the back of a shopping center and across the street from an IHOP, this location has the vibe of a strip-mall supermarket in Anywhere, USA — until you walk in and are confronted with three-dozen kinds of rice cookers and a "Let's Enjoy Korean BBQ" meat case.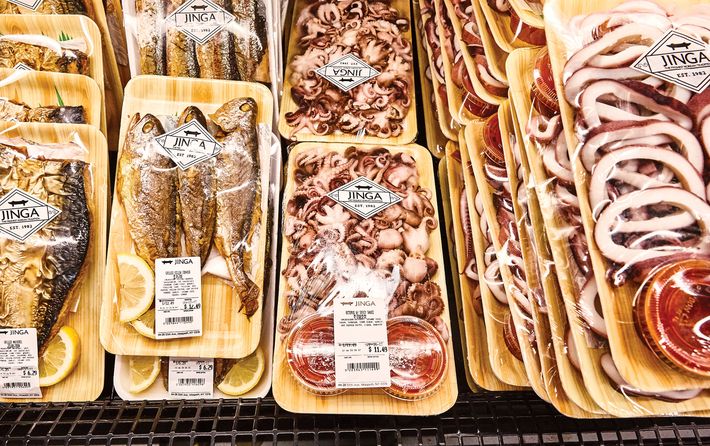 Good gets: Bulk boxes of SunGold kiwis; Lotte-brand Choco Pies (like Korean Mallomars or MoonPies; $2.49); Korean-style marinated short ribs; salted fermented shrimp for DIY kimchee-makers; can of Dongwon tuna with hot-pepper sauce; red-skinned, yellow-fleshed koimo sweet potatoes; Haitai Calbee Honey Butter Chips (remember the Honey Butter Chips Craze of a few years back?), when available, or the almost-as-tasty Honey Tong Tong Chips when they're not.
You won't find this at Whole Foods: Live abalone, marinated pork jowl, live geoduck clams (try one raw with gochujang), squid-stuffed jalapeños, Korean honey-flavor Doritos, washable terry-cloth house slippers (it's common in Korean homes for guests to take off their shoes and replace them with slippers), and purple three-quarter-length drawstring-waist pants ($15) that split the difference between pajamas and sweats.
Never shop hungry: Of the delicious packaged banchan in the prepared-foods section near the kimchee department, we recommend the cucumber slices seasoned with fish sauce, the stewed tofu, and pumpkin rice cakes for dessert.
Earworm alert: Huey Lewis and the News's "Stuck With You."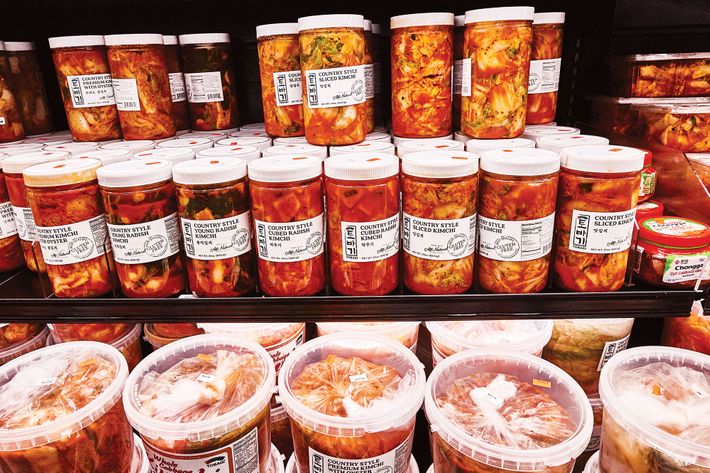 It might be possible to aid digestion, lower cholesterol, improve your eyesight, vanquish free radicals, and slow down the aging process, plus all the other amazing things eating cabbage kimchee is purported to do, simply by strolling past the massive department devoted to the pungent probiotic at H Mart. The dozens of tubs and jars on offer include country-style sliced, country-style baby radish, whole cabbage — even shrimpless and fish-sauceless vegan. If you tend to go through a lot of the stuff, grab a five-pound bag.
Nak Hoon, retired businessman, with his wife, retired nurse Hyun Sook.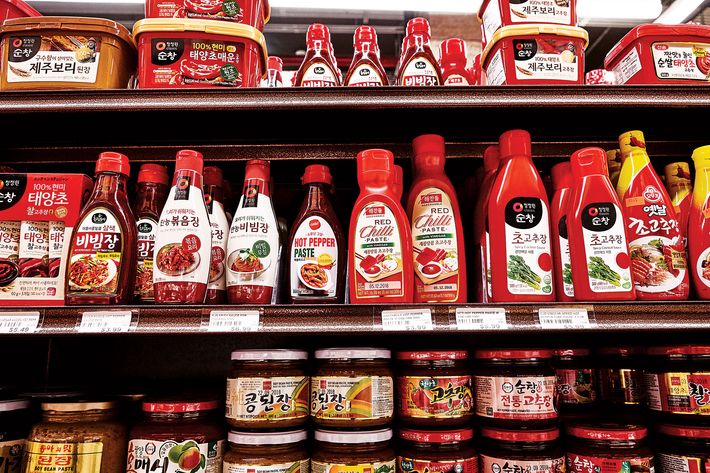 Do you live in the neighborhood?
We travel here from Brooklyn for Korean food.
What are you shopping for?
Perilla leaves. We coat them with soy sauce and spices — green onion, garlic, hot red pepper — and let them ferment a couple days. The cucumber is to put in cold noodles. The radish is for kimchee.
That's a lot of vegetables.
I used to eat meat, but my daughter read a book. I'm diabetic, trying to be vegetarian, but it's hard to do alone. So my family's trying to be vegetarian too. Our two daughters, Janet and Ann, live with us. They make a Korean sauce they sell at Whole Foods called We Rub You.
We asked Sunny Lee, chef-owner of the forthcoming Williamsburg restaurant Ajjuma, what to buy at H Mart.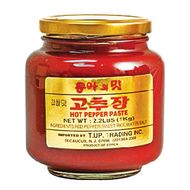 "One of my favorite products is a Korean gochujang (fermented hot-chile paste) imported by T-Up Trading Inc. It's the one I prefer to use for the spicy-sticky squid snack I will be making for Ajjuma. It isn't overly sweet like most gochujang and has great heat and depth of flavor. I actually wasn't a big fan of gochujang until I came across this particular product."
*This article appears in the September 18, 2017, issue of New York Magazine.