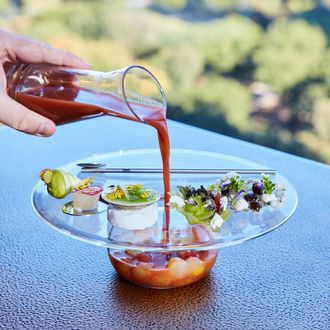 The Aviary's Bloody Mary is really a meal.
Photo: Miachel Breton
There is no other bar in the world quite like the Aviary in Chicago, where chef Grant Achatz and his Alinea cohorts serve drinks that resemble (very delicious) science experiments. They've attracted cocktail nerds to Chicago like moths to an experimental lamp, and it didn't take long for Achatz and business partner Nick Kokonas to talk possible expansion. This week, after years of rumors, they've at last opened the Aviary NYC at Mandarin Oriental, following its upscale speakeasy-esque sister bar the Office.
Don't expect a total replica of the Chicago original. There are signatures, like the Not Ramen (mushroom dashi broth with poached egg and nori), and the soup-dumpling-inspired Black Truffle Explosion, which is ravioli filled with truffle gel that melts when cooked. (Check out the full menu here). But Achatz and his team wanted to evolve the idea to fit New York, and beverage director Micah Melton says they also took their hotel location and eventual all-day service into account.
"Not everyone here will be coming specifically for the Aviary, some will just happen upon it. So we wanted to do more recognizable classic cocktails, like, oh, the Aviary version of a margarita or gin-and-tonic," he says. "But it's still done with the same intent we use in Chicago."
To that end, the Bloody Mary is as much meal as drink (befitting its $38 price tag); there's also the New York Sour Eh?, with rye, egg white, red wine, and spiced pear; and the Espresso Martini is made with cold brew, their own coffee liqueur, and muscovado. The New York–iest drink might be the Wake and Bake, a mix of rye, coffee- and orange-infused vermouth, as well as coffee liqueur, that's served in a clear plastic pillow filled with "everything-bagel aroma."
But one of the most exciting new cocktails is a variation on a technique called "In the Rocks," wherein the cocktail is served inside an actual ice sphere that's broken open at the table. Here, it's a three-part drink inspired by New Year's in New York. Melton took Grub through the process of making the cocktail and its inspirations. Check out how it's done, as well as some of the bar's other drinks and food:
"This is simple. We start by filling water balloons up."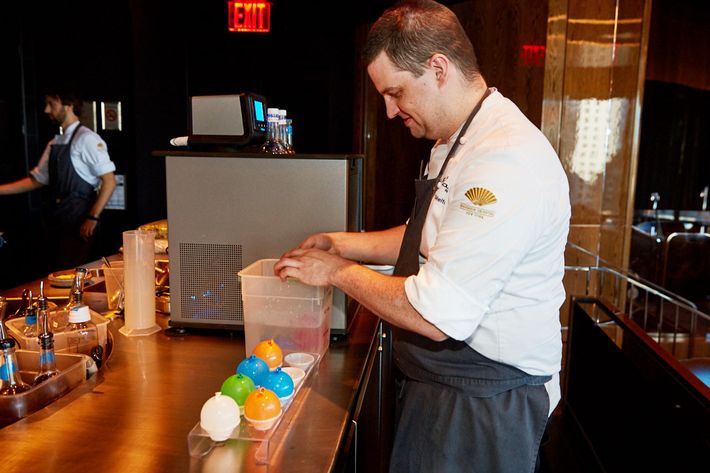 "We have a machine from PolyScience that we call the 'Super Chiller.' It's like an immersion circulator for sous vide cooking, but instead of being hot it works cold. The bath is half water and half high-proof grain alcohol, so that way it has a lower freezing temperature. We drop the balloons in when the bath is about negative-18 degrees Celsius. We give those a stir and let them sit for six minutes."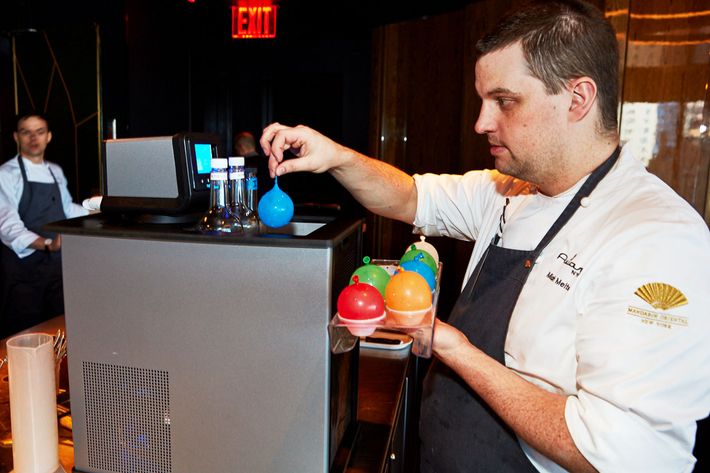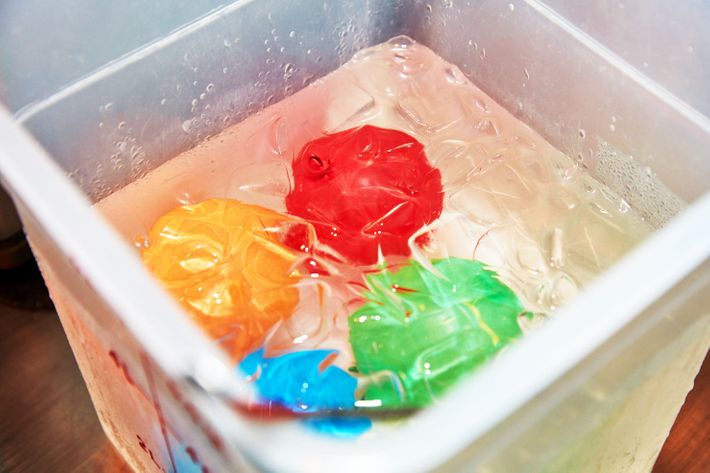 "Once that's been in for six minutes, there's a quarter-inch of ice, just inside the balloon. Only the outside has frozen, so inside there's still water."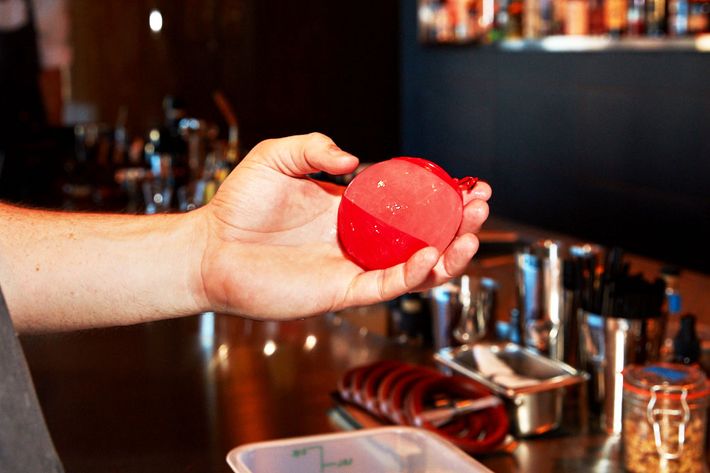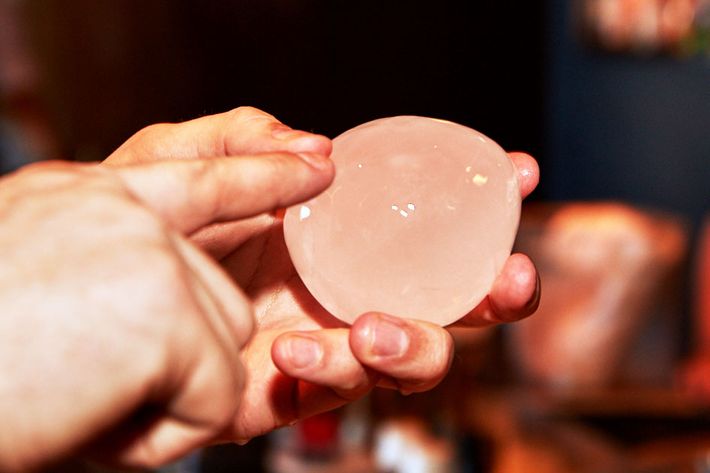 "We drill a small hole, and use a syringe to pull out all the water. We put it in the freezer, so we have a hollow shell of ice, and then we do the reverse of that process."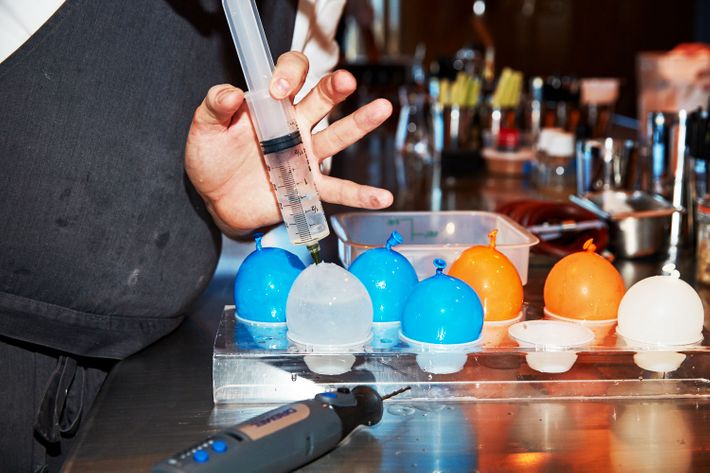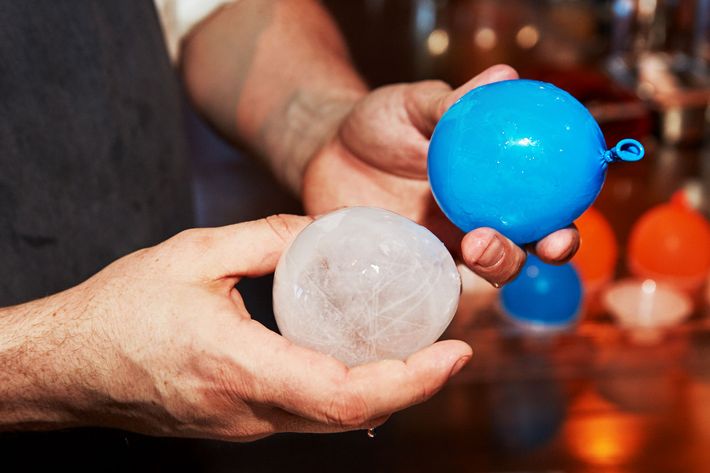 "We put the actual cocktail in bottles and then into the Super Chiller as well, so it gets super, super cold. Then we take a syringe and inject it into the ice cube."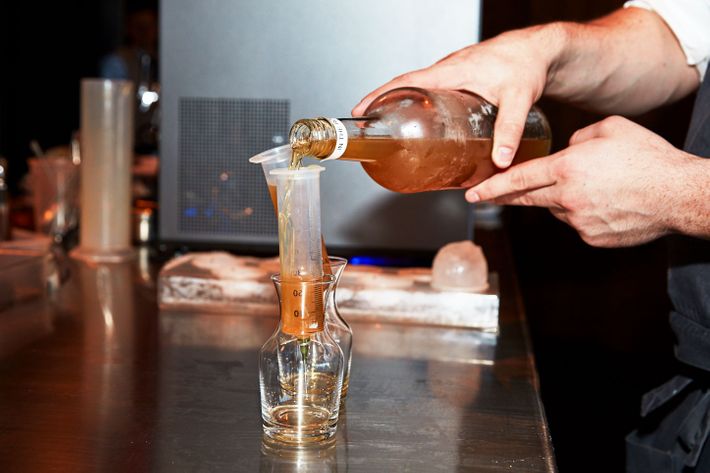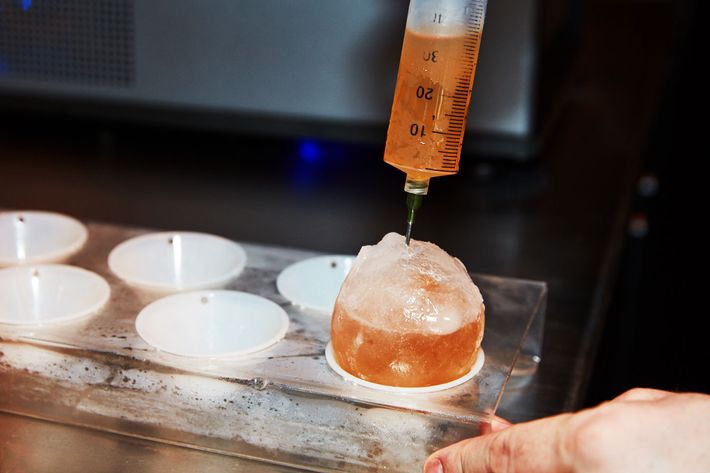 "For the actual drink, there's a crème-de-cassis granita at the bottom of the glass. We make it the same way you would traditionally make it, pour it into hotel pan, and freeze. Put it in the bottom of glass. We fill the ice cube with an Old Fashioned–esque mix of bourbon, Scotch, Champagne syrup, and a green Sichuan peppercorn tincture. Then we put it right on top of that granita and smash it open."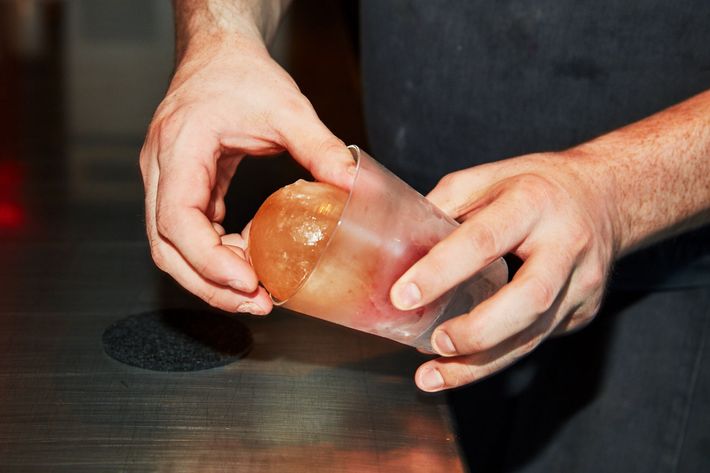 "The thought process was playing off this idea of the ball dropping on New Year's. It's a three-part drink with a side car of Champagne. Before New Year's you drink a glass of Champagne, and after you get buzzing from peppercorn and smokiness from Scotch. It's meant to be like fireworks in the air. It's a little cheesy, but that's where the flavors came from."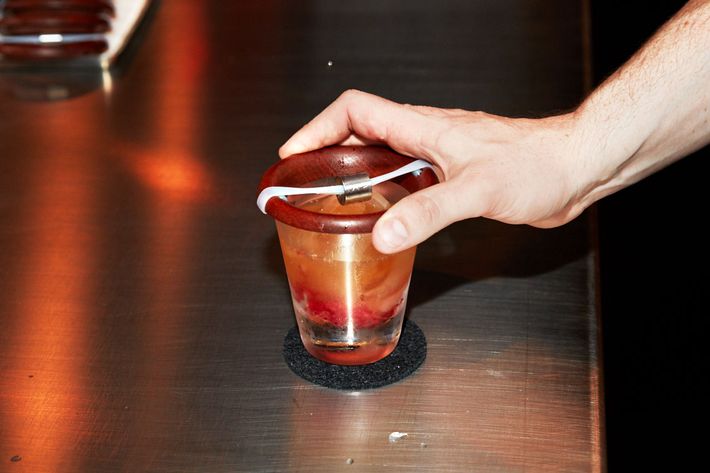 "Then the next morning, you need to cure your hangover, so that's the Kir Royale, the Champagne syrup and cassis granita. You need to put enough Sichuan peppercorn in there so there's enough to get your mouth tingling but it's not overpowering. That's why we do a tincture."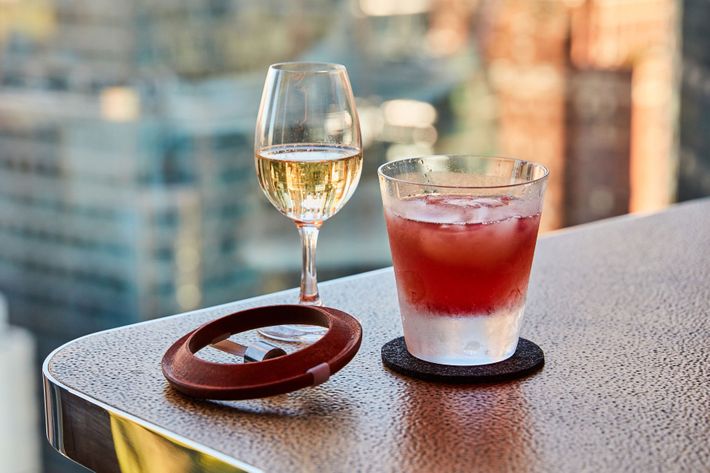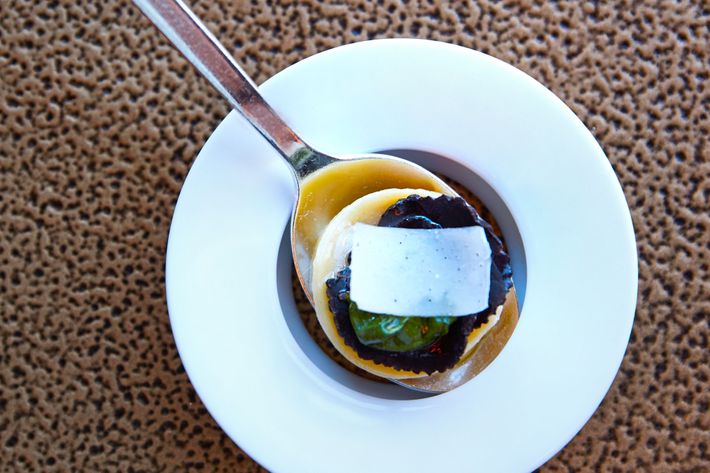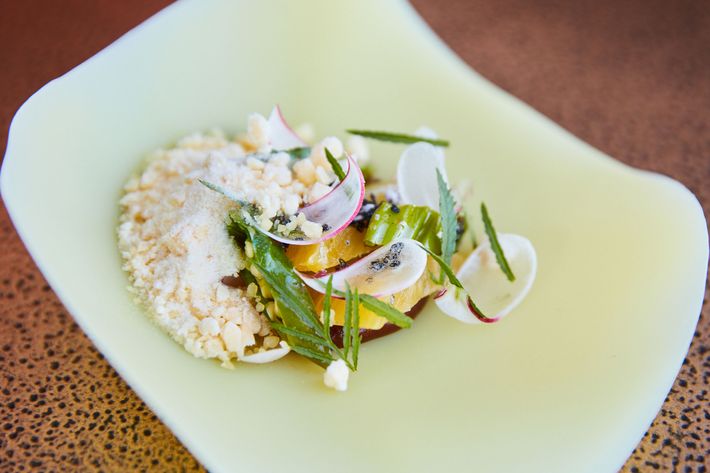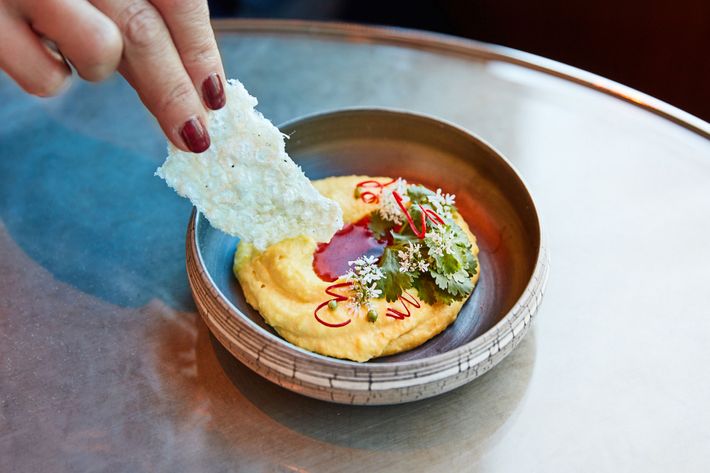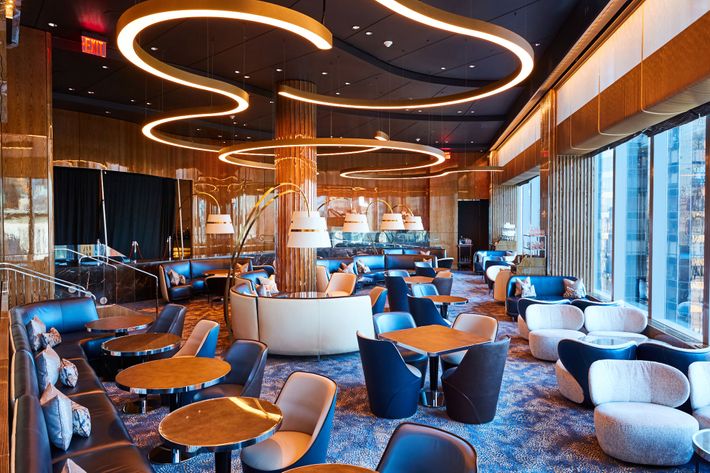 The Aviary NYC at the Mandarin Oriental, 80 Columbus Circle at 60th Street, nr. Broadway; 212-805-8800