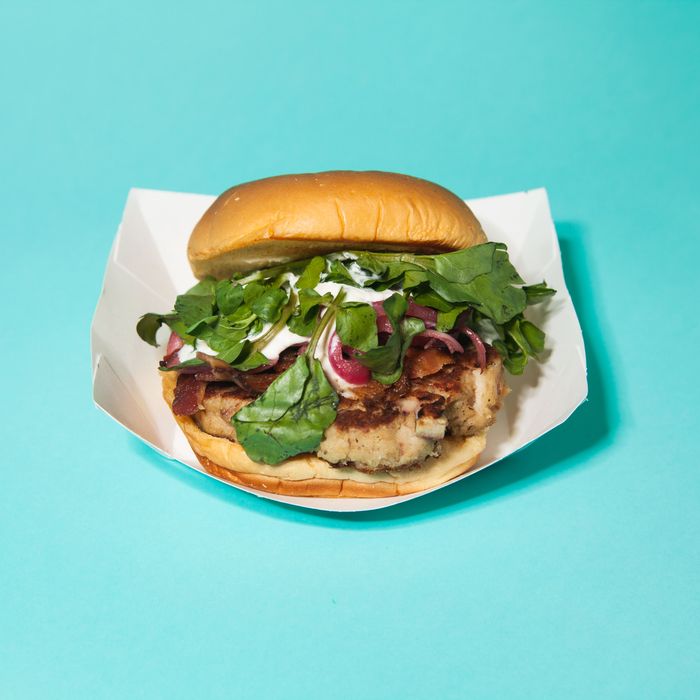 Henderson's eel burger is available today and tomorrow starting at 10:30 a.m.
Photo: Konstantin Sergeyev
Today, two of the biggest names in meat join forces: Shake Shack and Fergus Henderson, the offal-obsessed brain behind England's St. John and other restaurants. He's the latest chef to pop by the burger chain's original Madison Square Park location for a collaborative stunt burger, one of the ultimate kitchen cameos. This burger ($10, available Friday and Saturday "while supplies last") isn't like any Shake Shack has done before. It's not made with beef or even lamb or pork, but smoked eel topped with smoked bacon, pickled red onions, crème fraîche, fresh horseradish, and watercress.
To polish off the eel, the Shack will also serve St. John's vanilla-custard doughnuts ($4) — no eel in those! — and the restaurant's wines ($9 for red, $8 for white). Henderson's a big deal in the food world, the chef who made "nose to tail" cooking cool. (Anthony Bourdain once called St. John the restaurant of his dreams.) He doesn't come here often, so will the eel burger be the latest stunt burger to attract menacing lines? Grub went to find out.
10:15 a.m. Arriving here. Expected a line. Isn't this how these things work? Would it be stretching around the block if it were a smoked cookie-dough burger? There are seven people. I have elected to wait on a bench.
10:24 a.m. The line has doubled. A man with sunglasses excitedly takes a photo of the eel-burger sign.
10:32 a.m. The eels have been burgered, and the people have been allowed to approach the Shack. The line has grown, but still isn't that long. Where are all the eel lovers?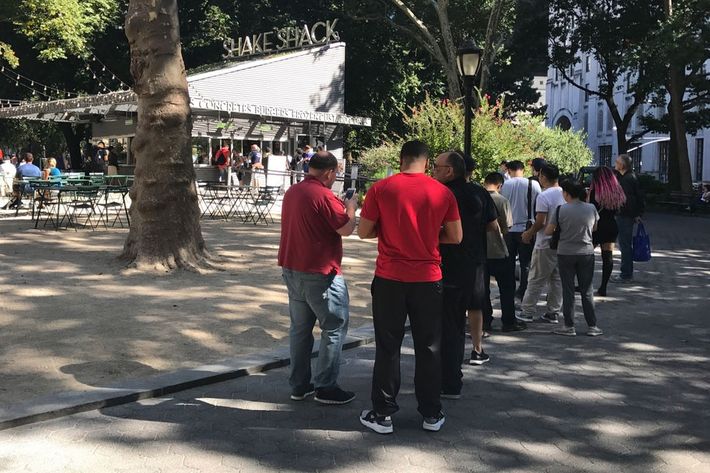 10:35 a.m. A guy with a backpack takes a photo before approaching. We await Adam Platt.
10:37 a.m. An employee passes out menus to customers, some rebuff her because they know exactly what they're here for. She dances.
10:39 a.m. A gaggle of bros approaches. They tentatively join the line.
10:44 a.m. Fergus Henderson ambles by like we are in the English countryside. There are no eels slithering out of his pockets.
10:47 a.m. Burger loon Adam Platt arrives. The crowd goes wild. He shakes his head.
10:48 a.m. Platt sees Henderson and immediately abandons us.
10:49 a.m. Platt asks Henderson, "So they asked you to do a burger, right?" and he responds, "They asked me to do a burger and I thought, Eel!"
10:55 a.m. In line. Was hoping to see a cook wrestling with an eel. No luck. Platt tires of the line and retires to the shade.
10:59 a.m. Maybe the eel lovers will come out. The line is at its longest yet.
11:02 a.m. The eel order has been placed. The gatekeeper rebuffed me when I tried to order three, and says there is a limit of two per person. He says they've already sold 50 of the 100 they have today.
11:08 a.m. Hungry. Henderson casually sips on wine. I ask him what went into the smoked-eel burger: "An egg or two for binding, and just some breadcrumbs."
11:14 a.m. The eel burgers have arrived. Stay tuned.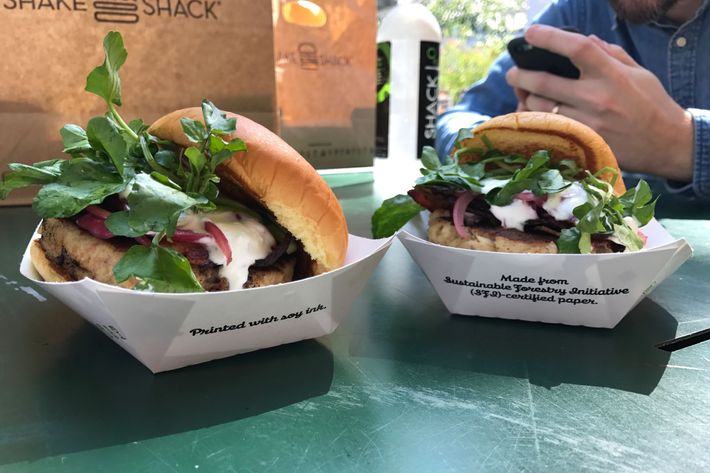 11:18 a.m. Platt admits to not being that excited. "Let's take a bite of this damn thing."
11:21 a.m. It's more like a fish sandwich than a burger. Platt's only complaint is the smoke. "There's nothing wrong with the execution," he says. "I would never quibble with the master. I would've liked a pig-foot sandwich, but there's a bunch of crème fraîche and bacon. What's not to like?"
11:23 a.m. "This eel burger: This is what I would hope for," Platt says. Consensus is that it's a very likable fish sandwich that has a lot of breakfast potential because it's so light.
11:25 a.m. Platt's attention turns to the doughnuts. "For an eel burger, this is a five-star burger," he says. "For a Shake Shack burger, it's a three-star burger. This custard doughnut? It's a 49-star doughnut."
11:32 a.m. We relax. Vulture starts nagging Andrew Leigh.
11:35 a.m. I have spent the last ten minutes having a staring contest with my doughnut. It looks like a much better version of something you'd find at a place like Peter Pan.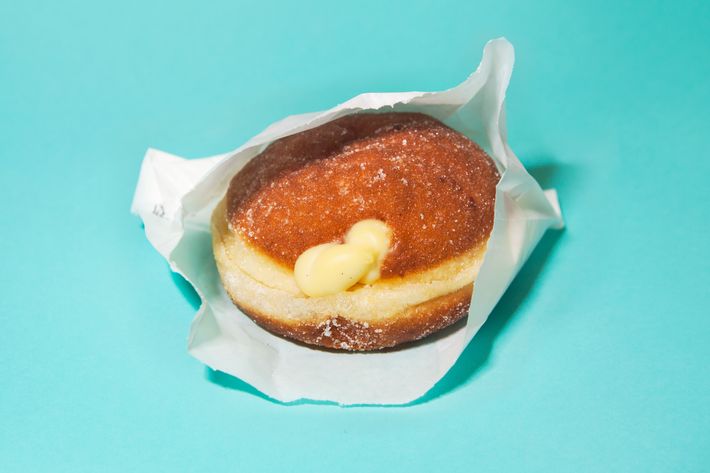 11:36 a.m. These Americans think this British doughnut could use a little more custard. But it's still great. Platt raises his rating to an impressive 59 stars.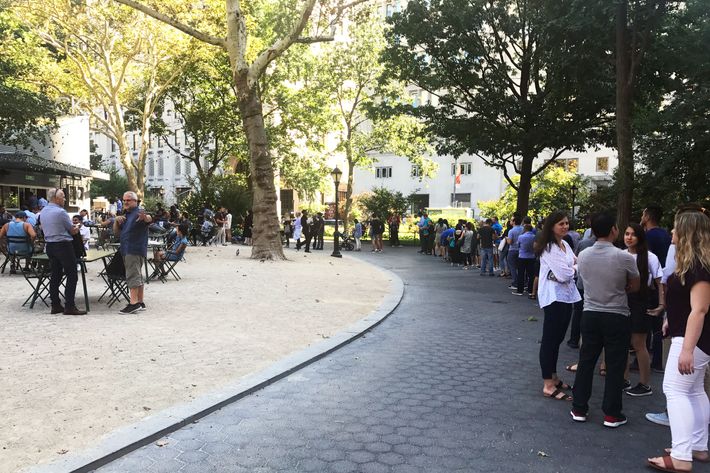 11:42 a.m. The line is now three times as long as it was at 10:30. I fear for the angry eel loons who will not get eel burgers. There can't be many left.
11:45 a.m. Verdict: If you are in town on Saturday, go in the morning, bring one home, cook an egg, and make a breakfast fish sandwich. Get all the doughnuts you can.