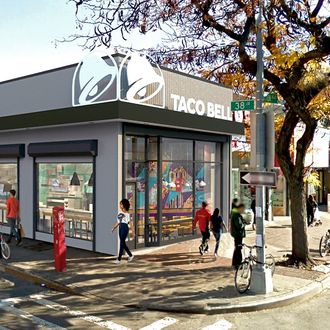 People of Corona, Queens: Beware this.
Photo: Taco Bell
Do you belong to the niche school of thought that holds that fast-food chains are vastly underrepresented in New York City? Great news: Your imperfect municipal area is about to get a bonkers number of new Taco Bells. The chain today announced plans to blanket the city in "at least" 50 additional locations by 2022. Five supposedly arrive sometime "early next year."
It may seem New York's already swimming in Taco Bells, but as data show, there's actually room for things to get much worse. The chain presently operates 26 locations in the city, and that's three fewer than in 2015, per the trusty State of the Chains report. This is good enough for measly 51st place on the list, but 50 more locations will improve its standing considerably — although it'll still be miles behind Dunkin' Donuts (with 596 locations citywide), Subway (with 433), and Starbucks (317).
Taco Bell tells Eater, which first reported the news, that urban invasion is its new corporate strategy. The Frito-Lay back catalog can only get you so far — the future requires the company to transition from suburban drive-throughs to stores in high-traffic urban cores, which are able to prey upon pedestrians at all hours. It expects to open between 300 and 350 of these nationwide over the next five years. Apparently in New York, the outer boroughs are at greater risk, but "at least ten" are going straight for the city's heart in Manhattan. Regardless where, all of New York's stores will reportedly feature menu items "specific to the location," as well as décor by local artists. (The Bushwick Collective should probably barricade its doors now.)
Should your spine need additional tingling, "most" of these new locations will also ply passersby with booze. In fact, four of the five opening in 2018 will offer alcohol, and if the chain gets its way, a majority of the remaining locations will also serve beer and things like blue-raspberry Airheads slushies topped with tequila.