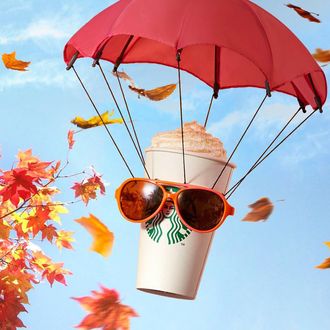 Coming just in time for … way before fall.
Photo: Pumpkin Spice Latte/@TheRealPSL/Twitter
Today's the first "official" day of pumpkin spice lattes at Starbucks, although anyone who's half-industrious has been drinking them all weekend, because the barista consensus was that following protocol wasn't worth risking life and limb. The company itself gets a lot of blame for this — it was strangely coy about this year's release date, deciding to tease rabid fans of its by far most popular seasonal beverage with a weekend-long Facebook Live event, rather than just make a clear announcement.
Compare this to the last six years: For each of those, the drink officially rolled out the Tuesday after Labor Day (same as 2017), but the chain has also given early access to customers who'll willfully play games for their caffeine — like obtain a password or make a PSL Fan Pass. In 2014, these people got their PSLs one week before everyone else; it was six days in 2011 and 2013, five days last year, and four in 2012 and 2015. For 2017, though, the company urged fans to stream a Facebook Live video starting at noon on Friday for "potential clues" about the release. This was a holiday weekend, but that didn't stop Starbucks from providing viewers with 80 uninterrupted hours of an inanimate pumpkin on their screens.
To summarize for people who missed it, the event used a set that looked stolen from the PBS kids' show Lamb Chop's Play-Along, but was probably just erected in a Seattle headquarters' broom closet. It featured a pumpkin "nest" in the center, with a camera trained on it. Starbucks's poor marketing team was then tasked with filling the next three days with distractions — which in fact several thousand people were watching at almost all times. Among the time-wasters that workers spent their holiday orchestrating: a mass release of kittens into the pen, a Q&A with a pumpkin farmer, pumpkin "nap time," posters with bogus pumpkin trivia ("Pumpkins cannot snore and dream at the same time," etc.), and frequent, cryptic use of the number 756. (People were sure this was PSL upside down or backward, but it's not — although it could be QSL, with a lowercase q.)
A little after 8 p.m., a fog machine was apparently flipped on, giving workers cover to make an actual, living PSL materialize in the nest. It was named "Fall'icia" — a big misnomer, but it was by popular vote:
The question is now how many 90-day summers do Americans have left before the U.S. government caves and changes the official start of autumn?