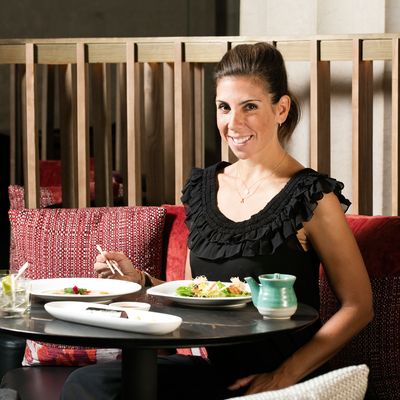 At Nobu.
Photo: Melissa Hom
As the CEO of SoulCycle, Melanie Whelan obviously spends a lot of time on a bike, which she balances with apple pie, burrata, and olive-oil cake. "I love the experience and purpose of gathering everyone in the kitchen, or around the barbecue outside," she says. "My kids like to help, and it's nice to have something to do where we're all equally skilled." (Her son's 8 and her daughter's 5, so she's maybe selling herself short here.) This week, Whelan dined at her favorite restaurant, Nobu, before decamping to the Hamptons for a picnic on the beach, grilled corn with Old Bay, and frozen yogurt that's too good to be true. Read all about it in this week's Grub Street Diet.
Thursday, August 24
I start most days with a workout. Today, however, I didn't have enough time to take my usual class before an early meeting, so I made my favorite Grady's Cold Brew at home with a splash of almond milk and brought it along. I also start most days with a Lemon Popper, which is a Whelan-family classic. When we first got our SodaStream, my kids were obsessed with creating new recipes using all of the flavors. They created our signature family drink, which is 90 percent seltzer water and 10 percent limeade, and dubbed it the Lemon Popper. I feel like it should be trademarked because we've really spread the word about the Lemon Popper and have turned so many of our friends onto it. So, I had a Lemon Popper and threw a banana in my bag for later.
I was meeting with a candidate for our marketing team at 1 p.m. at our offices, so I offered to bring in smoothies for lunch. I like that you only need one hand to drink them, so I can multitask and work on something else at the same time. We have two Juice Press locations within one block of our office, so I'm a frequent customer. I chose the F&%*ing Genius and our candidate got the Nurse Ginger Greene.
Each month, we celebrate our employees' birthdays that fall during that month and we always have a different party theme. Today, we had the August birthday party, which was themed "camp," so we had classic favorites like s'mores, chips, and candies in fun buckets, "lake water" (really an Arnold Palmer), and trail mixes. I didn't get to enjoy the treats because I was heading into a 5:30 p.m. 40th-birthday ride for a colleague, but took a sneak peek and grabbed some red Swedish fish for later.
After the ride, I met my husband at our favorite spot, Nobu. It used to be three blocks away from our apartment, but we recently moved to the Financial District, so we sadly don't go as often as we used to. It was our last night in the city before heading to the Hamptons for the last week of summer, and I was craving my usual order. My husband makes fun of me because I get the same thing every time. Don't need a menu. It's always the yellowtail sashimi with jalapeño, black-cod butter-lettuce wraps (no crunchy on top), and a spicy tuna hand roll without rice. I also got a tequila on the rocks with a splash of lime because, you know, it's Thursday.
Friday, August 25
My morning started with an early coffee that was scheduled at Tarallucci E Vino in Union Square. I'm a creature of habit and go there all the time for meetings because it's across the street from SoulCycle Union Square, has great booths for quiet meetings in the back, and it's in such a central spot. But, when I pulled up, I was surprised to see that it was closed for last-minute renovations, so I went over to the W Union Square. They have a great fruit bowl and juices from Liquiteria, so I got the All Greens and a cold brew with almond milk.
After that, I went into the office for a day of internal meetings and grabbed a LaCroix pamplemousse (my favorite flavor) before heading up to our sixth floor to meet with the retail, development, and finance teams. We have summer Fridays, but I usually work a bit later, so I grabbed an RXBAR for the train and decided to save my calories for dinner that night with my family.
When I got in, my family and I went over to Cove Hollow Tavern, which is an adorable little spot in East Hampton. We always try to keep Friday nights for just us and make a commitment to spend the time together as a family, regardless of everyone's schedules, so we can recap the week. My son loves their buttered pasta, and my daughter always goes for their burger with fries. I started with the ahi tuna, sneaked a bite of my kid's fries, and then got the grilled halibut. It was delicious, and they presented it on a cedar plank, so it looked beautiful, too. To me, presentation is everything. And again, I sneaked a bite of David's hanger steak. I also had a glass of cold Chardonnay, while my kids enjoyed "Charlotte Temples" — our version of a kids' cocktail named after my daughter — seltzer water with cherries.
Saturday, August 26
I went to an early SoulCycle class in our East Hampton studio. David and I have this thing called the "parent handoff" — where one of us rides in one class, the other one brings the kids to the studio, and in the 15 minutes between classes, we swap, and the other parent rides in the second class. It's foolproof and works every time. So while he was in class, I took my kids to Carissa's Breads, which opened next door to us earlier this summer. We grabbed some pastries and iced coffees and then stopped by the Balsam Farm Stand in Amagansett to pick up a bunch of stuff for the weekend. Lots of fresh fruit, veggies, and of course, the Blue Duck apple pie. It's incredible, and we never walk out of Balsam without one (or two). I recently discovered the gluten-free apple tart — one of my best friends has celiac — so we picked one up for her.
When we got home, we started on lunch. I've been really into spaghetti squash lately, so I roasted some of the vegetables from the farm stand, mixed that with the spaghetti squash, and threw together a quick kale salad. For my kids, it was PB&J all day.
In the afternoon, I took a few bites of Halo Top mint-chip ice cream. I had heard so much about it and needed to try it. It's definitely not ice cream, but it'll do the trick.
That night, we went to the beach for fireworks. It's an annual tradition, and a lot of our friends go with their kids, so it's always a really fun night. I packed a massive cooler with grilled chicken, turkey sandwiches, Boom Chicka Pop kettle corn (my favorite), chips, pretzels, guacamole, hummus, you name it. I also stopped by the Red Horse Market to get a ton of prepared food. I grabbed a couple of pizza slices, some salads, and more chips because you can never have too many bags of chips. We set up a little picnic area on the beach, and I picked at our entire spread, but ended up mostly eating the grilled chicken and a million baby carrots and chips dipped in hummus. Literally, 1 million.
Sunday, August 27
Sunday breakfast is a family tradition. Whether we're in the city or the Hamptons, we always make pancakes together on Sunday. This week was chocolate chips, and my daughter, Charlotte, was very strategic about the location of each chocolate chip in each pancake ("princess smiles"). We also made happy trail mix, a family staple, which is Honey Nut Cheerios, Apple Cinnamon Chex, raisins, dried cranberries, coconut strips, and chocolate chips. I'm not a huge cook, but I love "cooking" with my kids, and we end up spending so much time in the kitchen.
After a late-morning SoulCycle class, we had a friend's birthday party in the afternoon in Sagaponack. As expected, knowing them, they had it catered for three times the amount of people who were there. I had grilled chicken and vegetables, and also some corn. I love corn on the cob.
That night, I went to the Girls Who Code event in Water Mill. Cocktail party canapés are not my jam, and I was trying to balance on heels in grass (#outfitfail) before hurrying home for a family dinner. We put salmon and turkey burgers on the grill, and also corn on the cob with Old Bay seasoning. I'm originally from Maryland, so it really doesn't get any better than Old Bay and corn on the cob. We dropped David off at the Jitney, and then I took the kids to Scoop Du Jour where we met some friends. I always go for the vanilla-Heath-bar-crunch frozen yogurt. It's insane, I don't know how they do it, but I have my suspicions (not frozen yogurt).
Monday, August 28
Days like today are my favorite. I get to wake up, cook a full breakfast for my kids before they head off to camp, and spend time together in the kitchen brainstorming all of our plans for when they get back from camp. I always try to get protein into their meals, so I made my mom's world-famous cheesy scrambled eggs. It's all about the milk-to-yolk ratio. And as soon as you add the cheese, you pull the eggs out, and let them melt outside of the pan. That recipe requires real presence; it's a ten-minute activity that you've got to be game-on the entire time. For me, I poached eggs in a separate pan with an egg poacher, which is the best $25 I've ever spent. We all had a smoothie that I made using fruit from the weekend. My go-to recipe is kale, spinach, half a banana, almond milk, chia seeds, and a little PB2 powder, but for the kids, I have to keep it all fruit.
I had two meetings in the morning, one in East Hampton and one in Bridgehampton, and then I ran over to Sag Harbor for Pilates. I grabbed the Green Hornet smoothie at Jack's with a friend before I headed back to pick up my kids from camp.
For dinner, I met some friends at the Crow's Nest. They have the most amazing view of the sunset, and their grilled octopus is incredible. We shared burrata as well (because who can pass up ordering burrata if it's on a menu?), and the meze platter. Since I drove out to Montauk, I made the excuse that with no cocktails, I could compensate by splurging on dessert with a few bites of the olive-oil cake.
Tuesday, August 29
Similar morning to the day before: I made my kids scrambled eggs and went to Jack's in Amagansett for a meeting. I had a cold brew with almond milk and the sunrise muffin, which I'm obsessed with. It's packed with all these veggies like zucchini and carrots, and also grains and nuts. After that, I went to Stuart's, the best seafood shop on the East End, and picked up a ton of food for a dinner we're having with some of the SoulCycle team.
For lunch, I made a big salad with fresh veggies and a turkey burger on top. I'm also really into kombucha, so I grabbed a Health-Ade Pink Lady kombucha. Then, I got started on cooking dinner — the menu included caprese salad, seaweed salad (fine, this was store-bought), David's famous lobster with sriracha and chili paste, grilled swordfish, and grilled steak. Also, Lemon Poppers for everyone. As much as I love the summer diet, I'm really looking forward to getting back to the city and ordering some Thai takeout.