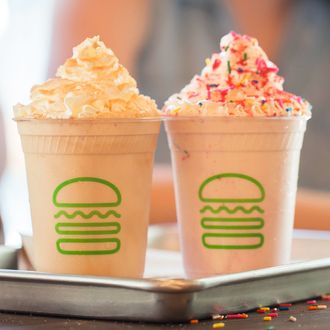 The boozy one has rainbow sprinkles.
Photo: Shake Shack
To give fans something more inclusive than eel burgers, Shake Shack's going mainstream with its next promotion: boozy shakes tied to the Will & Grace revival. The show is highly anticipated already, but the chain says the NBC-approved drinks ensure that its September 28 return is "even sweeter!" So starting next Monday and lasting until October 1, two themed shakes will be on offer at a select number of Shacks (four, to be exact — the Herald Square and Upper West Side locations in New York, and L.A.'s Hollywood and West Hollywood outposts).
The eponymous "Will & Grace" is cinnamon-marshmallow frozen custard blended with fudge. The "Jack & Karen," meanwhile, is strawberry frozen custard with Prosecco blended in, because Karen was the show's resident wino. NBC brags that it's Shake Shack's first wine shake, but that undersells it: It's among the entire restaurant industry's first wine shakes. (Red Robin took the prize by boldly adding "Divalicious" red wine to one in 2014, if that helps contextualize this.)
Both shakes cost $5.99, with $2 from every purchase going to GLAAD. Unlike Chipotle, say, or Chick-fil-A, Shake Shack has mostly eschewed politics since kicking expansion into high gear. The last time was probably the 2014 "Layer Shake" it did with Big Gay Ice Cream, but that was before Kentuckians and Floridians ever heard of a Shack Burger.