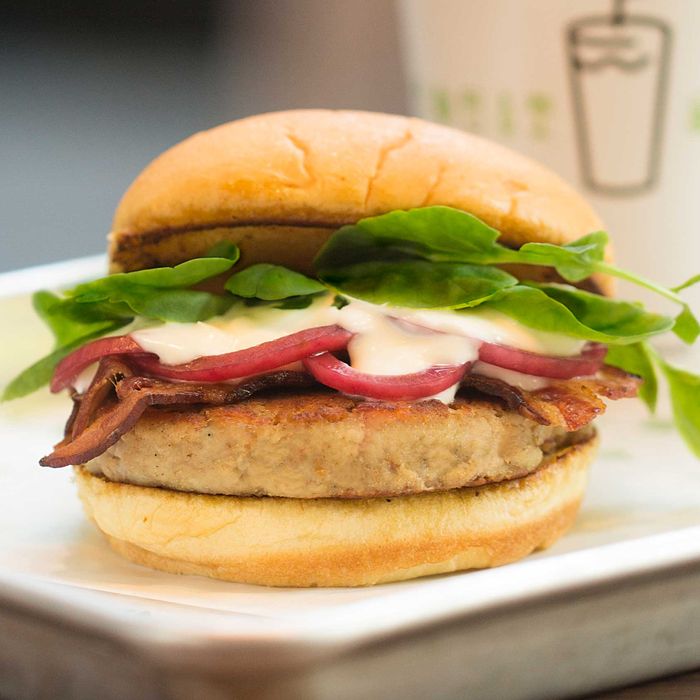 Eel, one of the few meats that hadn't been turned into a burger.
In 14 years in existence, Shake Shack has done its fair share of chef collaborations: a lobster-topped burger with Daniel Humm, a Son of a Gun Chick'n Shack, a Shrimp Stack with David Chang. But the upcoming special, created with famed British chef Fergus Henderson (St. John), is the chain's most ambitious: a smoked-eel burger topped with smoked Niman Ranch bacon, pickled red onions, crème fraîche, fresh horseradish, and watercress, for $10. You have two days only to eat it — Friday, September 15 and Saturday, September 16.
It's a big deal that Shake Shack got Michelin-starred chef Henderson onboard, and clearly, he wants to flex: Eel is a hard-core ingredient that's challenging to source and labor intensive to prep. In addition to the burger, Shake Shack will also serve St. John's vanilla-custard doughnuts ("with sourdough notes and lemon zest," $4) plus the restaurant's line of wines, made at a medieval winery in the south of France ($9 for red and $8 for white).
Usually, these sorts of collaborations draw massive lines, but the idea of an eel burger is certainly polarizing to an American audience. W'eel see!