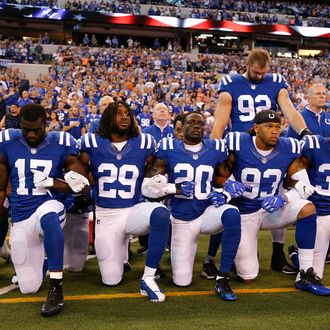 Photo: Michael Reaves/Getty Images
Your God-given right to watch football all day long on Sunday from a local bar and grill suddenly isn't a given anymore, now that Trump-friendly restaurant owners are responding to the #TakeAKnee protests with wholesale NFL bans. Perhaps the first of these happened over the weekend, when a Louisiana diner refused to show the Saints game to punish players who knelt during the national anthem. Now, many more restaurants have since joined in all around the country: Borio's in upstate New York, Palmetto Restaurant & Ale House in South Carolina, a Cajun grill outside D.C. called Fat Tuesday's, and Hemingway's, a bar near Houston that very specifically banned only Pittsburgh Steelers games.
The sign posted by Borio's — which is fairly representative of the trend — simply explains, "If and when this show of disrespect ends, we will be happy to show the product on our restaurant again." Canyon Road Barn & Grill, another restaurant in Texas, posted its notice publicly on Facebook, saying its six big-screen TVs would be sans football "until further notice":
Fat Tuesday's owner, meanwhile, says he's kept the restaurant out of politics for 35 years, but "this is personal" because his daughter served a tour in Afghanistan for the Army. "We are gonna lose business over this," he tells WJLA, "but on the other hand enough is enough."
Restaurant owners are certainly within their rights to ban every NFL game for the rest of the season, but they should remember the internet loves a self-unaware hypocrite. For one, these are mostly establishments specializing in bar food — tacos, po'boys, Greek salads, pizza. They come courtesy of immigrants who had to claw out their own place in America, too, and in ways much generally far less docile than kneeling during the anthem. Using your platform to protest for the rights you and others deserve is arguably as American as it gets, and the NFL players protesting are doing exactly the same thing as these restaurateurs.