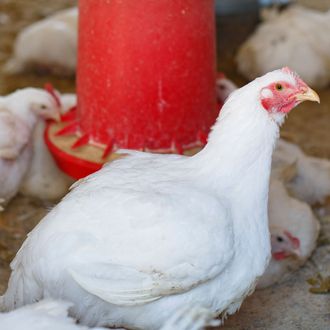 Full of surprises.
Photo: Dina Rudick/Boston Globe via Getty Images
Consumers Union has released its third annual "Chain Reaction" report on the use of antibiotics by America's top restaurant chains, and not that anyone was expecting to be blown away, but the verdict's a little bit of a downer for people who weren't rooting for the multidrug-resistant superbugs. The ranking is based on companies' own antibiotic-use policies for the meat and poultry they buy. In recent years, these policies have gotten more aggressive, but Consumers Union still finds not nearly enough is being done to make fast food less reliant on protein that comes from animals given human antibiotics.
Pumping cows, chicken, and pigs full of human antibiotics is slowly destroying the world's ability to treat infections. The U.N. has called it a global health crisis on par with AIDS, and the CDC now blames antibiotic resistance for causing 23,000 American deaths a year. "The nation's fast food restaurant chains are in a unique position to address the antibiotic resistance crisis," the report explains, since no one buys more meat and poultry than the industry — McDonald's is reportedly the nation's top beef buyer by itself, and the National Chicken Council says fast-food restaurants buy a quarter of all U.S. chicken. The report gives Chipotle and Panera good grades, but things go downhill rapidly after that: Nineteen companies got a C or worse.
Here's the complete breakdown:
A: Chipotle, Panera Bread
B+: Subway
B: Chick-fil-A
B-: Taco Bell, KFC
C+: McDonald's
C: Wendy's
D+: Pizza Hut, Starbucks
D: Dunkin' Donuts, Jack in the Box, Burger King, Papa John's
F: Dairy Queen, Sonic, Olive Garden, Applebee's, Domino's, Chili's, Little Caesars, Arby's, IHOP, Cracker Barrel, Buffalo Wild Wings
The list is clearly very bottom-heavy. Eleven of America's top 25 chains — so almost half — have taken "no discernible action" to eliminate antibiotics from their meat and poultry supplies, which Consumers Union seemingly wasn't expecting, considering companies are well aware by now that "customers and shareholders will hold them accountable." The report concludes by stating the obvious: that "much swifter and more widespread action" is needed if Americans ever dream of eating fast, antibiotic-free food.