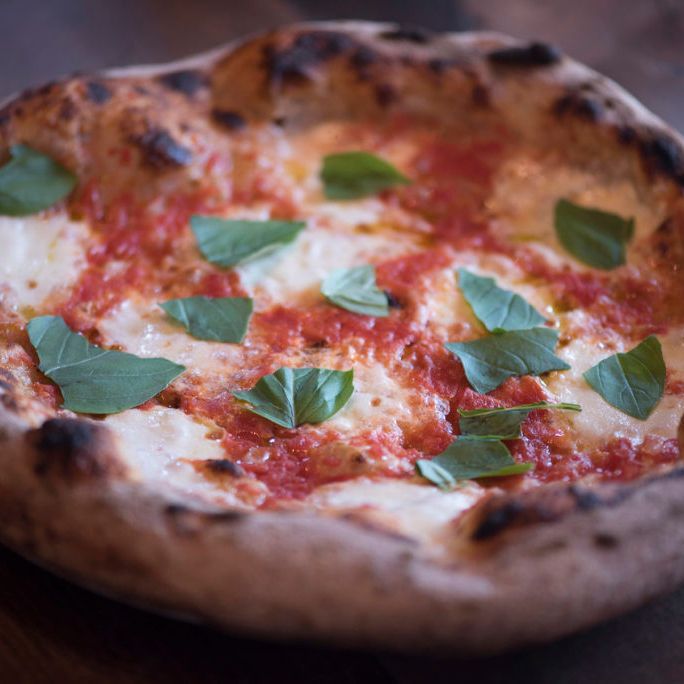 Three-star pizza.
Photo: Robin & Sue/Courtesy of Razza
New York City has well upwards of a thousand slice shops and pizzerias, but none of them will do for New York Times' Pete Wells. Not, at least, when he's on the hunt for the city's best pizza, which he argues is actually across the Hudson River, in Jersey City, at Razza. Cue the pizza loons pelting San Marzano tomatoes at the Times headquarters. The restaurant critic doled out three stars and a "Critics Pick" to the five-year-old restaurant, which was first praised in 2015 by the paper for its exceptional bread and butter.
In his review, Wells argues that pizzerias fall into one of two camps, specializing in either dough or toppings, and that Razza is "one of the few that excels at both." Here, the pies are "put together with exquisite sensitivity to the needs of the dough." He spotlights some intriguing-sounding pies, like one made with New Jersey hazelnuts chopped and baked with ricotta, mozzarella, and honey, of which he writes, "I have never had anything like it."
Wells also went on a (possibly pizza-fueled) tweetstorm to supplement the review's bold proclamation, adding the caveat that he's excluding "the universe of gas-oven pizza which means almost all slice joints." That's some consolation for the city's slice maestros.