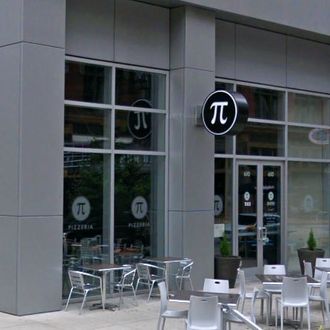 Sommers says at least one location of his restaurant has received support.
Photo: Google
When St. Louis cop Jason Stockley was acquitted in the shooting of Anthony Lamar, it sparked protests over police violence in the city. Prosecutors had argued Smith's killing was premeditated murder, and Mayor Lyda Krewson said in a statement that she was "appalled" by the verdict. Police clashed with protesters (including confrontations that turned violent overnight), were caught on video pushing an elderly woman forward with riot gear, and had arrested 80 people by the third day of protests. St. Louis Today reports that restaurateurs found "Whites Only" stickers plastered on their businesses, and in once case a restaurateur clashed with cops.
On Friday night, Pi Pizzeria owner Chris Sommers was heading home after trying to protect one of his businesses by handing out cups of water. At one point, a reporter said that "some young guy" tried to light the plants outside the restaurant on fire. But when Sommers got into his car, he noticed police officers in riot gear approaching his restaurant, and one of them, he claims, "indiscriminately" started shooting pepper balls. He reacted strongly, and police responded by tossing a tear-gas canister at him, which was then thrown back by another person.
Sommers took to Twitter to vent his frustrations about police behavior during the protests, describing the officers who chanted "Whose streets? Our Streets" as "dimwits." He stood by the comment in an interview with the HuffPost, asking, "Who's standing up to it? That's the problem that this isn't a few bad eggs … I'm out here trying to protect my business, protect my team, and they start terrorizing us."
Blue Lives Matter responded to Sommers by publishing a post in which the author wrote, "let's get the word out that if you bash the police, you won't be getting our business." That post (since deleted) was shared on Facebook by the St. Louis County Police Association, recommending supporters call the restaurants and sharing phone numbers for different locations. The reaction was strong: Phones reportedly rang all day Wednesday, slurs were used, and a fake $600 order was placed. Online trolls called Sommers a "lib-tard" and wrote one-star reviews for his restaurants, calling for windows to get smashed (law and order!), and Pi to go out of business. Conservative commentator Dana Loesch even tweeted about the fiasco.
Sommers responded to the tirade by sharing his account of the events, writing that because he's posted his experiences and videos on social media, he's "become public enemy No. 1 to every 'Blue Lives Matter' fanboy." He added that "the authoritarian code in the police departments transcends their work," but also says cops eat for free or get a 50 percent discount when in uniform and that he donates to police nonprofits. He's worried about his business's future, but says the location in St. Louis's Central West End was busier than usual on Wednesday. He told HuffPost he doesn't want people to keep talking about Pi, but to keep the focus on "why everyone is so upset." Adding that "different value of life in the city is real," he called on "police officers to come out and acknowledge what's going on."