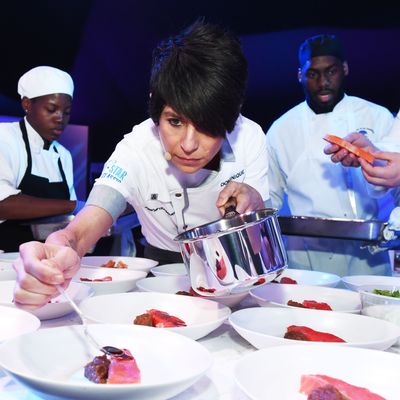 Crenn, hard at work.
Photo: Bernstein Associates/Getty Images
Sparkling-water giant San Pellegrino plays a surprisingly influential role in the food world. The Nestlé-owned company sponsors the influential World's 50 Best Restaurants list and organizes a global competition to crown the Best Young Chef under the age of 30. The brand is also behind the polarizing World's Best Female Chef award, which Dominique Crenn (of Atelier Crenn in San Francisco) won in 2016.
At the time, Crenn accepted the award with mixed feelings. "I'm looking at the award this way: We still need to do a lot of work," she told me then. "We need to bring awareness that, yes, there are some amazing chefs that are female. And I hope in the next few years these awards are going to disappear … But until then, we still have to have a conversation."
Yesterday, Crenn furthered that conversation by calling out Pellegrino on Instagram, after seeing a series of posts from the nonprofit Parabere Forum. For its most recent Best Young Chef event, Pellegrino appointed local chefs, in regions all over the world, to serve as juries and select the finalists. The problem is that the juries are dominated by men; only 14 out of 100 jurors are women.
Through December, these teams of chef-jurors will narrow the 210 semifinalists down to 21 finalists. Out of last year's group of 20 finalists, only 3 were women. That's 15 percent. Out of the 210 semifinalists this year — selected by Pellegrino and an Italian cooking school named ALMA, from a pool of over 2,000 applicants from 243 countries — only 13 are women. That's 6 percent.
Learn their names: Bianca Strydom, from Somerset West, South Africa; Amanda Lambert, from Toronto; Fernanda Guerrero, from Shanghai, China; Min Lee, from Shanghai, China; Vivien Volkmer, from Stuttgart, Germany; Sawako Noguchi, from Kyoto, Japan; Constadina Voulgari, from Ierapetra, Greece; Hazal Yildirim, from Istanbul, Turkey; Ina Niiniketo, from Stockholm, Sweden; Elizabeth Puquio Landeo, from Santiago, Chile; Marsia Taha Mohamed Salas, from La Paz, Bolivia; Nicole Dorner, from São Paulo, Brazil; and Ployumporn Ar-Yucharoen, from Bangkok, Thailand. There are no female semifinalists from the U.S. — a group that includes chefs from the NoMad and Grace. Two out of five American jurors are women, at least: April Bloomfield and Daniela Soto-Innes.
This is alarming, of course, but not exactly surprising. Without the necessary data, it's impossible to say how many women entered this competition — where does the problem of representation begin? — but Pellegrino and the World's 50 Best organization have a history of ignoring female chefs. When Crenn won the World's Best Female Chef award in 2016, Atelier Crenn was curiously absent from the list of 100 World's Best restaurants. Her restaurant finally debuted on the list this year at No. 83. Only three women cracked the top 50 in 2017: Pía León, Elena Arzak, and Soto-Innes, each of whom co-runs a restaurant with a male partner.
The lack of female representation on the World's 50 Best list has received quite a bit of media attention, but what gets overlooked is that Pellegrino sponsors events that exclude women all year long, year after year. The Pellegrino-sponsored Grand Gelinaz Shuffle! (an attention-grabbing kitchen-swapping event for elite chefs) was notorious for its lack of gender diversity; the last time it took place, only 5 out of 40 chefs were women. This fall, Pellegrino and Grey Goose are sponsoring a series at Trois Mec called 2 Chefs, a Dialogue With Food, bringing "some of the country's most celebrated chefs" to Los Angeles to cook with Ludo Lefebvre. The lineup is all men: Hugo Ortega, John Shields, Gavin Kaysen, Jamie Bissonnette and Ken Oringer, and Enrique Olvera.
Gender inequality in the restaurant industry, specifically in fine dining, is a complicated issue that goes well beyond the sponsorship choices of a sparkling-water company. But it's telling that Crenn — a Best Female Chef winner, a Grand Gelinaz! Shuffle participant, and a mentor to the 2016 Best Young Chef winner — still felt the need to publicly shame Pellegrino. "Hesitation is not a part of my language," she told me when I asked about her Instagram post. Crenn says her goal remains consistent: to have a dialogue and raise consciousness. She specifically notes, "Male chefs need to be a part of the conversation and stand up and ask for more balance." That means it's the responsibility of chefs like Kaysen (who's the American mentor this year for Best Young Chef) and Lefebvre to think critically and ask questions about representation, too. "The post isn't really about Pellegrino," she says. "But we need gender balance, and Pellegrino has an incredible platform to be at the forefront of that change." It's shameful that this progress is so slow.
"Seriously," Crenn adds. "It is 2017."