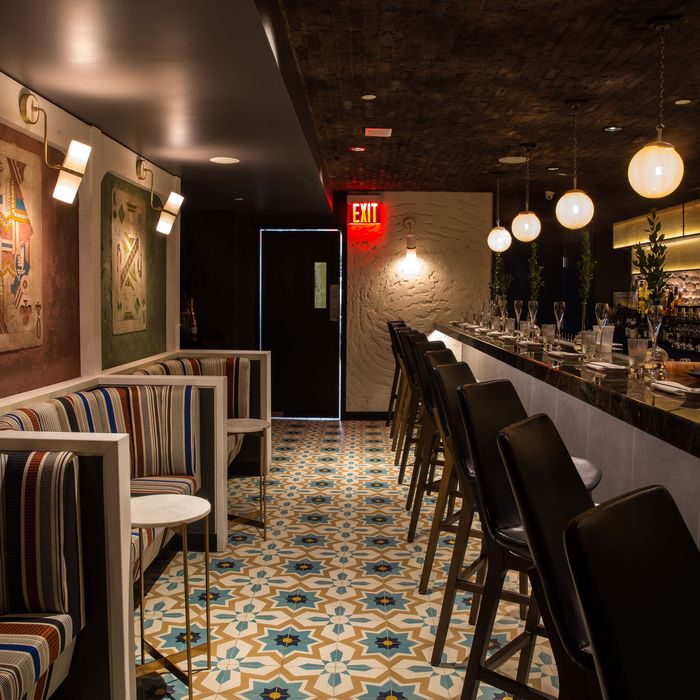 Since March, Rory Macdonald has been baking cranberry-and-walnut bread, gianduja kouign amann, and sandwiches at his Flatiron shop Patisserie Chanson. It's a higher-end pastry shop, for sure, but one you can still regularly stop by for a breakfast pastry, a quick lunch, or (in a nod to Macdonald's London roots) afternoon tea. Tonight, he'll open the planned outlet for his more ambitious sugar dreams: the Dessert Bar, an all-sweets tasting-menu restaurant in the shop's lower floor.
In the 16-seat space, Macdonald will serve a six-course dessert menu ($68) with optional drink pairings ($52). The room, Macdonald says, once served as a Prohibition-era speakeasy and gambling school, and that history informs both the design and food. It joins a small group of dessert-only places, like Dominique Ansel's U.P. and ChikaLicious, but seems to call back more to Sam Mason's high-minded Tailor. Not that it was an inspiration for Macdonald, who says he was chiefly motivated by wanting to create a place that was like a sushi bar for sweet tooths. As for the food, he says he wants to avoid gimmicks and not leave diners crashing from sugar highs. The menu won't be stagnant and will change with the seasons, but it will be primarily driven by another motivation. "The main goal is for people to have a good time," he says. Check out the opening dishes, with drink pairings, below.
The first course, EVOO eucalyptus, is olive-oil gelato garnished with lemon, olive oil, and sea salt. It's served with liquid nitrogen, which releases the aroma of the eucalyptus as you eat the ice cream, and a drink pairing of Fir 75 (gin, absinthe, Strega, fir tincture, Prosecco, and lemon.)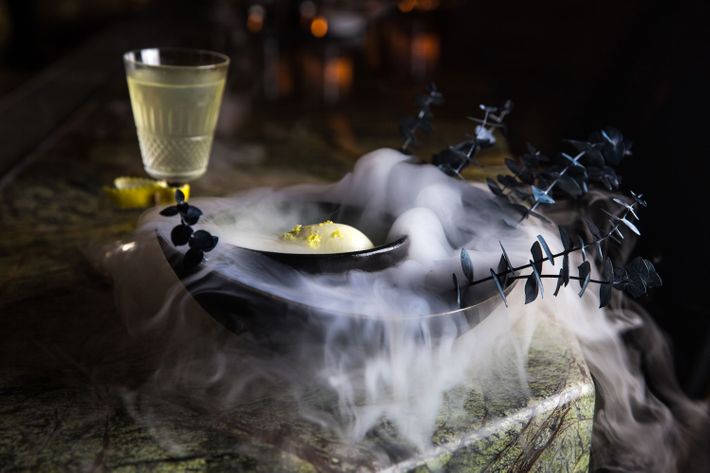 The second course is a yuzu-and-honey parfait with homemade honeycomb, pearl barley gelato, bee pollen, yogurt pop rocks, and a garnish of yogurt meringue. It's served with Moscato d'Asti, a dessert wine with a honeyish taste.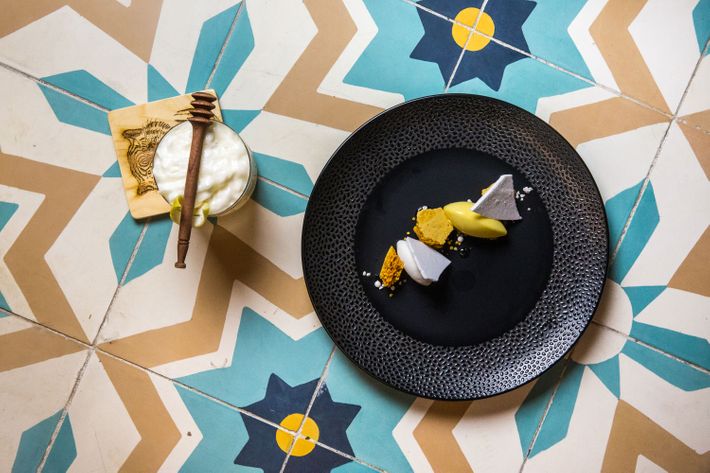 The third course is a cashew cookie with miso pudding, pink-grapefruit sorbet, and charred pink grapefruit on a frozen block of Himalayan pink salt. It's served with a Chamomile Masu, a hot sake cocktail that's infused with components of your choice (like Kaffir and pandan) using a coffee siphon.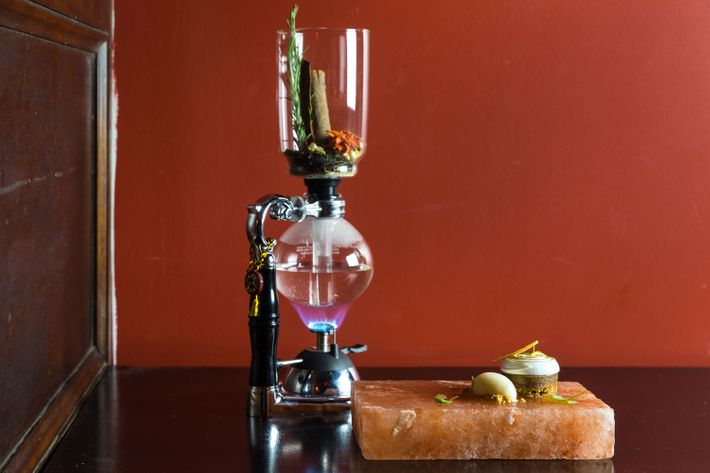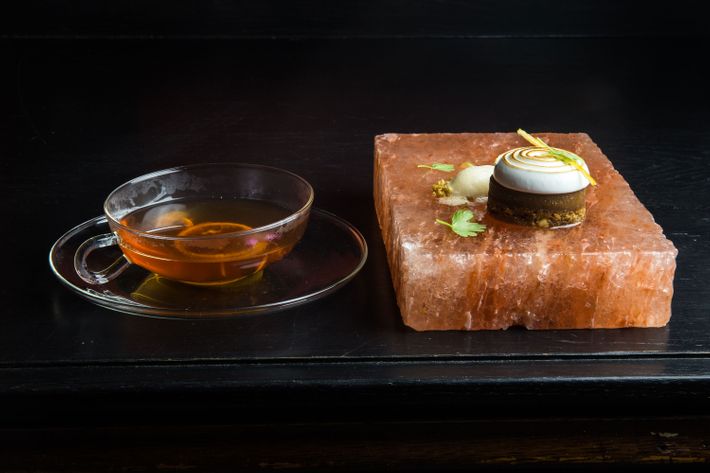 The fourth course is black-sesame soft serve with a miniature chocolate cone, yuzu zest, and a spray of "truffle aroma." It's served with a Raspberry Clover Club cocktail.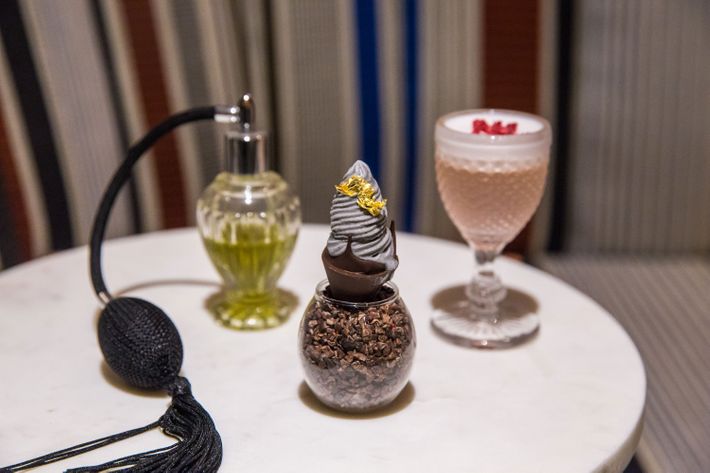 The fourth course is a play on a favorite dessert of Macdonald's. It's made with pink-lady apples and puff pastry baked until caramelized, then served with liquid-nitrogen tonka ice cream, and a glass of Hungarian Tokaji wine from 2009.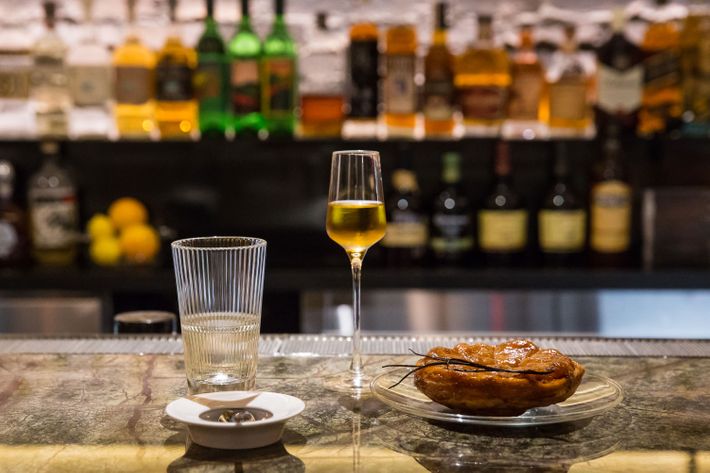 The last course is a series of alcoholic gummy bears, served in digestif flavors like Drambuie, tawny port, Fernet-Branca, Campari, and Frangelico.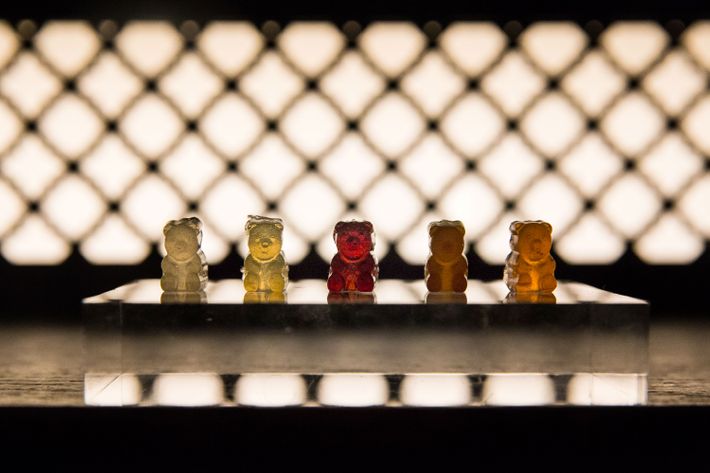 The Dessert Bar at Patisserie Chanson, 20 W. 23rd St., nr. Fifth Ave.; 929-423-8880