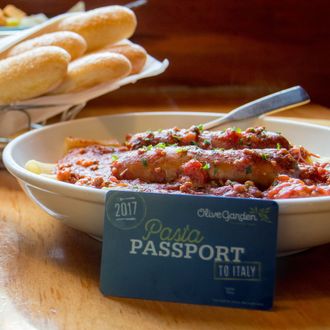 You definitely didn't get one of these.
Photo: Daniel J. Edelman, Inc
Yesterday was the day Olive Garden executives await all year with bated breath — Never Ending Pasta Pass day — because for one magical but all-too-brief minute, half the internet is interested in their food. At precisely 2 p.m., the chain released the annual Pasta Pass, now in its fourth year, and it now proudly reports that the ravenous hordes bought all of them in under a second (a third of the time it took to read this parenthetical — imagine!). They still cost $100 apiece, and are still an all-access ticket to the equivalent of a two-month continuous pasta IV. But this year, Olive Garden offered 22,000 of them, a thousand more than it sold in 2016, and 21,000 more than it had in 2015 or 2014.
As always, the pass-holder is entitled to roughly two months of unlimited pasta, soup, salad, and breadsticks. The clock starts on September 25, but this year, Olive Garden gave them a bonus week (eight, instead of past years' seven). The other novelty for 2017 is a Pasta Passport that was offered to the first 50 buyers for $200. This is a regular Pasta Pass plus an all-inclusive trip for two to Italy, which, as everybody knows, is where its chefs invent menu items like breadstick crostini and meatball sandwiches. It sounds like all 50 of these people may be required to vacation as a group.
By now, the pass has achieved internet-meme status, thanks largely to the black market that always springs up on eBay, and not-the-Onion stories like the one about that guy who put away $1,840 worth of free meals and somehow lost weight. Every year, people make fun of this Pass, yet every year, the number of people who try to buy it seemingly grows. Each time, the slew of pass-seekers follow a similar progression, from anxiously hopeful, to increasingly confused, to spitting mad: