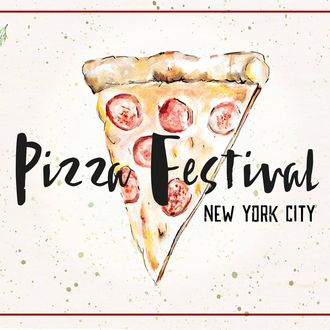 Attendees still have a bitter taste in their mouths.
Problems may only just be starting for the organizers of this past weekend's New York City Pizza Festival, an event failure of Fyre proportions that enraged attendees by charging as much as $75 for access to a couple of tents, a DJ, "about 5 pies cut into micro slices," and "warm red wine that tasted like ass." About 84,000 people expressed interest on Facebook, and those who went — some of whom came from other states — got, in a word, angry. One wrote on Facebook, "It was nothing but Jesus [that] stopped me from flipping over those tables."
Suspiciously, the fest ended up sharing venue space (an abandoned parking lot in Bushwick) with an equally underwhelming New York City Burger Festival. Both events promised 30-plus vendors, but neither listed a single one by name beforehand. Their respective Eventbrite listings did, however, clearly state that tickets were nonrefundable. Nobody deserves thin slivers of cold pizza when "a day long celebration of the dough, cheese, tasty sauces and delicious toppings" was promised, but the consensus by observers seems to be that all the warning signs were there:
The organizer — a man named Ishmael Osekre, who's got a history of throwing shady food events — is blaming the company he contracted to curate the event space, telling customers Hangry Garden delayed the start "by an hour." But co-owner Jeremy Asgari tells Grub that "Hangry Garden did not end up being involved in this event." Pizza Fest says the "fun experiences we all looked forward to" were also ruined by untimely pizza deliveries, as well as by the flooding in Houston, which made them fuse the pizza event with the burger event that was originally scheduled for September 2 ("We didn't think it was the best week to feast and celebrate," Osekre tells Metro).
Pizza Fest's tickets were sold by several online ticket sites, and one — Goldstar — seems to be offering refunds already. Some attendees say the seller sent them an email apologizing "for this poorly planned event," and has posted credit back to their accounts. So far, 27 people have also joined a potential class-action lawsuit, and New York Attorney General Eric Schneiderman's office has launched an inquiry into the event. "We are concerned about the online complaints that we've seen," a spokesman tells Grub. Their investigation is under way, but they encourage any attendees with a beef to file an official Frauds Bureau complaint with the state.