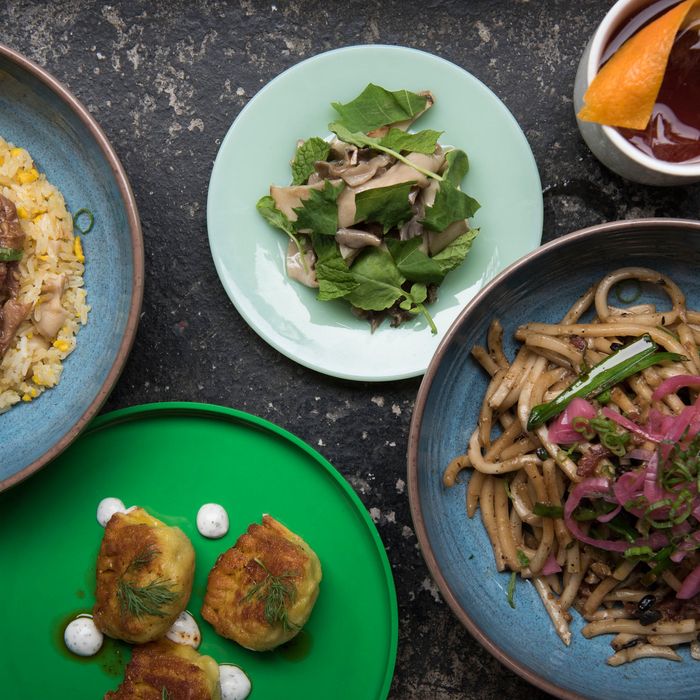 The newest Nom Wah is now open on Orchard Street.
Photo: Liz Clayman
After 95 years on Doyers Street, Nom Wah started what is, comparatively, an expansion tear two years ago. Owner Wilson Tang opened just its second location in Philadelphia in 2015, then the brisk business Nom Wah Nolita in 2016, and the Canal Street Market stall Nom Wah Kuai earlier this year. Those two New York locations were quick-service, and on Sunday, Tang and chef Jonathan Wu soft-opened an entirely new concept called Nom Wah Tu. Think of it as Nom Wah as a bar.
Dim sum is an activity as much as it is a meal, and it's associated with brunch time. With Nom Wah Tu, Wu says, the dream is to make a late-night spot and bring dim sum into the after-hours. The restaurant is located in the former home of Fung Tu, the restaurant where Wu cooked some of New York's most interesting Chinese food. Fung Tu will live on, in a sense, as Wu's modern American-Chinese style will be grafted onto the Nom Wah foundation. That means the dim-sum parlor's signature shrimp and snow-pea-leaf dumplings get tweaked with a blood orange–kaffir lime oil, and its pan-fried chicken dumplings are served with a cumin-chili oil and yogurt-dill sauce. The limited soft-opening menu (check it out here) also includes some Wu originals and affordably priced larger dishes (nothing is over $15), like a clean and compulsively tasty duck fried rice made with whole-grain mustard, Brussels sprouts, chewy oyster mushrooms, and pickled beets.
This is also the only Nom Wah with a full liquor license, and they're taking full advantage. There's a long marble bar right upfront, with a smaller wooden bar, two communal tables, and three booths in the back. General manager Sophie Maarleveld's drinks menu maintains Fung Tu's focus on natural wines that play nice with Chinese food, adding more beer, and creating new cocktails like the Mr. Yee (dark rum, Chinese vermouth, and orange).
The restaurant will stay in soft-open mode for the time being, and right now, Wu says he's focused on getting this limited menu down pat before slowly adding more dishes. The next step, he says, will be to add weekend brunch. It's still a morning tradition, first and foremost.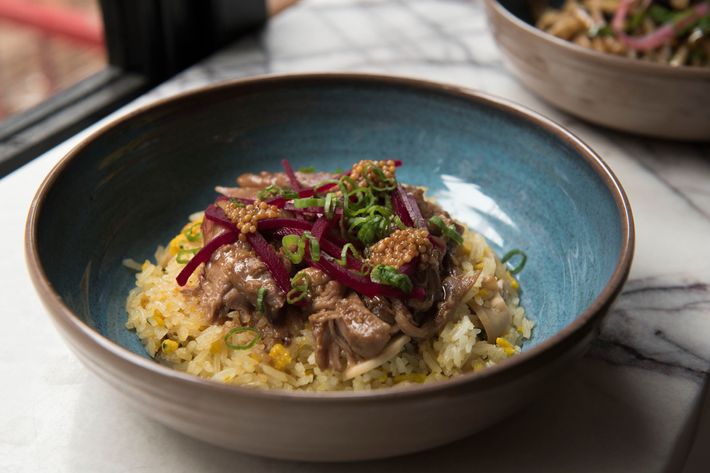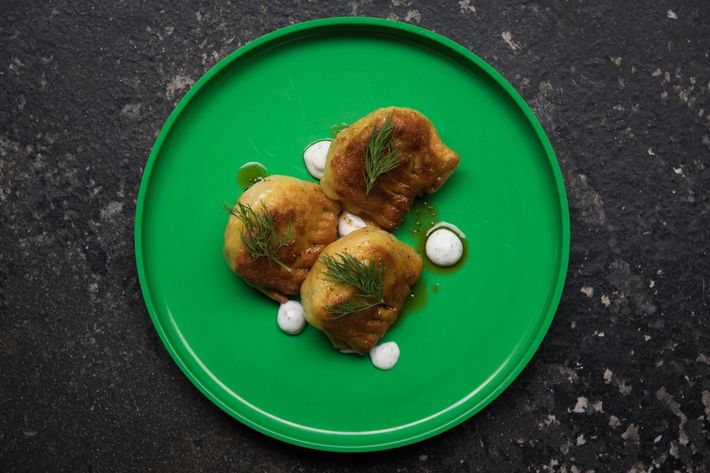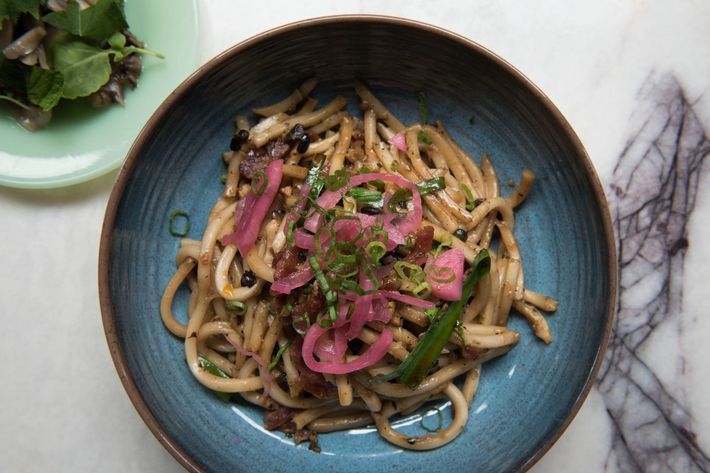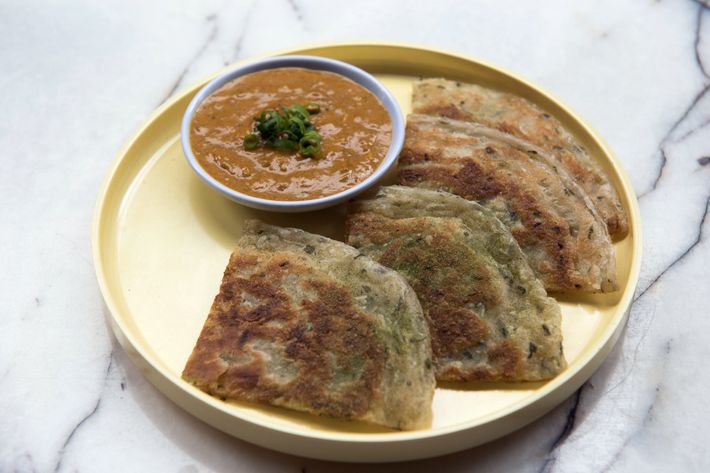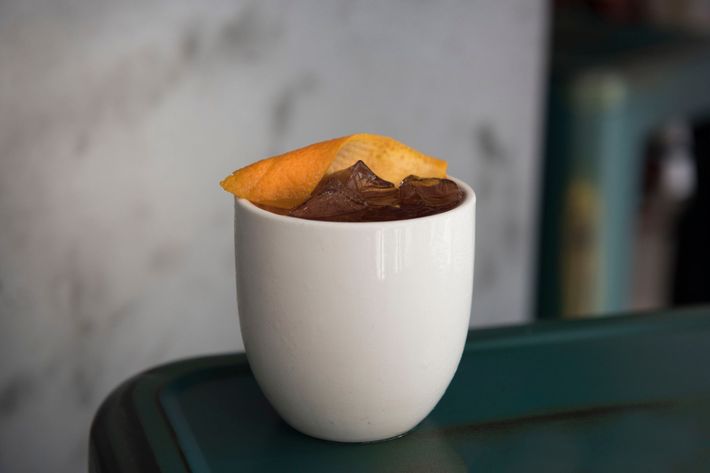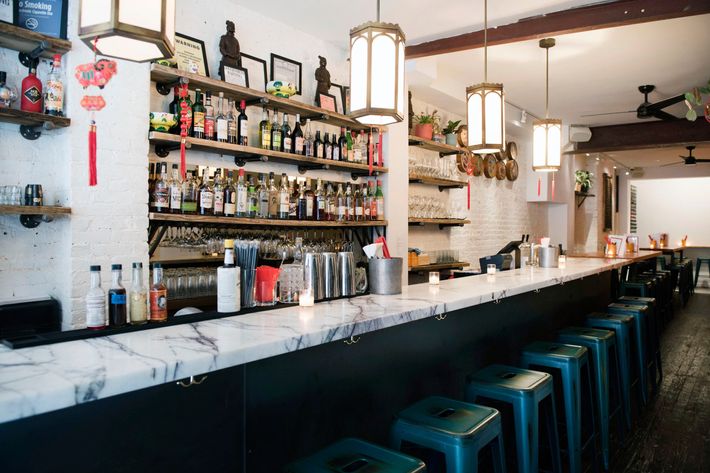 Nom Wah Tu, 22 Orchard St., nr. Hester St.; 212-219-8785