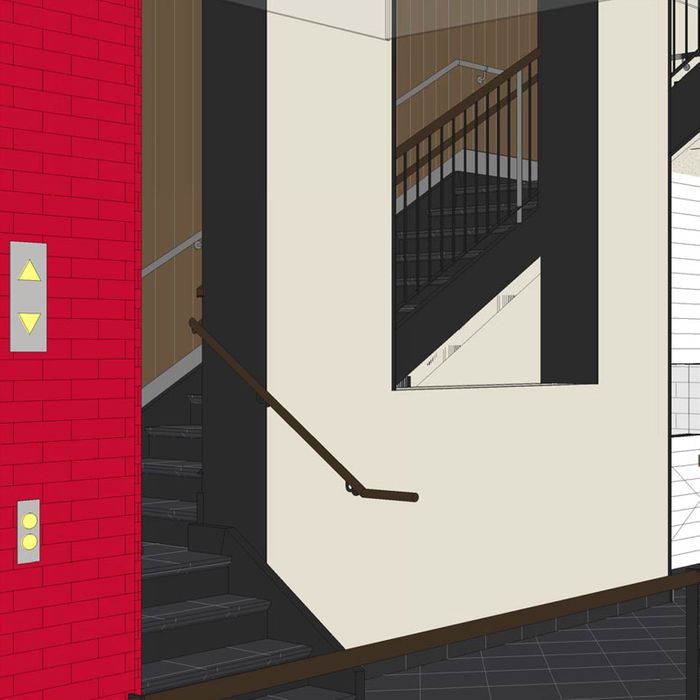 The inside, with its "signature monumental staircase."
Photo: Chick-Fil-A
Chick-fil-A has quietly resumed its Gotham-wide expansion tear. It's been over a year since its last location opened, New York's third that invaded the Queens Center food court, setting off multiple boycotts and a public censure by Mayor de Blasio. Undaunted by that cool reception, the chain's executives have struck again by announcing that New Yorkers will receive their fourth franchise in 2018, ready or not. And boy is it something: a 12,000-square-foot restaurant in the Financial District that's going to be "the largest the company has ever built, with five levels, including a rooftop terrace that will offer unimpeded views of Freedom Tower." According to the official announcement, it's taking over the whole building at 144 Fulton Street, one block from ground zero.
The chain boasts that this location will have "signature features never seen before at a Chick-fil-A." Among these crowd-pullers are a two-story wall of windows, a three-level dining area that seats 140 people, and a first-of-its-kind "monumental staircase" accented by a skylight. (This staircase "will make a big difference," the company explains, because it lets customers "know there is dining upstairs.") Not only is it the world's largest Chick-fil-A, it's also, at just 15 feet wide, the narrowest. That's apparently why the chain decided to buy all five floors of the building.
Clearly, the biggest draw, though, is on the roof: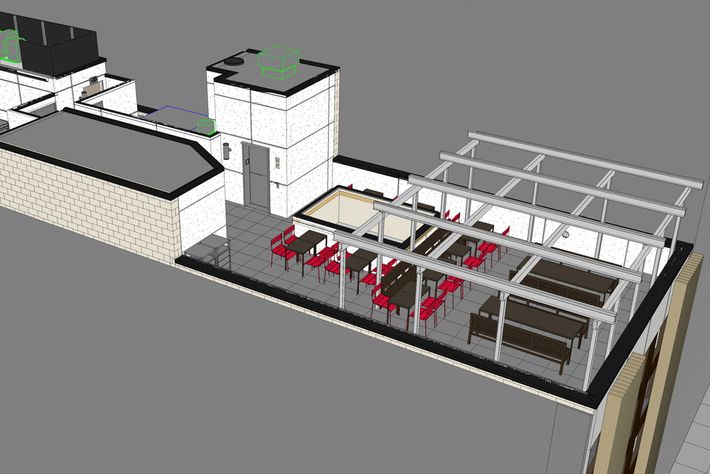 No plans as of yet to get a liquor license and sell $18 Heinekens to tourists, but the space will definitely make full, exploitative use of its prime location: Chick-fil-A says it wanted to "respectfully pay homage to the significance" of being just a few hundred feet from the World Trade Center site. This means — maybe sit down for this part — outfitting the restaurant's façade with elements that "give a subtle impression of the Twin Towers — one on each side of the restaurant." It will be a way of "honoring renewal after tragedy," and, all of New York hopes, also selling tons of chicken sandwiches.