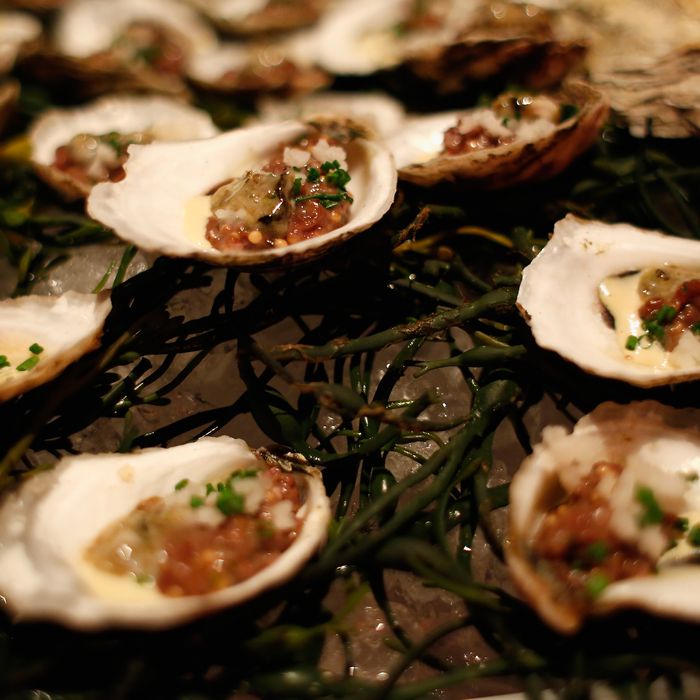 Oysters with venison tartare from Sauvage at last year's "Taste" event.
Photo: Brian Ach/Getty Images for New York Magazi
It's that time again: On Monday, November 6, some of the city's most talented culinary professionals will assemble at the Waterfront on 11th Avenue for New York Taste, New York's annual food-and-drink extravaganza that is back for its 19th consecutive year.
Attendees can expect to see chefs like Greg Baxtrom (Olmsted), Laëtitia Rouabah (Benoit), Victoria Blamey (Chumley's), Antoine Westermann (Le Coq Rico), Floyd Cardoz (Paowalla), Suzanne Cupps (Untitled), Justin Smillie (Upland), as well as Simone Tong (Little Tong), Norberto Piattoni (Mettā), Matt Abdoo (Pig Bleecker), and tons more.
So, how do you get tickets? Just head right here and choose either a general admission ticket ($100) or a VIP ticket ($195), which will grant you entrance to a special preview hour, an exclusive gift bag, and access to the VIP Lounge.
As always, it promises to be an evening of exceptional eating and drinking, featuring more than 40 stars of the New York restaurant scene. We'll see you there.