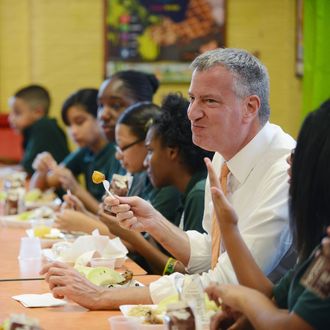 Bill de Blasio just got another feather for his equality-agenda hat.
Photo: Susan Watts/Getty Images
School's back today for New York City kids, and a lunchtime surprise is awaiting them. Nope, it's not Taco Bell Tuesdays, but something the city hopes they'll grow to appreciate down the road anyway: Public schools citywide will now offer free lunches to every single student.
Thanks to a federal program that city officials discovered the district is eligible for this year, meals won't cost even a penny for the 1.1 million students in America's largest school system. Right now, about 75 percent of them qualify for free lunches. That's one of the highest rates in the U.S., but as food-policy advocates point out, kids can be real bastards at that age — students get bullied for not paying the full $1.75 rate, and as a result they'll sometimes choose not to eat at all. What's worse is the school system itself exacerbates this unclaimed-free-lunch problem: In recent years, it's become fond of a practice called "lunch shaming," where children are held publicly accountable for cafeteria-meal debts (sometimes by dramatically scraping their tray's contents directly into the nearest trash). Now, everybody's on the same page.
Officials stressed that this new program shouldn't cost taxpayers more money, either. New York State recently developed a more accurate way of tracking families that are eligible for benefits; using this improved system, the city realized it had failed to count students belonging to some of those families. The difference was enough to qualify the entire city for a federal program that pays for universal free lunch. Officials say it should provide lunch at no cost to about 200,000 more kids, and save their parents about $300 this year.
It's great news, but kids may be less enthused about one of the consequences. "No more stomachs grumbling," Public Advocate Letitia James said after the city announced the program yesterday. "Now it's the sound of books opening."